BLK Doctors petition government to frame provisions on organ donation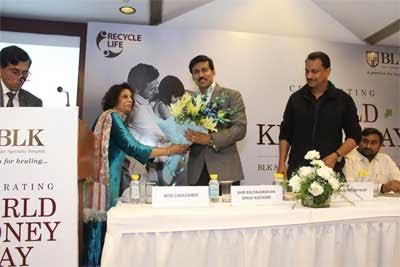 New Delhi :  On the eve of World Kidney Day, a team of nephrologists led by Dr Sunil Prakash of BLK Super Speciality Hospital submitted a 3-point petition to Government of India, urging to streamline and strengthen provisions to encourage organ donations. Minister of State for Information & Broadcasting Col Rajyavardhan Singh Rathore, chief guest on the occasion, called for 'concerted efforts by all stakeholders' to scale-up to increase awareness.
Col Rathore said, "Prime Minister Narendra Modi is personally driving awareness on good health through promotion of Yoga, and government has initiated a slew of innovative programs on health sectors. The growing incidence of kidney ailments needs immediate attention."
Dr Sunil Prakash, Sr Consultant & Director, Nephrology & Renal Transplantation, said, "Out of an estimated 2 lakh patients who needs dialysis and transplants immediately, only about ten thousand patients are able to get dialysis and only six thousand patients are lucky to get a transplant done. According to NCRB, Delhi NCR tops the list of cities with highest number of Road Crash Deaths, i.e. approximately one lakh per year. Due to lack of awareness on organ donation, we end up losing approx. 2 lakh kidneys and other vital organs which could otherwise save many lives of individuals waiting endlessly for organs."
Firstly, the petition called for a policy on Organ Donation to ensure that all people could become donors on their death unless they join an official register to opt out. "Unless the person or family had previously expressed a clear wish for or against donation, hospitals should be authorized to harvest the organs. Relevant authorities should also make it easier to get required permissions and complete procedures in quick time so that vital organs are not wasted," the petition said. The Opt out system if implemented can resolve organ donor shortage in the country to some extent and ease the burden of number of deaths happening because of lack of organs, explained Dr Prakash.
Not only this, it is time to move from Donors after Brain Dead (DBD) to Donors after Circulatory Death (DCD). "We appeal in earnest to make centralized registry system for both DBD and DCD Organ Harvests. NOTTO (Nation Organ & Tissue Transplant Organization), based at Safdarjung is doing good work.  It should also train and encourage the hospital professionals to start working on DCD organ" said the petition.
Dr Prakash added, "Lack of awareness which is one of the leading reasons for such low organ donation rates in India, religious and other related issues have been detrimental to the improvement of the organ transplant scenario in India. In order to encourage people to come forward and donate organs, we also urge the government to aid donor's family with medical insurance and enable job opportunities for the donors," he said.