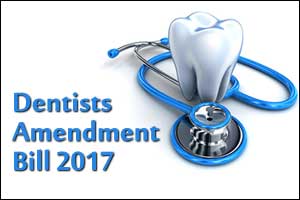 New Delhi: The Union Cabinet gave approval for introduction of the Dentists (Amendment) Bill, 2017 in Parliament, subject to modification of drafting or consequential nature, as may be considered necessary by the Legislative Department by amending the Dentists Act, 1948.
According to an official statement, the clauses being amended pertain to certain modifications in the provisions of the Dentists Act, 1948.
The two major clauses which are being amended including membership of the Dental Council of India under clause (f) of Section 3 and membership of State and Joint State Dental Councils under clause (b) of Section 21 and clause (b) of Section 23 of the Act.
As per the existing Act, it was required to have the representation of dentists registered in Part B as Central Government nominees in the Dental Council of India and the election of either four or two members from Part B to the State/Joint State Dental Councils. However, it has lost relevance.
The Cabinet, chaired by Prime Minister Narendra Modi, approved the amendment to decrease redundancy of the provisions so that their representation does not remain mandatory anymore, it added.
2 comment(s) on Cabinet approves introduction to Dentists Amendment Bill 2017