CAG slams UP Government on PC-PNDT Act, MTP Act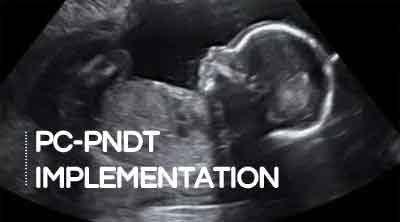 The recent report of CAG has slammed the state government of Uttar Pradesh, on being unable to enforce PC-PNDT Act as well as MTP Act in a proper manner, leading to a declining ratio and rising instances of female foeticide in the state.
In a report titled "PERFORMANCE AUDIT on EMPOWERMENT of WOMEN ," the CAG also in depth took up a performance audit  of the state, to evaluate important government schemes relating to Empowerment of Women in the State to ascertain efficiency and effectiveness of their implementations, identify slippages and make suitable recommendations for taking appropriate corrective measures by the State Government.  One chapter titled " Missing Daughters"  has specifically dealt with the audit of the implementation of the two acts in the state.
AUDIT OF THE PC-PNDT ACT
While auditing the implementation of the PC-PNDT Act the CAG conducted scrutiny of records of USG centres and also carried out joint physical inspections of selected centres/clinics along with the departmental officials, and gave findings as follows
● Govt allotted only 35 per cent funds against the requirement of Rs. 20.26 crore projected by the State during 2010-14, against which the State Government could utilise only 54 per cent (Rs. 3.86 crore) of the meagre allocation of Rs. 7.09 crore made during 2010-14 indicating inadequate implementation of the Act and leaving USG centres largely un-monitored and un-regulated.
●Ultrasonography (USG) centres did not maintain/preserve mandatory basic records/information as such 68 per cent of the ultrasonography cases test-checked did not have referral slips of doctors who recommended such tests and 57 per cent did not mention the purpose of carrying out USG/diagnostic procedures. In absence of which it was difficult for the inspecting authorities to establish the purpose of carrying out diagnostic procedures and large scale misuse of technology for illegal sex determination could not be ruled out.
● None of the test checked centres kept backups/records of images taken during ultrasonography of pregnant women which is mandatory to be kept for two years and 16 per cent USG centres did not submit prescribed monthly returns. In absence of proper maintenance of mandatory records and non-receipt of prescribed returns, effective monitoring and inspection of the USG centres in the districts was not possible.
● District Appropriate Authorities (DAAs) did not conduct prescribed number of inspections of USG centres and there was a shortfall of 76 per cent against the norm prescribed under the Act.
● In 96 per cent cases, DAAs did not issue inspection reports to USG centres after their inspections. 13 out of 20 test-checked DAAs did not maintain even information of USG centres functioning under their jurisdiction. This indicated extremely lackadaisical approach adopted by the District Appropriate Authorities towards strict enforcement of the provisions of the Act.
● Mapping of sale of USG machines was not carried out by the State/District Appropriate Authorities in any of the districts test checked. In the absence of mapping of USG machines and exact location of their operation, State Appropriate Authority (SAA) and DAAs were not able to effectively monitor and regulate the activities of such centres/clinics.
● It was found in joint physical inspection that USG machines did not have memory to save data for more than 24 hours making it difficult to verify their actual usage in inspection/surprise checks. GoUP also failed to introduce online tracking system for tracking of all the scanning done on USG machines to facilitate centralized monitoring, and control misuse of these machines for illegal purposes.
● Breach of important provisions of the Act was noticed in 936 (58 per cent) out of 1,652 USG centres in 20 test checked districts. Despite, rampant breaches of the mandatory provisions, neither any action was taken nor any penalty imposed on the defaulting USG centres by District Magistrates.
● State Supervisory Board (SSB) headed by Hon'ble Minister-in-charge of Health and Family Welfare, State Advisory Committee (SAC) and District Advisory Committee (DACs) neither met regularly nor ensured proper follow up action on their directions regarding maintenance of basic records/information by USG centres, conduct of regular inspections, tracking of pregnancies, providing toll free lines for registration of complaints, ensuring receipt of monthly reports from USG centres, sealing USG centres breaching provisions of the PC-PNDT Act and initiating legal action against them.
● State Inspection and Monitoring Committee (SIMC) also did not carry out adequate number of random inspections. The number of decoy operations carried out by DAAs was also negligible.
Medical Termination of Pregnancy Act, 1971
The Medical Termination of Pregnancy Act, 1971 (MTP, Act), provides for the termination of pregnancies by registered medical practitioners in cases where length of pregnancy ranged between 12 and 20 weeks and continuance of pregnancy would involve a risk to life of the pregnant woman or of grave injury physical or mental health; or there is a substantial risk that if the child were born, it would suffer from such physical or mental abnormalities so as to be seriously handicapped
● Only 11 per cent of the total funds allocated ( Rs 4,058.12 lakh) for MTP purposes during 2010-15 could be utilised by the department due to non-procurement of kits and equipment required for MTP.
● Only six per cent of 773 Community Health Centres (CHCs) in the State were having MTP facilities. As a result, majority of women in rural areas had no access to safe abortion services at affordable cost and at reasonable distance from their habitations.
● Only 548 of 2,083 nursing homes/hospitals having MTP facilities and operating in test-checked districts, were registered under MTP Act.
● Inspection to ensure safe and hygienic conditions for MTPs had not been carried out by Chief Medical Officers/District Level Committees (DLCs) during 2010-15 in any of test-checked districts. CMOs of 10 out of 20 test-checked districts did not receive monthly report on MTP while out of remaining 10, CMOs of 7 districts had received MTP reports sporadically and in incomplete format.
● Only 25 per cent of MTPs, which were conducted at Government hospitals, were reported and remaining 75 per cent MTPs were conducted at private clinics, most of which were unregistered. The department did not have any information on the total number of MTPs in the State including those conducted in unauthorised clinics.
You can read the full report below