Cancel license of doctors involved in Illegal Abortions: Authorities write to Medical Council of India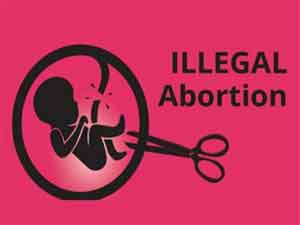 Sangli, Maharashtra:
Following the arrest of three doctors in the Sangli area for illegal abortions, the District collector has now written to the Medical Council of  India to cancel the degree of a doctor involved in the case.
Medical Dialogues team had earlier reported the  city police on Sunday booked three doctors including a female doctor of Chaugule Hospital in Ganesh Nagar for conducting illegal abortions.
After received a complaint, Health Department of Sangli-Miraj Municipal Corporation, raided the Hospital  with the help of city police, which was running without taking license under MTP act.Police said after checking hospitals registers, police found total seven illegal abortion cases had took place in the hospital in last year without taking any permission from Municipal corporation or the state government's health department.
According to city police, three doctors were identified as Dr Ms Rupali Chaugule, Dr Vijaykumar Chauguloe and Dr Swapnil Jamdade were booked under state medical abort law-1971 section 4 (B), (5), (3) and (4).
Police arrested Dr. Rupali Chougule, accused in the illegal pregnancy in Sangli Chowgule hospital, on Monday and the court awarded five-day police custody to the doctor. Both Rupali Chougule's husband Dr. Vijaykumar Chougule and Dr. Vijay Jamdade were missing but Dr. Vijaykumar Chougule was arrested by the police . It is reported that after miscarriage, the embryo was buried in the fields. Police could not get a confirmation from this. The police are still trying to find the foetuses
Read Also : Maharashtra: Three doctors booked for illegal abortions
District collector Vijaykumar Kalam Patil told
TOI
, "The licence of the hospital has been cancelled. We have arrested Rupali Chougule and will arrest the other two doctors also. We have sought guidance from experts to make the case strong, so it holds in court. I have written to the MCI to abolish the degrees of these doctors."
Civic chief Ravindra Khebudkar said all sonography centres and hospitals will be thoroughly scrutinised every three months and a dedicated team of doctors will be deployed for the task.
Besides this, health administration of both districts have sought details of the case from Sangli police, and based on these could terminate the services of these doctors. Sangli Zilla Parishad chief executive officer Abhijit Raut said every PHC will be scrutinised through tehsil level officers as Rupali Chougule was assigned a primary health centre in Sangli district while another suspect doctor was deputed at Gargoti PHC in Kolhapur district. An investigation into the dual practice by doctors -- both private and government -- will be carried out, and termination letters will be issued if necessary, he said.