Cancer mitigation, prevention, a challenge for doctors: President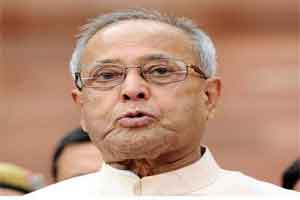 Bengaluru: With increasing cases of CANCER across the country, the medical fraternity and policy planners face the challenge of mitigating and preventing the dreaded disease, President Pranab Mukherjee said.
"Official data reveals one in 15 men and one in 12 women in urban areas face cancer risk in their life time. With rapidly growing population, doctors and policy makers face the challenge of its mitigation and prevention," Mukherjee said at a function.
After laying the foundation stone for the state-run cancer institute of Kidwai Memorial Institute of Oncology, the President said the unabated spread of cancer was a cause for concern despite steps for preventive, curative and palliative care.
"Efforts are being made to pave way for structuring strategies to plan, guide, monitor and evaluate cancer control programmes," Mukherjee said on the occasion.
Referring to the state-run Indian Council of Medical Research,
ICMR
efforts to make cancer a notified disease on a national basis for generating data, the President said such reliable data would help in grasping the magnitude of the problem and formulating a comprehensive cancer cure policy for the affected.
"Early detection is a game changer in the overall treatment and management of cancer which will get a boost with reliable data," Mukherjee asserted.
Observing that facilities for early detection, treatment and palliative care were sub-optimal in rural areas where more people live, the President urged the doctors to develop a system for early detection and proper disease management.
"We need to explore technology to prevent and treat cancer with a communication strategy to fight against its spread across the country." Mukherjee pointed out.
Admitting that affordable health care was a challenge for all stakeholders, especially the needy, the President said huge investment on manpower and equipment was increasing the cost of cancer treatment.
"Literacy and awareness about cancer will make more people seek medical advice at an early stage and access to diagnostic methods help in early tumour detection,"
Pranab Mukherjee
told the gathering, including state governor Vajubhai R Vala and chief minister Siddaramaiah.
On the recommendation of the national cancer control programme, oncology wings have been set up in medical colleges to extend cancer care facilities to people.
In addition, the central government has upgraded regional cancer centres to state cancer institutions through funding for diagnosis and treatment.
The 40-year-old Kidwai institute is one of the beneficiaries of such a drive to provide cancer care facilities to the people in Karnataka and other parts of India.
"We have to declare an all-out offensive against cancer and achieve a decisive victory through active collaboration and participation of government, industry and academia," Mukherjee added