Cancer Survivors Celebrate 'Life' at Biennial Meet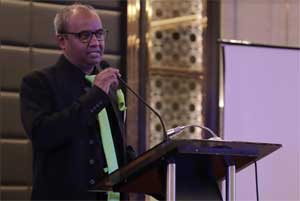 New Delhi: The Lymphoma Support Group, India (LSGI) held its 4th biennial meet recently in New Delhi. The event witnessed participation of over 350 Cancer Survivors who came together to celebrate life, a life after cancer.
From small children to senior citizens, from soldiers serving the nation to financial advisors, students and teachers, men and women cancer had impacted the lives of all and emerged as a unifier that motivated these survivors to come together and exchange notes, work towards creating greater awareness and giving hope to patients undergoing treatment.
This biennial event is organised to recognise and honour everyone who is living with a history of cancer and works with a special focus on Lymphoma patients. The meet is an opportunity for cancer survivors to connect with other survivors, celebrate milestones and recognize the healthcare providers, family, and friends who have supported them along the way.
The purpose of the meet for participants is to learn from shared experiences and reach out and support people who are currently undergoing treatment. For patients undergoing treatment, the meet was a ray of hope, hope for survival and a platform for bonding with a shared pain, suffering, emotional and financial trauma for most. It is a day for cancer survivors to stand together and show the world that life after a cancer diagnosis can be meaningful, productive and inspiring.
The meet happens once every two years since its inception in 2012 and the group is open to all Lymphoma patients irrespective of the hospitals they are treated at. The forum is a platform where the patients and families get insights in handling sensitive issues like treatment questions and family stressors. This helps cancer patients to navigate their treatment and tries to ensure quality, affordable and coordinated care.
The Chief Guest Dr Sudeep Shreshtha, Medical Oncologist from Nepal is working at the grass root level for proving timely assistance as well as generating cancer awareness for early diagnosis.
Dr Anjan Shrestha, Haemato Oncologist from Nepal and Dr Sandeep Jasuja, Haemato Oncologist, S.M. hospital Jaipur were guests of Honour.
The meet was organised by The Lymphoma Support Group India (LSGI) which was started in 2012 as a collaborative effort of patients and practicing Hemato-oncologist. The group is spearheaded by Shamim Khan. Shamim a caregiver and wife of a lymphoma cancer survivor has put in considerable effort and time to this cause and is supported by other survivors namely Mrs Davinder Madan, Dr Santosh, Mrs Sunita, Mrs Sarika, Nishu Jain and Sunil Popli.
The group of consulting doctors include Dr Dinesh Bhurani, Director Haematology and Bone Marrow transplant, Rajiv Gandhi Cancer Institute, Dr Rayaz Ahmed, Senior Consultant Department of Haematology and Bone Marrow Transplant, Rajiv Gandhi Cancer Institute. The other doctors from Rajiv Gandhi Cancer Institute Are Dr Narender Agarwal, Consultant Department of Haematology Dr Ullas Batra, Medical Oncologist, Dr Sumit Goyal, Medical Oncologist. These doctors provide the required medical know-how and consultancy to the group to propel its activities forward. The working of the group consolidated further in the year 2016 and took the shape of a not for profit trust.
The event saw Cancer survivors and their families put up a brilliant entertain programme complete with songs, instrumental and poetry recitals as well as a ramp walk where each survivor was dressed in ethnic dresses representing different Indian states and accompanied by Doctors.
The most beneficial part of the event for patients was the Q& A session with Doctors that followed the performances and saw survivors as well as patients undergoing treatment clear their doubts and ask questions to help them cope better, discuss the do's and don'ts and equip themselves for all eventualities.
Read Also: Rectal Cancer Treatment: Doctors, Experts deliberate protocols