Miscalculation of nutrition supplement dose causes MI, an EHJ case report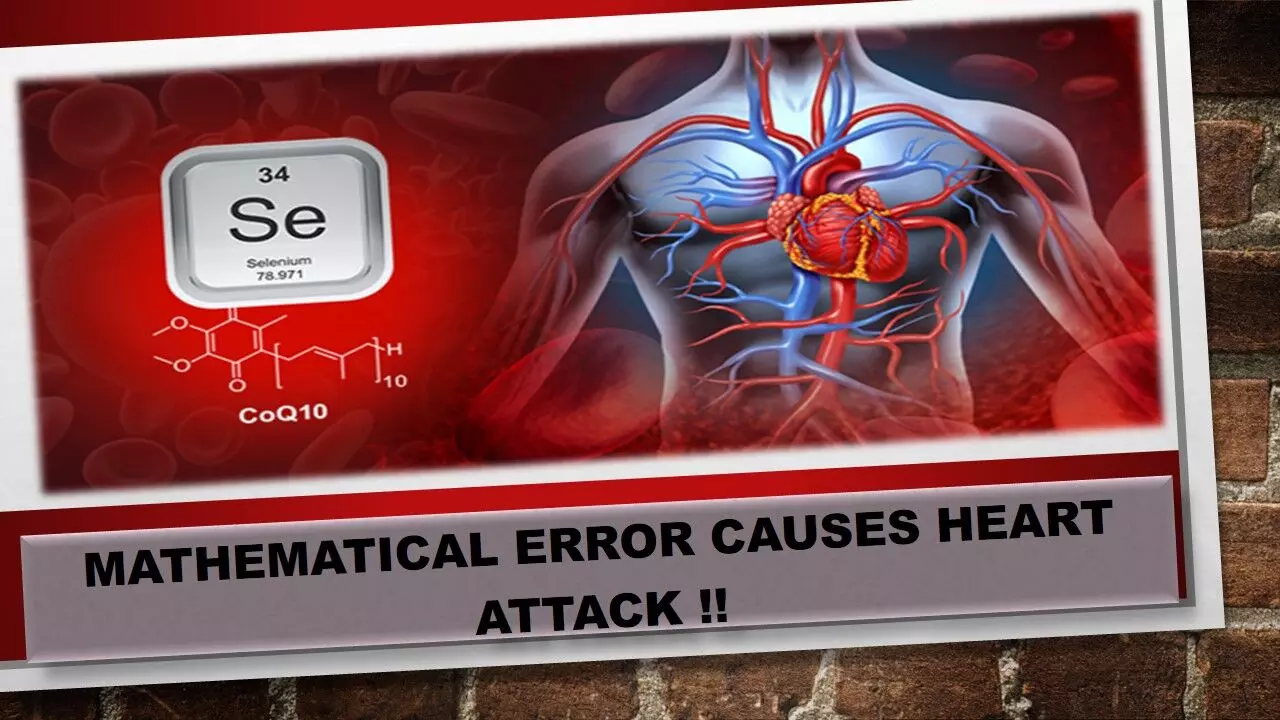 Selenium is a trace element that plays an important role in the regulation of the immune system and cardiovascular protection because of its pronounced antioxidant effect. Only few cases of acute selenium poisoning in humans have been described so far. Stroikova et al have published a unique case of myocardial infarction (MI) following acute selenium poisoning as a result of miscalculated dose ingestion.
A74-year-old female patient presented with acute onset of angina pectoris. She regularly consumed nutrition supplements, including sodium selenite capsules as a cardiovascular preventive measure. On the day of hospitalization, she ran out of selenite capsules and took sodium selenite powder from her husband's laboratory as a substitute. The patient mistakenly consumed 125 mg, which is 1,000 times the capsule dose of 125 µg.
At first, she noted slight dizziness and trembling. Within 1 hour, she had chest pain radiating to the left arm and jaw, as well as vomiting, severe nausea, and soft, frequent bowel movements. At the time of admission, the patient had bradycardia and elevated blood pressure (heart rate, 52 beats/min; blood pressure, 180/90 mm Hg).
Until the day of admission, the patient was not known to have any cardiovascular diseases. An admission ECG didnot show any acute ischemic changes but high sensitivity troponin T (hsTnT )level was 56 ng/l, rising to 216 ng/l at the 3-h control, thus indicating an acute non–ST-segment myocardial infarction (NSTEMI) or an acute myocardial injury secondary to severe selenium poisoning. No inflammatory constellation and signs of liver or kidney damage were found in the blood tests.
Following a negative consent for conventional coronary angiography, a CT coronary angiogram was done that revealed only mild to moderate isolated left anterior descending artery disease. 2DECHO and cardiac MRI revealed normal functioning of left ventricle.
Because intake had occurred 2 h earlier and the patient had spontaneously vomited multiple times, no specific measures were available. The patient was monitored until she was free of symptoms.
The patient showed rapid clinical improvement and a good level of mobility. Her initial muscle complaints and concentration issues regressed. Finally, hsTnT normalized at day 9, and the patient was asymptomatic. Besides sinus bradycardia, no arrhythmic events occurred during monitoring of this patient. Because single-vessel coronary artery disease was detected, aspirin and atorvastatin were administered.
Previous case reports of the very rare acute selenium poisoning have reported patients developing tachycardia, hypotension, gastroenteritis, hemorrhages, nonspecific ECG changes (prolonged QT interval, atrioventricular nodal block, frequent premature ventricular complexes, and ST-wave changes), and deterioration of cardiac function, including reduced ejection fraction and cardiovascular collapse.
In most patients, symptoms develop triphasically: first gastrointestinal complaints, later muscle weakness, and finally cardiopulmonary complaints with multiorgan failure and death. According to the European Food Safety Authority, 300 mg of selenium/day is a dose tolerable for adults. This patient took 400 times the upper tolerable dosage. Troponin first showed a significant elevation from 56 to 241 ng/l, thereby indicating myocardial damage and correlating with angina pectoris, and it then decreased rapidly according to the decrease of selenium concentration. Thus it can be assumed that intoxication was the leading cause of cardiac symptoms in this patient.
Because there are no antidotes, and the chelators seem to increase the toxicity of selenium, the therapy of choice consists of stopping the exposure and alleviating symptoms.
This case report assist clinicians in recognising acute selenium poisoning in the differential for NSTEMI, especially when bradycardia with hypertension and gastrointestinal symptoms constitute the presenting profile.
Source: JACC case reports: Vera S, Dennis R, Benjamin M, Rare Case of Selenite Poisoning Manifesting as Non–ST-Segment Myocardial Infarction, JACC: Case Reports, 2021, https://doi.org/10.1016/j.jaccas.2020.12.051.