Unlocking the link between bending forward and syncope- First-ever reported series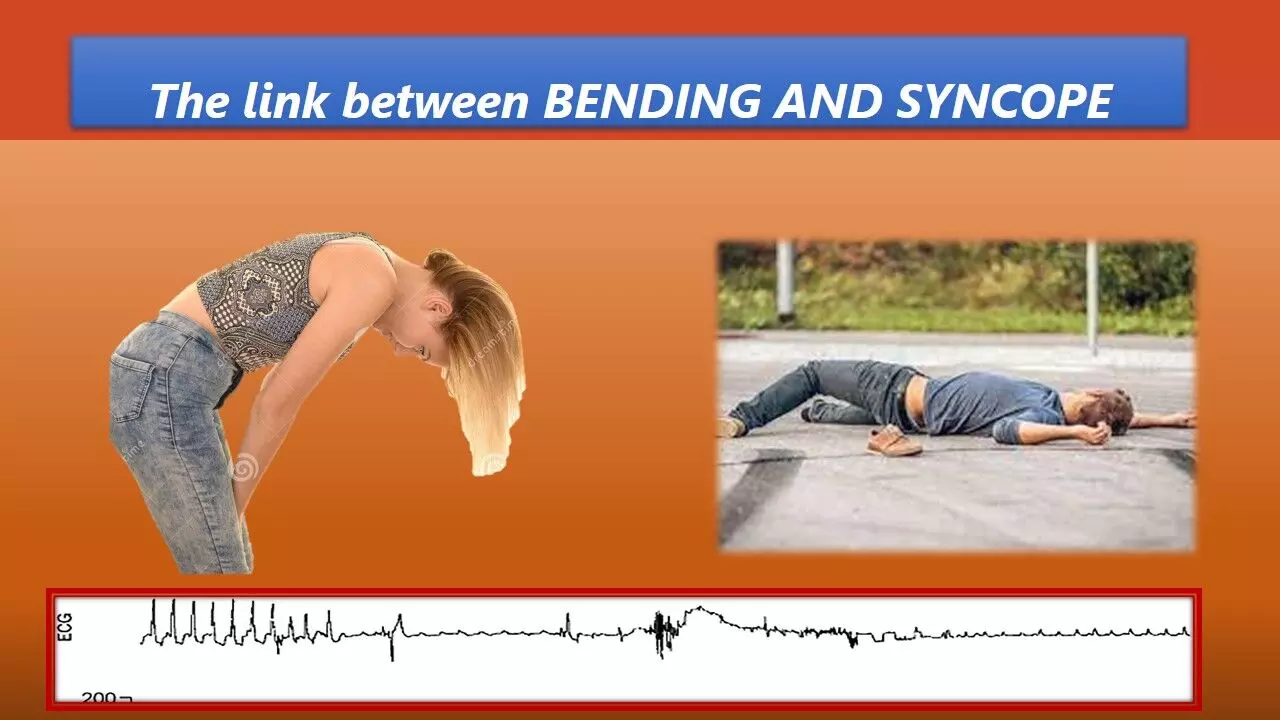 Europace: Reflex syncope is usually triggered by specific triggers like prolonged standing, micturition, emotional stress, etc. Such episodes are usually caused by vagal reflex mediated fall in blood-pressure-the vasodepressor type or a fall in heart rate – the cardioinhibitory-type syncope. However, bending forward has never been described as a trigger for syncope.

A recent case series by Saal et al, published in Europace, describes five patients with syncope caused by a complete atrioventricular block (AVB) while they were bending forward. The cause was counterintuitively paroxysmal AVB, and not reflex AVB. Hence, pacemaker implantation benefitted all 5 patients.
• In this case series, in two patients, bending forward was the exclusive trigger for syncope, while in the remaining three, other postural changes (sitting down, standing up, and exertion) could also provoke syncope.
• Complete AVB as the cause of syncope was documented using ECG monitoring in two cases and an implantable loop recorder in the other three. Ectopic beats without preceding sinus slowing occurred before syncope in four cases. Two cases had a left bundle branch block.
• All patients responded favourably to cardiac pacing.
This is the first case series on complete AVB provoked by bending forward. Syncope during bending forward should suggest a search for an AVB. Arguments in favour of a vagal mechanism were syncope triggered by bending forward, and that other triggers could also evoke syncope. However, the absence of sinus slowing before syncope in some cases and the fact that bending forward did not seem to provoke reflex syncope without AVB, cast doubts on a reflex mechanism.
There were also arguments favouring conduction disorder: i.e. ectopic beats before syncope and pre-existing conduction disturbances in two cases. The cases are reminiscent of paroxysmal AVB. Discrimination between paroxysmal AVB and vagal AVB is important because a pacemaker is warranted in arrhythmic complete AVB, while the benefit is limited or absent in reflex AVB.
A complete AVB may occur as an acquired high-degree or complete heart block, a vagally mediated AV block, a congenital heart block and as 'paroxysmal AVB'. The presence of a trigger for syncope usually suggests reflex syncope. However, syncope can also be triggered by external circumstances in some cardiac arrhythmias like the long QT syndrome (cold water, loud noise) or the Brugada syndrome (large meal).
A consistent case feature was a very short warning period before syncope. In a sudden cardiac standstill, the time between the last beat and the onset of loss of consciousness is only 7–10 s. Patients may only become aware of something amiss after 4–5 s of asystole, leaving them only a few seconds to act.
A slight modification of heart rate in a bundle branch block may trigger a tachy-dependent or brady-dependent intrinsic AV block. One of the cases stressed that lying down did not prevented syncope; a failure of lying down to prevent syncope suggests that syncope is due to circulatory standstill rather than to low blood pressure with normal heart rhythm. Bending forward may also cause an increase in ventricular preload, with a resulting sudden dilatation of the right heart. The opposite haemodynamic change seems to trigger vasovagal syncope, namely, falling venous return. The RA baroreceptors are 'stretch' type receptors and could be affected similarly by decrease or increase in right heart volume.
"Atrioventricular block should be considered in those presenting with syncope provoked by bending forward", concluded the authors.
Source: EPEuropace, euab044, https://doi.org/10.1093/europace/euab044