2020 ACC Expert Consensus Decision Pathway to guide anticoagulation and antiplatelet use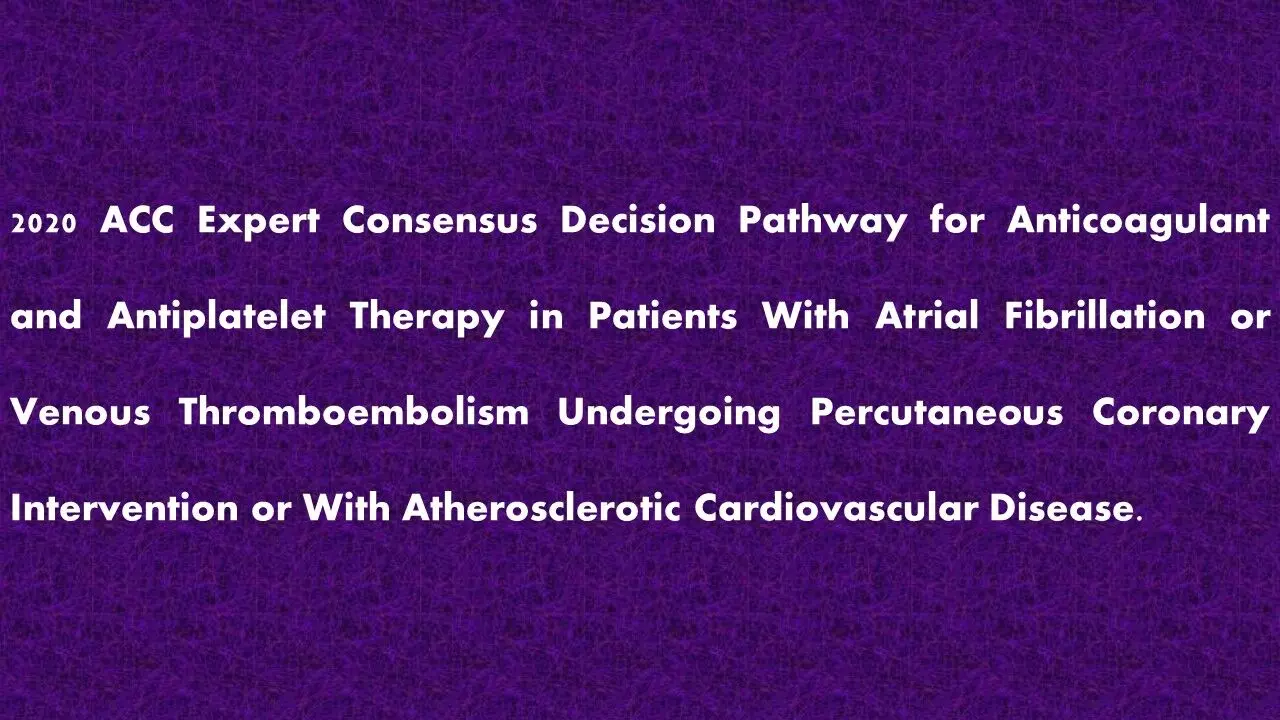 The ACC has released a new Expert Consensus Decision Pathway providing guidance and recommendations on optimal antithrombotic therapy for patients with atherosclerotic cardiovascular disease (ASCVD) and concomitant atrial fibrillation (AFib) or venous thromboembolism (VTE) who require an anticoagulant. The document was published on Dec. 18 in the Journal of the American College of Cardiology.

Current estimates suggest that approximately one in four individuals will develop atrial fibrillation (AF) during their lifetime. AF increases the risk of stroke 4- to 5-fold and accounts for 15% to 20% of ischemic strokes. Accordingly, current AF guidelines provide strong support for use of oral anticoagulants (OACs), particularly in those at higher stroke risk, such as those individuals with a high CHA2DS2-VASc score, presence of certain valvular lesions (e.g., mitral stenosis), or other predisposing factors.
Coronary artery disease (CAD) is a common comorbidity in patients with AF, occurring in roughly 25% to 35% of this population. Choosing the optimal antithrombotic regimen for patients needing an anticoagulant (AC) and antiplatelet (APT) can be a challenge for practicing clinicians. Patients with either AF or VTE undergoing PCI have historically been treated with an AC and dual antiplatelet therapy (DAPT) (aspirin and a P2Y12 inhibitor [P2Y12i])—so called "triple therapy." Support for this practice came from older trials that suggested that an OAC alone was not an optimal treatment for those undergoing PCI and, similarly, that DAPT was not an optimal treatment for AF or VTE. Triple antithrombotic therapy, however, significantly increases the risk of bleeding.
The new Pathway, led by Chair Dharam J. Kumbhani, MD, SM, FACC, and Vice Chair Christopher P. Cannon, MD, FACC, highlights the challenges with choosing optimal antithrombotic regimen for patients needing an anticoagulant and antiplatelet therapy, including the increased risk of major bleeding associated with triple antithrombotic therapy. As a result, the Pathway recommends against the routine use of triple antithrombotic therapy for most patients and "strongly recommends" a dual antithrombotic therapy consisting of an anticoagulant and a P2y12 inhibitor for patients requiring both an anticoagulant and antiplatelet therapy after recent PCI.
The document also provides several decision pathway algorithms and is divided into four sections focused on specific clinical scenarios:
1) a patient with AFib on anticoagulant therapy who now needs a PCI and antiplatelet therapy;
2) a patient on antiplatelet therapy with new-onset AFib requiring an oral anticoagulant;
3) a patient with prior VTE receiving an anticoagulant who now needs a PCI and antiplatelet therapy; and
4) a patient on antiplatelet therapy for ASCVD with a new VTE requiring an anticoagulant.
Looking ahead, the document aims to serve as a framework for decision-making among patients who require concomitant use of an anticoagulant and antiplatelet therapy. "We hope this document will aid in the management of this common yet challenging subset of patients," write Kumbhani, Cannon and colleagues.
Expert Consensus Decision Pathways are part of ACC's overarching effort to develop Solution Sets that "address key questions facing care teams and attempt to provide practical guidance to be applied at the point of care." Many of the discussions included in the current Pathway were informed by two focused Heart House Roundtables held in 2016 and 2017.
Source: journal: JACC. Kumbhani DJ, Cannon CP et al. 2020 ACC Expert Consensus Decision Pathway for Anticoagulant and Antiplatelet Therapy in Patients With Atrial Fibrillation or Venous Thromboembolism Undergoing Percutaneous Coronary Intervention or With Atherosclerotic Cardiovascular Disease: A Report of the American College of Cardiology Solution Set Oversight Committee. J Am Coll Cardiol. 2020 Nov 26:S0735-1097(20)36615-8. doi: 10.1016/j.jacc.2020.09.011
Source : Journal of the American College of Cardiology