Digoxin "dance", an extremely rare complication by a commonly used drug.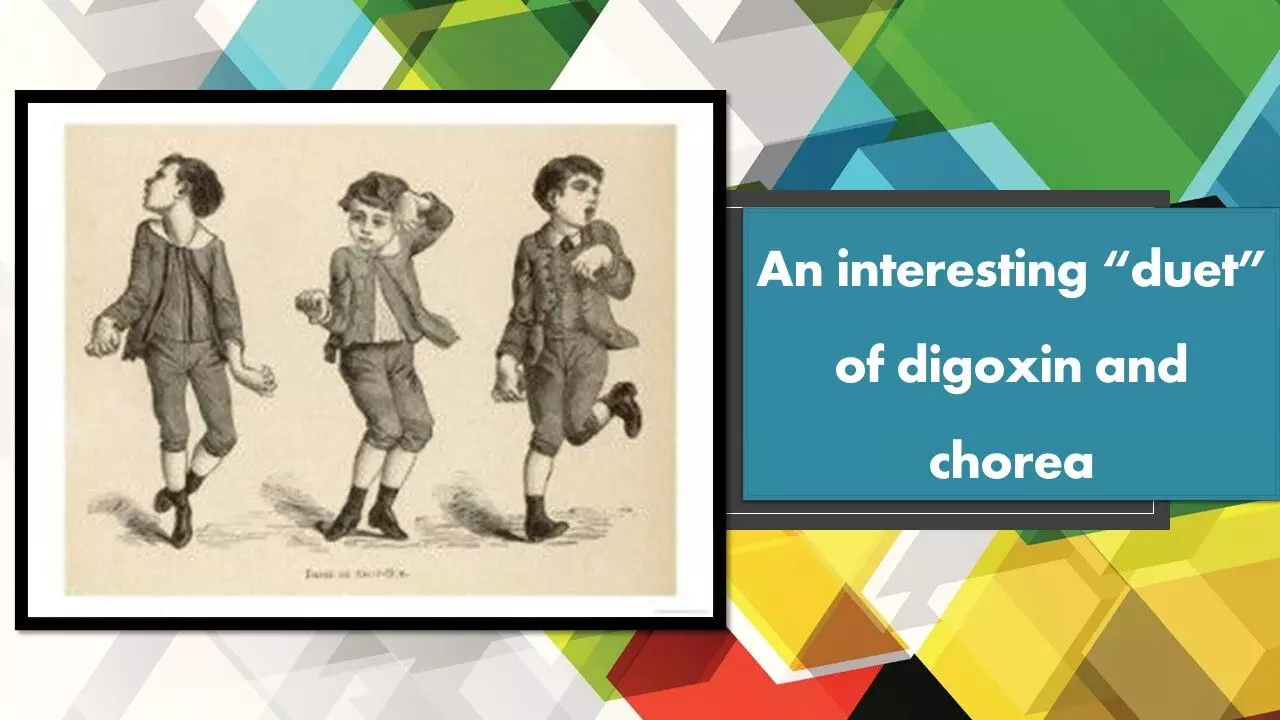 Chorea is a rare movement disorder characterized by its involuntary, rapid, and irregular "dance-like" movements. In patients with atrial fibrillation, this phenomenon is commonly secondary to cardio-embolic stroke but a case report published in European Heart Journal describes a presentation of bilateral chorea secondary to digoxin toxicity in a chronic kidney disease patient. this case is only the fourth such presentation of digoxin toxicity ever reported.
A 78-year-old lady presented to the emergency department with a 4-week history of intermittent vomiting and diarrhoea. These symptoms commenced after a course of antibiotics prescribed by her general practitioner for a urinary tract infection. Her admission ECG demonstrated atrial fibrillation at a rate of 32, with evidence of digitalis toxicity. She was already on treatment for AF – taking edoxaban 30 mg once daily (o.d.), digoxin 125 micrograms (mcg) o.d., bisoprolol 5 mg o.d., amiodarone 200 mg o.d., allopurinol 100 mg o.d., ferrous fumarate 305 mg o.d., lansoprazole 30 mg o.d., metformin 500 mg three times daily, gliclazide (modified release) 30 mg o.d., furosemide 40 mg o.d., atorvastatin 20 mg o.d., budesonide/formoterol 200 mcg/6 mcg inhaled twice daily, umeclidinium 55 mcg inhaled o.d., mirtazapine 30 mg o.d., in addition to nutritional supplementation.
Her creatinine was 396 µmol/L (44–80 µmol/L) with digoxin level 8.1 nmol/L (0.77–1.5 nmol/L). Initially, treatment was with digoxin-specific antibody (FAB) and fluid resuscitation. Within 24 h, she developed transient head, neck, and bilateral upper limb chorea. Review of medications revealed no other likely causative agent. Neuroimaging showed no new ischaemia, but stable established bilateral infarcts of the basal ganglia. Haloperidol 0.5 mg twice daily was commenced. Three days later as digoxin levels normalized, the chorea resolved entirely without recurrence.
She was administered with intravenous digoxin specific antibody (FAB), treated for hyperkalaemia (6.2 mmol/L), commenced on fluid resuscitation, and transferred to the coronary care unit (CCU) for cardiac monitoring. While in the CCU, she was noted to develop generalized symmetrical choreiform movements. She had not been treated with any neuroleptic medications or any other drugs. Examination revealed myoclonus in the fingers and dyskinetic movements of the oral muscles and tongue. Diffuse hypertonia and hyper-reflexia were present. An urgent computerized tomography brain scan showed no new abnormalities but demonstrated old-established basal ganglia infarcts bilaterally.
She was reviewed by neurology and commenced on 0.5 mg of haloperidol twice daily. Her clinical state improved in correlation with supportive measures for haemodynamics and renal function. Symptoms of chorea resolved fully as digoxin levels normalized without recurrence even after cessation of haloperidol, and the patient was discharged home after 5 days. The absence of chorea was confirmed at a virtual clinic 1 month after her discharge.
To date, only 3 cases of digoxin induced chorea have been published. Of note, amiodarone has been demonstrated to cause neuromuscular side effects such as ataxia and generalized hyper-reflexia when at toxic levels. This, however, has been described as taking 2–6 months to resolve and does not clinically fit the choreiform movements at rest exhibited by this patient.
The cause of digoxin-related chorea is not known, however, it has been postulated that an alteration to dopaminergic neuronal activity is a potential mechanism as digoxin also demonstrates neuropsychiatric side effects such as psychosis and depression. As demonstrated with the patient's neuroimaging, there were old bilateral infarcts of the basal ganglia. This established parenchymal loss may have acted as a predisposing factor to developing chorea in the setting of digoxin toxicity.
Source: European Heart Journal: case reports. https://doi.org/10.1093/ehjcr/ytab022