Interleukin (IL)-1 inhibitor rilonacept resolves and prevents recurrent pericarditis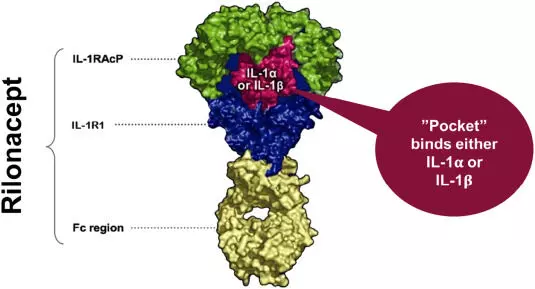 In patients with recurrent pericarditis, treatment with rilonacept, an engineered fusion protein that acts as an IL-1 trap, leads to a rapid resolution of recurrent pericarditis episodes and reduces the risk of pericarditis recurrence suggests the findings of RHAPSODY trial. The research has been published in The NEW ENGLAND JOURNAL of MEDICINE.

In a previous phase II trial on Rilonacept, an injectable, once-weekly IL-1α and IL-1β cytokine trap, shown to resolve pericardial inflammation. The pathogenesis of recurrent pericarditis is still poorly understood, but evidence suggests that both the cytokines (IL-1α and IL-1β) are important for creating a vicious cycle and therefore, inhibition of both cytokines is vital to achieve the full control of inflammation. For this purpose, researchers conducted a study to determine the efficacy and safety of blocking both cytokines with rilonacept, an Fc fusion protein comprising the extracellular domains of IL-1 receptor (IL-1R) type 1 and IL-1R accessory protein that functions as a soluble decoy IL-1R to neutralize IL-1α and IL-1β.
It was a phase 3, multicenter, double-blind, event-driven, randomized-withdrawal trial of rilonacept in 86 patients with acute symptoms of recurrent pericarditis and systemic inflammation. All of them were started on rilonacept therapy after the second episode of pericarditis, with background medication discontinued. After a 12-week run-in, the 61 participants who demonstrated a clinical response were then randomized to continue on the study drug or placebo. The major outcome assessed was the time to the first pericarditis recurrence using the Cox proportional-hazards model. The researcher also assessed safety end-points.
Key findings of the study were:
♦During the run-in period, researchers observed pain resolved within 5 days, while C-reactive protein levels normalized by day 7.
♦They reported 4 adverse events during the run-in phase, mostly injection-site reactions and upper respiratory tract infections.
♦During the randomized phase, they observed a few patients who had their pericarditis recur on rilonacept to calculate a median time to recurrence whereas, the median time to adjudicated recurrence in the patients who'd switched to placebo was 8.6 weeks.
♦During this period, they noted that 2 of 30 patients (7%) in the rilonacept group had a pericarditis recurrence compared with 23 of 31 patients (74%) in the placebo group.
The authors concluded, "Among patients with recurrent pericarditis, rilonacept led to rapid resolution of recurrent pericarditis episodes and a significantly lower risk of pericarditis recurrence than placebo".
For further information:
Article Source :
NEW ENGLAND JOURNAL of MEDICINE