SGLT2i in heart failure: Time to lose the clinical inertia.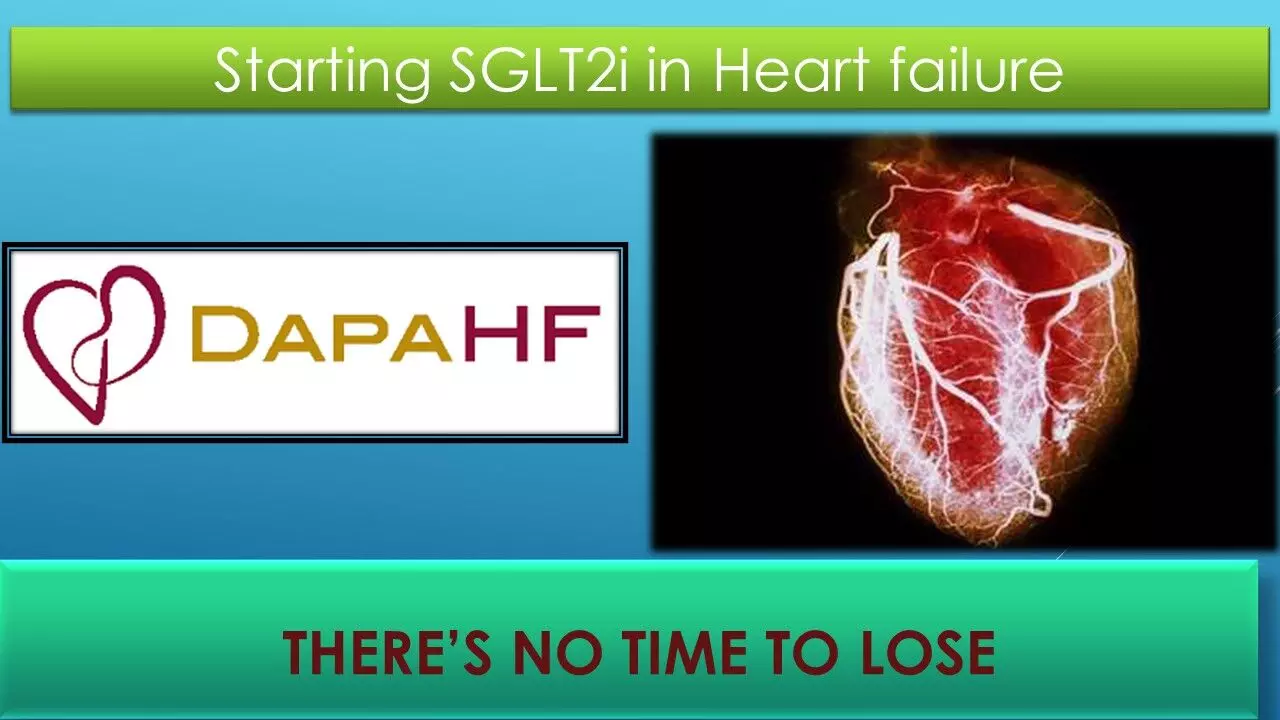 The landmark trial data from DAPA-HF, EMPEROR-reduced, and SOLOIST-WHF has provided compelling evidence for the addition of SGLT2i as a new pillar of foundational therapy for HFrEF. Yet, questions remain regarding the optimal timing of the initiation of this newer therapy compared with other established HFrEF medications. The secondary analysis of DAPA-HF trial published in current issue of JAMA, favours an early initiation of SGLT2i in HF patients with maximum benefit in patients with a recent acute HF hospitalization.

The patient-level clinical benefits of the use of comprehensive disease-modifying medical therapy (eg, sacubitril/valsartan, β-blockers, mineralocorticoid receptor antagonist, and SGLT2i) for HFrEF is estimated to extend median survival by more than 6 years. The simultaneous or rapid sequence initiation of each of these therapies is associated with the potential for substantial incremental health status and clinical event reduction within the first 4 weeks. Delays in the initiation of multidrug evidence-based therapies for HFrEF are unwarranted. A sense of urgency must now emerge for optimal implementation.
Hospitalization for worsening HF is a prognostically significant event in the clinical course of a patient with chronic HF. Beyond the substantial consequence of inpatient admissions for patient quality of life, HF hospitalization identifies patients who are at high risk for subsequent disease progression, requirement for advanced therapies, and cardiovascular death. Because of their elevated risk profile, patients who have been hospitalized for HF represent an important target population for reducing overall HF morbidity and mortality.
The analysis aimed to examine timing of onset of clinical benefit with dapagliflozin and magnitude as a function of proximity to prior HF hospitalization.The study enrolled patients in New York Heart Association classes II through IV and with left ventricular ejection fraction of 40% or less; the median (range) follow-up time was 18.2 (0-27.8) months. Efficacy and safety of dapagliflozin were assessed according to the timing of the most recent HF hospitalization prior to trial enrollment.
In this secondary analysis, dapagliflozin rapidly reduced the risk of cardiovascular death or worsening heart failure, with a sustained statistically significant benefit as soon as 28 days. The primary composite end point occurred rapidly, reaching statistical significance within 28 days of initiation (hazard ratio, 0.51; 95% CI, 0.28-0.94). Further, when analyzing the association of the benefit of treatment with timing of prior hospitalization for worsened HF, the greatest relative and absolute benefits occurred in patients with HF hospitalization within the previous 12 months (hazard ratio, 0.64; 95% CI, 0.51-0.80; 9.9% absolute risk reduction at 2 years). Analyses of EMPEROR-Reduced and the findings from SOLOIST-WHF further support an early benefit after initiation of SGLT2-i for HFrEF
Nevertheless, the challenges of access, costs, clinical inertia, and health equity are real and should not be underestimated. Implementation science may address how best to overcome clinical inertia, and clinical practice guideline endorsement will help. However, the opportunity to expeditiously implement this remarkable class of therapy for HFrEF is now compelling and deserves disruptive efforts to ensure comprehensive treatment and the best patient outcomes.
Source: JAMA Cardiology: Berg DD, Jhund PS, Docherty KF, et al. Time to Clinical Benefit of Dapagliflozin and Significance of Prior Heart Failure Hospitalization in Patients With Heart Failure With Reduced Ejection Fraction. JAMA Cardiol. Published online February 17, 2021. doi:10.1001/jamacardio.2020.7585