Thiazide diuretics may increase the risk of skin cancer after long-term use, CMAJ study.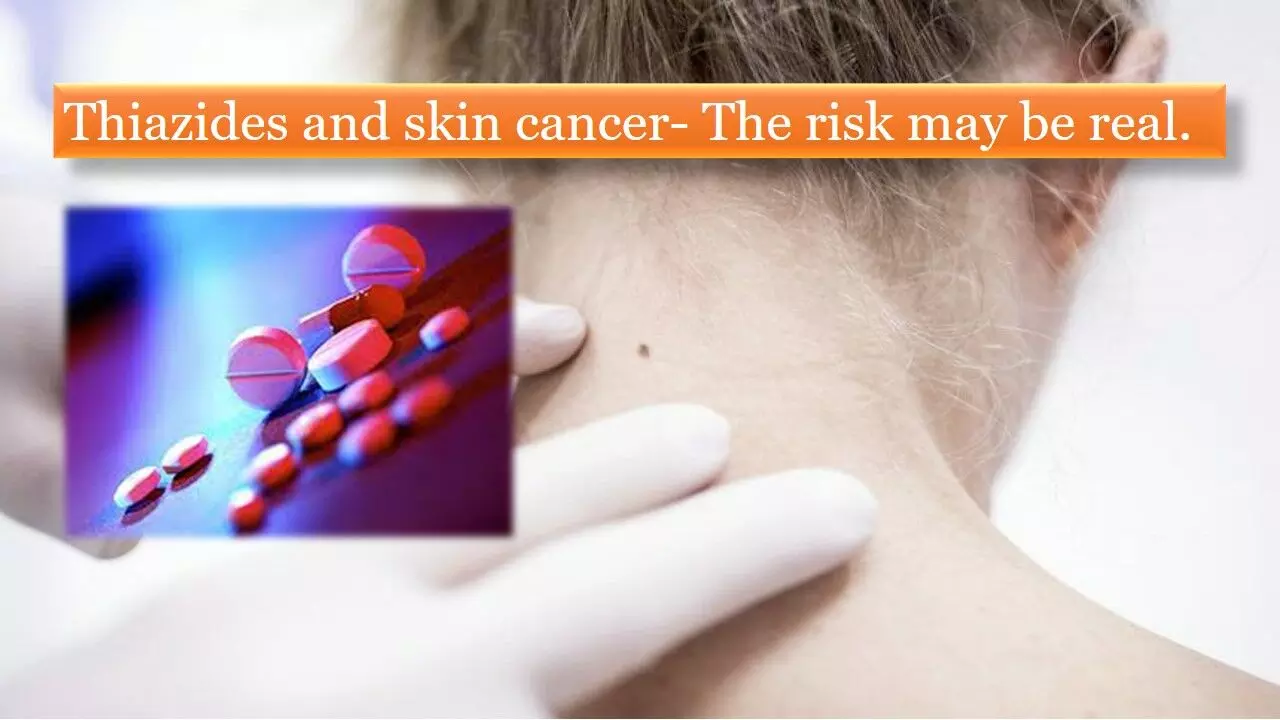 The risk of skin cancer associated with antihypertensive medication use is unclear, although thiazides have been implicated in regulatory safety warnings. New data from a study published from Canada add strength to prior observations that long-term exposure to thiazide diuretics is associated with a higher risk of developing some types of skin cancer.

Ultraviolet (UV) radiation exposure is the most important environmental risk factor for skin cancer. Medication-induced phototoxicity, in which medications interact with UV radiation to cause cellular damage in the skin, may increase the carcinogenic potential of sun exposure. Hydrochlorothiazide is first-line pharmacotherapy for hypertension and is considered the most phototoxic antihypertensive medication.
For the study, Drucker and colleagues compared data for 302,634 patients aged 66 years or older prescribed an antihypertensive medication in Ontario between 1998 and 2017 against those for 605,268 age- and sex-matched adult controls not prescribed a antihypertensive. The most commonly prescribed medication classes were ACE inhibitors (37%), followed by thiazide diuretics (29%), beta-blockers (23%), calcium-channel blockers (17%), and ARBs (9%). The number of physician visits and comorbidities other than hypertension at baseline were similar between groups.
At a median of 8.9 years, increasing exposure to a thiazide diuretic was associated with higher rates of keratinocyte carcinoma and melanoma. Compared with the lowest exposure category, those in the highest exposure category had a 44% higher rate of keratinocyte carcinoma, a 52% higher rate of advanced keratinocyte carcinoma, and a 60% higher rate of melanoma.
Recently, Health Canada, the US Food and Drug Administration (FDA), and the European Medicines Agency issued warnings about the association based on the findings of two Danish studies that looked at hydrochlorothiazide. The FDA added labeling changes to address the increased risk in August 2020.
"We found consistent dose-dependent increases in skin cancer risk associated with thiazides but not with other antihypertensive classes", noted the authors. "What we found was that when you take a steady dose of hydrochlorothiazide over a number of years, let's say 5 to 10 years, then you start to really see some substantial increases in cancer risk," added the authors.
Higher cumulative exposure to thiazides was associated with increased rates of incident skin cancer in people aged 66 years and older. Consideration of other antihypertensive treatments in patients at high risk of skin cancer may be warranted.
They suggest that patients taking thiazide should consider using sun protection and monitoring for early detection of skin cancer. However, Chief investigator Drucker stressed that patients should not be overly alarmed by the findings or stop taking prescription hydrochlorothiazide out of fear of developing skin cancer.
"I think what's important for people to realize is that the risk that we found is probably more relevant to certain segments of the population that have a baseline risk consistent with people with fair skin, those who have had a skin cancer before, or people who have a lot of sun damage or who have used artificial tanning," he added. "If you are someone with that [higher] risk, having a discussion with your doctor about whether you should still be on it, or what you might do to mitigate the risk of skin cancer if you are going to be on it long-term, is probably a good idea."
Source: Canadian Medical Association Journal CMAJ 2021 April 12;193:E508-16. doi: 10.1503/cmaj.201971