Hottest developments in field of cardiology in 2020 in nutshell. Section 4- Structural Heart disease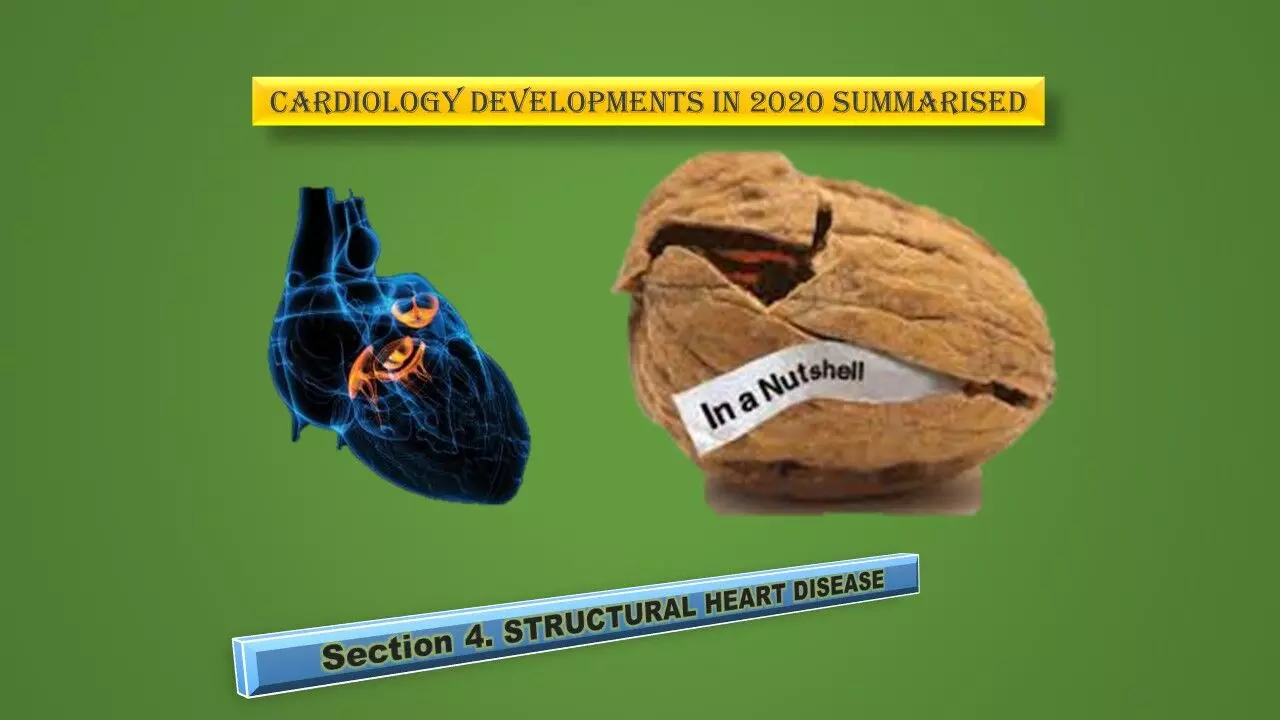 The year 2020 earmarked the expanding realm of transcatheter interventions to address aortic, tricuspid, and mitral valvular lesions and provide essential literature for appropriate anticoagulation therapy post such interventions. The two cohorts in POPular TAVI trial addressed the issue of antiplatelets and anticoagulants in post-TAVI patients while COAPT trial brought to limelight the efficacy of Mitra-Clip system in functional MR that is intractable despite medical therapy. Following trials deserve a special mention in this section:
1. POPular(Antiplatelet Therapy for Patients Undergoing Transcatheter Aortic-Valve Implantation)TAVI trial:
In patients not taking oral anticoagulation, aspirin alone compared with aspirin plus clopidogrel following TAVI significantly reduced bleeding rates and did not increase thromboembolic events

The POPular TAVI trial compared single and dual antiplatelet treatment on bleeding and thromboembolic events after transcatheter aortic-valve implantation (TAVI).

331 patients without indications or anticoagulation undergoing TAVI, were assigned to receive aspirin or aspirin plus clopidogrel for 3 months.
After one year, bleeding and thromboembolic events were significantly less frequent in patients receiving aspirin only.
Author Dr. Brouwer concluded: "The trial shows that aspirin alone should be used in patients undergoing TAVI who are not on oral anticoagulation and have not recently undergone coronary stenting."
Source: NEJM : Brouwer J, Nijenhuis VJ, Delewi R, et al. Aspirin With or Without Clopidogrel After Transcatheter Aortic-Valve Implantation. N Engl J Med 2020;383:144-57.
2. POPular TAVI Trial - Cohort B (Antithrombotic Therapy After Transcatheter Aortic Valve Implantation in Patients With a Long-Term Indication for Oral Anticoagulation - POPular TAVI)
In patients having an indication for anticoagulation: treatment with an anticoagulation-alone strategy has a lower rate of serious bleeding than oral anticoagulation (OAC) plus clopidogrel for 3 months after TAVR.
Patients who underwent TAVR and had a long-term indication for oral anticoagulation were randomized to oral anticoagulation alone (n = 164) versus oral anticoagulation plus clopidogrel for 3 months (n = 162).
Atrial fibrillation was the most common indication for OAC accounting for 96% of those enrolled. OAC was primarily with a vitamin K antagonist (VKA), 75%, and direct oral anticoagulant 24%. Transfemoral TAVR was performed in 87%. Various types of valves were used; Edwards Sapien 3 41%, Medtronic Evolut R 29%, and other valves 30%. Embolic protection was employed in 2.5% only.

Oral anticoagulation alone was associated with a reduction in all bleeding and procedural bleeding compared with oral anticoagulation plus clopidogrel. The former group was non-inferior to latter with respect to major adverse ischemic events.
"The rates of complications for TAVR — especially complications related to bleeding — remain high," commented Vincent Nijenhuis, MD, of St. Antonius Hospital and the study's lead author, in a news release accompanying the trial results. "This study helps physicians to better understand the risks of adding antiplatelet therapy to oral anticoagulants — namely, that doing so leads to more bleeding without reducing the rate of ischemic events."
Source: NEJM Nijenhuis VJ, Brouwer J, Delewi R, et al. Anticoagulation With or Without Clopidogrel After Transcatheter Aortic-Valve Implantation. N Engl J Med 2020;382:1696-1707.
3. CLASP (The CLASP Study Edwards PASCAL TrAnScatheter Mitral Valve RePair System Study) Study
The PASCAL transcatheter valve repair system was associated with a low complication rate and high survival rate in the treatment of mitral regurgitation (MR)
• The CLASP study was a single-arm, multicenter trial of 109 patients with clinically and functionally severe mitral regurgitation (MR) (2/3 functional; 1/3 degenerative) treated with PASCAL (Edwards Lifesciences; Irvine, CA), a transseptal, edge-to-edge mitral repair device.
Overall, the mean age was 75.5 years, 54% of participants were male and the mean STS score was 4.7%. At baseline, all patients had MR grade 3+ or 4+ and 57% of patients were in NYHA class III or IV

• One-year results show 92% survival with 88% freedom from heart failure hospitalization. MR was ≤1+ in 82% of patients and ≤2+ in 100% of patients; 88% of patients were New York Heart Association (NYHA) Class I/II
In an accompanying editorial comment, Stephan Windecker, MD, et al., wrote that "head-to-head comparisons" of the PASCAL system and MitraClip system "will be of interest." The authors conclude that the "choice between different devices and sizes will further broaden the spectrum of anatomical settings amenable to leaflet approximation enabling a more individualized approach adapted to the multiplicity of mitral valve pathologies."

Source: JACC Interventions: J Am Coll Cardiol Cardiovasc Interv. 2020 Oct, 13 (20) 2344–2357.
4. COAPT (Cardiovascular Outcomes Assessment of the MitraClip Percutaneous Therapy for Heart Failure Patients With Functional Mitral Regurgitation) trial
Transcatheter mitral valve approximation using the MitraClip on a background of maximally tolerated GDMT was superior to GDMT alone in reducing HF hospitalization and mortality in symptomatic HF patients with grade 3-4+ MR.
Patients with HF and grade 3-4+ MR who remained symptomatic despite maximally tolerated guideline-directed medical therapy (GDMT) were randomized to MitraClip + guideline directed medical therapy(GDMT) vs. GDMT alone. This trial had an open-label design.
The primary effectiveness endpoint, HF hospitalization at 24 months for MitraClip + GDMT vs. GDMT, was 35.8% vs. 67.9% (hazard ratio [HR] 0.53, 95% confidence interval [CI] 0.40-0.70, p < 0.001). The primary safety endpoint, freedom from device-related complications at 12 months, was 96.6% for MitraClip (p < 0.001)
Improvements were also observed in LV dimensions and patient symptoms. Significant improvements were noted in quality of life (QoL) measurements starting at 1 month and sustained out to 24 months. The device had excellent safety.
These results come on the heels of the recently published MITRA-FR trial, which did not show a benefit in this patient population. Possible reasons for differences include enrollment of patients with more severe MR (EROA >30 in COAPT vs. >20 in MITRA-FR) and less dilated ventricles (LVEDV 101 vs. 135, respectively).
Procedural complications and success in reducing MR were also higher in the COAPT trial.
The cost-effectiveness analysis suggests higher costs with MitraClip compared with GDMT (mean difference approximately $35,000 over 2 years), with ICER analysis suggesting intermediate cost-effectiveness of MitraClip + GDMT over GDMT alone. This further underscores the need to carefully identify the patients most likely to benefit from MitraClip among patients with HF and MR

"These are truly landmark findings and will likely have a significant impact on the management of patients with secondary MR" concluded the authors.
Source: Giustino G, Lindenfeld J, Abraham WT, et al. NYHA Functional Classification and Outcomes After Transcatheter Mitral Valve Repair in Heart Failure: The COAPT Trial. JACC Cardiovasc Interv 2020;13:2317-28.