CAT notice to Health Minister and AIIMS Director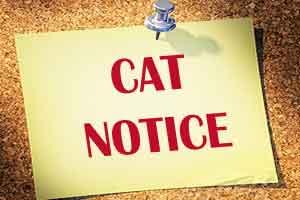 Sanjiv Chaturvedi , the current deputy-secretary at AIIMS has filed at a petition with the Central Administrative Tribune (CAT) seeking to debar the Union Health Minister and AIIMS director from writing his annual confidential report for the year 2015-16.
Following this, a notice has been issued to Nadda and M C Mishra (director) on April 18 by the principal bench of CAT. However, there have been no comments from the minister and the director on the matter as yet.
Naming them as respondents in his petition, Chaturvedi has clearly implied through his petition that he has been continuously harassed for many months, and now has approached the tribunal seventh time regarding the service matters.
Earlier also the tribunal had restrained Nadda from reviewing Chaturvedi's ACR. Chaturvedi is reported to have filed a strong plea with the tribunal alleging that Nadda wanted to rewrite his ACR so as to finish my career for standing up against corrupt officials. They hold a personal grudge against me along with a strong political back, as implied in the TOI report.  The next date of hearing of the matter is scheduled for 19 May.
Elaborating on the matter, Chaturvedi's lawyer, Pramod Sharma, told
TOI
, "We furnished documents to the tribunal to prove that the health minister JP Nadda had a personal grudge against Chaturvedi and did everything to remove him from the post. It is worth noting that CAT has issued notices to Nadda in his individual capacity as well as in his capacity as the president, AIIMS. The director of AIIMS, Delhi has also been issued a notice."