AIIMS Cognistat Research Poster Winner of the 46th annual NAICP Conference 2020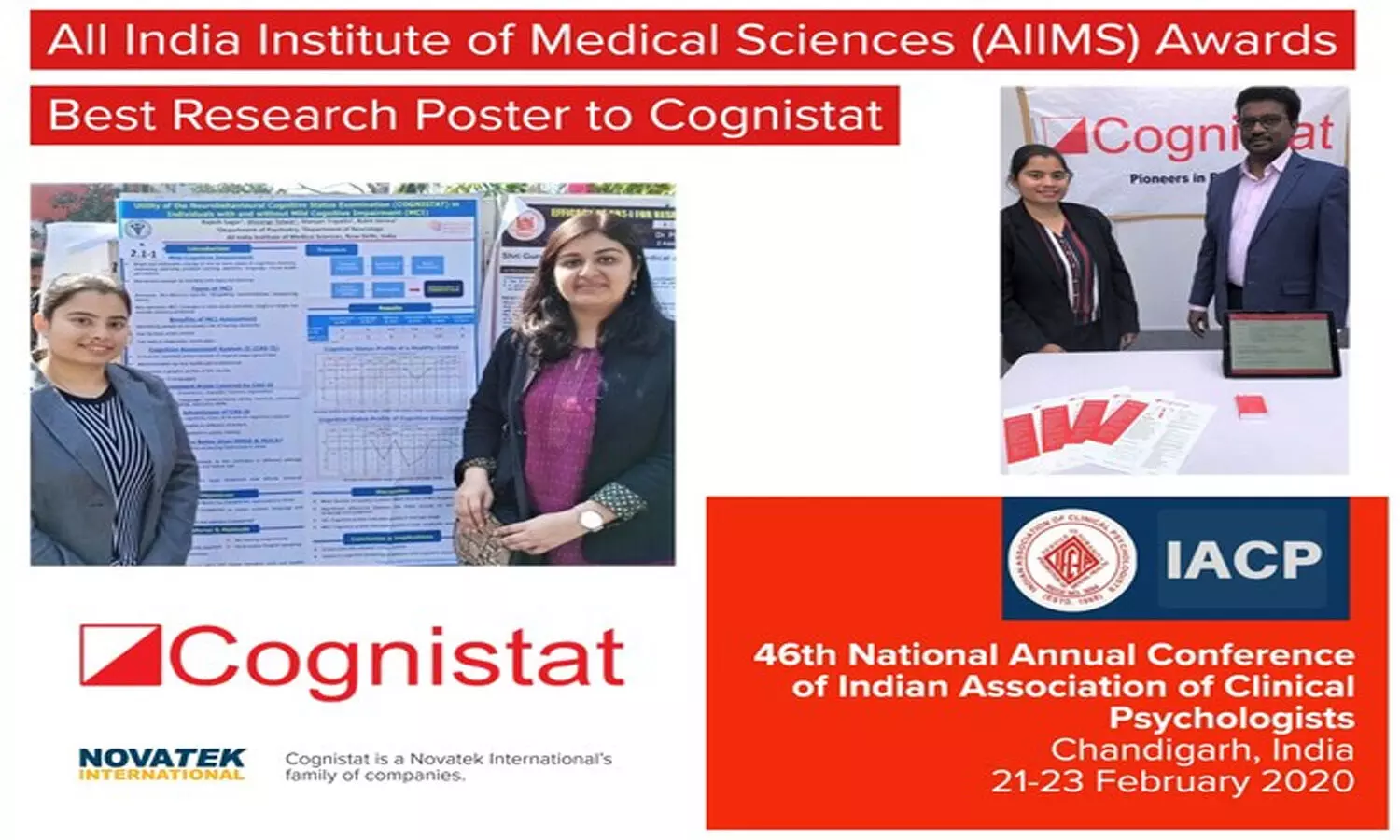 MONTREAL: All India Institute of Medical Sciences, New Delhi (AIIMS) Research Poster on Cultural Adaptation of Cognistat Computerized Cognitive Assessment Test was awarded the best research poster at the 46th National Annual Conference of Indian Association of Clinical Psychologists in Chandigarh, India February 21-23, 2020.
"The latest technology and a great research team at All India Institute of Medical Science, AIIMS New Delhi, are the underlying reason for this great success." said Mr. Parsa Famili, President of Cognistat.
An international multidisciplinary team from Canada, India and US have collaborated on the development of Cognistat Hindi said Dr. Sagar MD. and the principal investigator.
Read Also: AIIMS Bhopal SR arrested over sexual harassment allegations by MBBS intern; medicos protest on Whatsapp
The researchers from AIIMS include Rajesh Sagar, MD, Professor, department of Psychiatry; Manjari Tripathi, Professor, department of neurology, Rohit Verma, MD, and Shivangi Talwar, senior research fellow, Clinical Psychology; from Cognistat are, Richard Flanagan PhD, Jonathan Mueller MD Psychiatrist, Ralph Kiernan PhD Psychologist, Barry Prabhu, Fati Davoudi, Amir Keynia, Mazda Famili, Aram Montazami and the engineering department of Novatek International.
"This exemplary research demonstrates the power of Cognistat computerized assessment system to detect Mild Cognitive Impairment (MCI), the earliest recognizable phase of Alzheimer dementia." said Jonathan Mueller, MD, Chief Medical Officer of Cognistat.
Read Also: Hindi Language becomes controversy at AIIMS Bhubaneswar