Caught RED Handed: PCPNDT officer arrested for taking Rs 75,000 bribe from Radiologist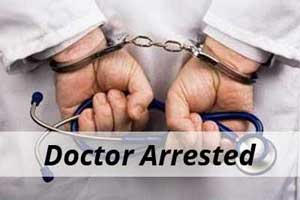 Bilaspur: An officer attached with the Pre Conception and Pre-Natal Diagnostic Techniques (PCPNDT) department has been arrested on account of allegedly demanding and collecting Rs 50,000 as bribe from a private radiologist for operating his scanning centres.
The officer, who is also a doctor, was caught red-handed by the Anti-Corruption Bureau.
Deputy Superintendent of Police at Anti-Corruption Bureau (ACB) confirmed to PTI that a doctor posted as nodal officer of the Pre Conception and Pre-Natal Diagnostic Techniques (PCPNDT) in the office of Chief Medical and Health Officer (CMHO), Bilaspur, was caught red-handed while accepting a bribe from a private radiologist for operating his sonography centres and setting up a new CT Scan centre.
The arrest was made on the basis of the complaint filed by one Radiologist, Dr Jaiswal, who runs two sonography centres in Bilaspur district -one near Chhattisgarh Institute of Medical Sciences (CIMS) hospital and another at Pendra Road.
"Two months ago, the accused had issued notice to Dr Jaiswal over some alleged flaws at his two facilities. When Jaiswal approached Khare for permission to set up a CT Scan centre in Bilaspur, the accused asked for a bribe of Rs 1 lakh upfront and Rs 1 lakh per year for operating the sonography centres," the ACB officials informed the news agency.
"He gave the first instalment of Rs 50,000 as a bribe and then approached ACB on April 9. We laid a trap on Monday and nabbed Khare when he received the second instalment of Rs 50,000. He has been charged under the Prevention of Corruption Act 1988 and remanded in judicial custody for 15 days," Officer Singh added.
Medical Dialogues had earlier reported about the arrest of Osmania's Senior Professor and Head of Department (HOD) for General Medicine. The doctor had been arrested and remanded to judicial custody on account of allegedly collecting Rs 75,000 as bribe from medical students to pass them in the internal examination. The professor had also been charged for amassing illegal assets.
Later in the same case, the ACB had held Junior Assistant at the Institute for taking bribe from Post Graduate (MD) General Medicine student.
Read Also: Osmania Medical College: After HOD, Junior Assistant arrested from taking bribe from MD Medicine Student