Chandigarh: PGIMER likely to get Best public tertiary care hospital award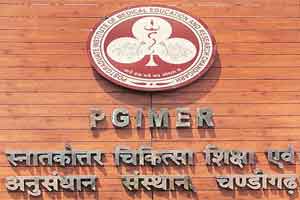 Chandigarh: The Ministry of Urban Development is likely to present the Award to the Postgraduate Institute of Medical Education and Research (PGIMER) for its contribution in field of Medicine. PGIMER is likely to be awarded as the best public tertiary care hospital in the country.
 In this regard, a team from the urban ministry is also reported to have conducted interviews in the state. A senior official of the institute said, "They recorded short interviews. A video presentation about the institute will be made. It has to be presented during the ceremony." This interview was conducted in last week of this Month. He further added that no official communication has been received by the institute in this regard, reports Express
The official stated that the ministry officials informed the institute "verbally" that the PGI would be awarded during the ceremony.
Speaking with the Media, official sources told that that award ceremony would be held on September 30 and Prime Minister Narendra Modi was likely to attend the ceremony.
A senior PGI official said that it would be the second achievement for the institute. "We are trying our best to provide the best health care to the people of northern region. This award will boost the morale of employees."
However,  PGI spokeswoman  did not confirm any such news. PGI spokesperson, Manju Wadwalkar said "I am not aware that PGI will be given any award," she said.
In March this year, the institute bagged a prize of Rs 5 crore by ranking first in the Union Health Ministry KayaKalp initiative, which was aimed at encouraging sanitation in the health institutes across the country.