Cheaper Medicines and Stents: Healthcare delayed but not denied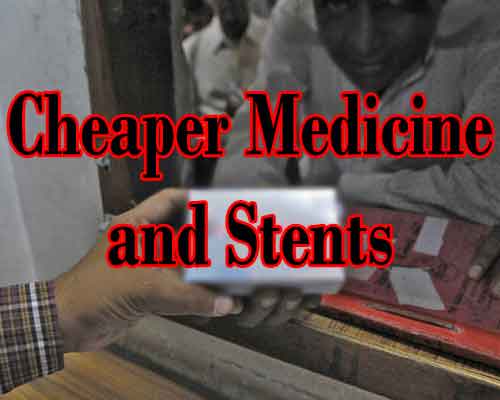 Cardiovascular diseases and cancer, in recent times have grown to be the two biggest killers of Indian as well as global population. Worldwide efforts are being made to tackle these two diseases, not only from a research and prevention point of view but also from the point of view of treatment and cure.

While the government both at the centre and the state level is making effort to provide quality health interventions to treat these diseases, the extremely high cost of medication appears to have become the Achilles heel of any intervention protocol. Within this light, government's initiative to provide cheaper medicines and implant seems to be hitting a bull's eye of the rising cost burden of these diseases.

The move of the government to launch AMRIT ( Affordable Medicines and Reliable Implants for treatment) scheme to provide cheaper medicines and implants at upto 60% lesser than the market price may by far be the best initiative from the patients point of view. Through this scheme, the government aims to provide over 200 cancer drugs, 186 medicines to treat cardiovascular diseases and 148 stents and cardiac implants at central government hospitals at prices 50-60% lower than the open market. The pilot being the AMRIT store at AIIMS

"Its not just just the cost of the treatment, but also the medication costs that pinches." said Dr Prem Aggarwal, Cardiologist at Sanjeevan Hospital, Delhi. "In cases of CVD and cancer, the cost of medication is at least as high as the cost of hospitalisation itself. Even with the free hospitalisation in government hospitals, the patients have to bear this burden. In this light, this is a strongly welcome initiative."

Experts highlight pricing of these life-saving devices and medications, is an important issue in the provision of healthcare. In the absence of universal health insurance in the country, there needs to be regulation of the burden that this move should not be limited to just government hospitals. Control of prices of implants and medications should be uniform across all sectors if benefits have to reach all.

Dr H.K Chopra, Resident Editor MD, Cardiology and President, Cardiology Society of India said, " We welcome the move of the government to provide cheaper medicines and stents. However, at this juncture i would like to highlight that this move should not be at just government hospitals. Regulation should there for price mechanism of stents and be applicable to all hospitals, PAN india to all Govt and non-govt institutes including hospitals, nursing home and medical centres. Moreover, Price and Regulation of devices and drugs should be decided by Government in consultation with experts from the relevant medical field. Appropriate representation from societies should be there about the price quality and its implication on patient care with definite reduction in morbidity and mortality in cost effective manner without compromising the efficacy and safety."