CM Raje lays foundation stone of cancer hospital in Kota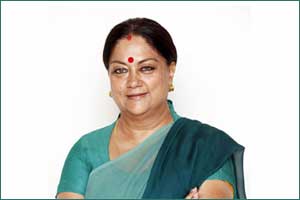 Kota: Rajasthan Chief Minister Vasundhara Raje today laid foundation stone of a multi-specialty medical college and cancer hospital here.
While addressing a gathering here, the chief minister stressed upon the importance of good education and health. She also pointed out the benefits of Bhamasha Health Insurance Policy launched by her government in the state.
"At least 61 private and government hospitals of the state under the policy are providing free medical and health services to the people," Raje said. She claimed works worth Rs 1,300 crore in medical health sector and 500 crore in medicines have been carried out under the scheme so far.
Highlighting that medical insurance claims worth Rs 60 crore have been cleared and over one lakh people have been benefited under the scheme so far, Raje said, I am proud that the scheme has benefited so many people of the state'.
Sixteen medical colleges including eight private medical colleges are currently functional in the state. Five of the eight new medical colleges in Bharatpur, Bhilwara, Churu, Pali and Dungerpur were on Thursday granted permission by Medical Council of"Girls are our reliability and to safeguard them, a health security cover of Rs 2,500 at the time of birth of a girl child and another of Rs 2,500 at the time of her first medical test after a year and eventually Rs 50,000 at the time of her leaving school is provided," Raje said.