Columbia Asia expands in India with its 5th super specialty hospital in the city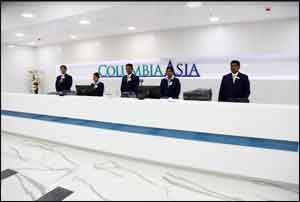 Bengaluru: Columbia Asia, the reputed international chain of hospitals, expanded its footprint in India by commissioning its twelfth facility here at Sarjapur Road, Bangalore. With eleven floors for clinical services and spread across an area of 2,60,000 sqft of built up area, this will be Columbia Asia's biggest hospital in the country. With 206 beds and advanced facilities, this tertiary care hospital in the city will have a team of highly qualified medical personnel and nursing staff practicing International protocols and providing the best possible care to the community.
"It gives us great pleasure to launch this world-class facility in Bangalore. With the growth of specialty healthcare and focus on providing the best of patient care, our new unit – Columbia Asia Hospital Sarjapur Road provides a powerful, best-in-class product to healthcare providers that will aid them in their efforts to exceed patient expectations in quality healthcare. Columbia Asia presents to the city a truly International healthcare facility", said Dr. Nandakumar Jairam, CEO, Chairman and Group Medical Director, Columbia Asia Hospitals Pvt Ltd.
The hospital will cater to all healthcare specialties including cardiology, general surgery, neurology, oncology, gynecology & women care, orthopedics, ophthalmology, pediatrics, pulmonology, urology and many more.
Speaking about the launch of the new centre Mr. Jasdeep Singh, Chief Operating Officer, Columbia Asia Hospitals said, "Columbia Asia has served Bangalore since 2005. We have always been in the forefront in meeting the expectations of the people and are committed to give the Bengalureans the best in class healthcare facilities through our hospitals. This is evident from the fact that we have now five hospitals in different parts of the city, allowing the citizens easy access to quality healthcare closer to their doorstep. At Columbia Asia, patients are the centre of our attention and we aim to provide them the care they expect from us".
"Sarjapur road is a hub for corporates, IT parks, educational institutions and many more; our hospital is situated on the main outer ring road and is a full-fledged tertiary care centre that will support in enhancing the quality of lifestyle and health amongst citizens. We have the entire gamut of medical and surgical specialized services with modular state-of-the-art Operation Theatres, 50 dedicated critical care beds, 24X7 services of Emergency, Blood Bank, Lab, Radiology and Pharmacy.  The launch of our newest & largest super specialty hospital at Sarjapur Road further signifies our commitment to clinical excellence", said Ms Manisha Kumar, General Manager, Columbia Asia Hospital – Sarjapur Road.
The Columbia Asia hospital system, headquartered in Kuala Lumpur, was created two decades ago with an innovative business model focused on modern, efficient and affordable multispecialty hospitals located close to where patients live and work.
Columbia Asia's parent company, Columbia Pacific Management, has unprecedented experience in delivering healthcare to Asia and the United States.  Besides Columbia Asia, the company has three senior living facilities in China through its China senior care affiliate, Cascade Healthcare.