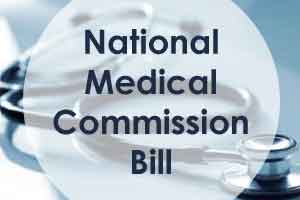 New Delhi: The monsoon session of the parliament is ready to begin from Wednesday and will finally see the tabling of the much-discussed National Medical Commission Bill, 2017
According to official sources, the government is keen to push important Bills including the National Medical Commission Bill, 2017 for consideration and passing in both the Houses of Parliament within the 18 working days of the session that will continue till August 10.
The National Medical Commission Bill proposes to replace 83-year-old Medical Council of India (MCI) with another body called the National Medical Commission to curb corruption in the functioning of MCI.
It came under fire from the medical practitioners over some of its contentious clauses including the proposal of exit exam after MBBS, bridge course for AYUSH practitioners as well as limited members of elected representatives from the Medical profession in the main commission
Read Also: 11 Reasons why Doctors are opposing National Medical Commission Bill
The opposition from the doctors, led to the formation of a Special parliamentary committee to take into consideration the concerns of doctors and suggest appropriate changes to the Bill. The committee earlier this year submitted its recommendations taking into account the various demands of doctors , many of which also soon met with the cabinet approval.
Read Also: Cabinet Approves 6 amendments to National Medical Commission Bill, Check out details
With the monsoon session of the parliament up, the Modi-government is keen on getting the bill passed in both the houses. The bill has been put forward by the Niti Aayog as its major reform and overhaul of the medical sector seeking a complete replacement to the existing Medical council of India, which the 2016 parliamentary committee noted has become outdated and completely failed in its functioning as a neutral regulator. The committee at that time observed
Due to massive failures of the MCI and lack of initiatives on the part of the Government in unleashing reforms, there is total system failure due to which the medical education system is fast sliding downwards and quality has been hugely side-lined in the context of increasing commercialization of medical education and practice. The situation has gone far beyond the point where incremental tweaking of the existing system or piecemeal approach can give the contemplated dividends. That is why the Committee is convinced that the MCI cannot be remedied according to the existing provisions of the Indian Medical Council Act, 1956 which is certainly outdated. If we try to amend or modify the existing Act, ten years down the line we will still be grappling with the same problems that we are facing today. Nowhere in the world is there an educational process oversight, especially, of medical education done by an elected body of the kind that MCIis. Managing everything of more than 400 medical colleges is too humongous a task to be done by the MCI alone because the challenges facing medical education of the 21st century are truly gigantic and cannot be addressed with an ossified and opaque body like MCI. Transformation will happen only if we change the innards of the system
4 comment(s) on Coming this Monsoon: National Medical Commission Bill in the Parliament