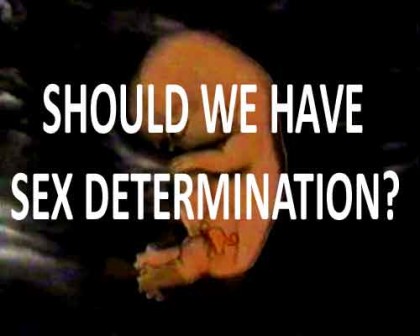 With Union Minister Maneka Gandhi indicating that sex determination tests should be made compulsory as a means to curb female foeticide, fresh rounds of debate have begun on the mandate of PC-PNDT Act.
An act that was designed to prohibit the determination of sex of the foetus and hence put a stop to female foeticide in the country, the implementation of PC-PNDT act has been quite a failure in the face of the growing social evil in the country. Many doctors opine that  rather than leading to any reduction in the instances of female foeticide, the act has become a means/tool for harassment of doctors and medical professionals in the country.
"In my personal view, the woman should be compulsorily told that whether it is a boy or girl child whom she is going to give birth. It should be registered to be able to check whether they have given the births or not," the minister for Women and Child Development said. "We cannot keep catching people doing (illegal) ultrasound," she said, adding that arrest of such people was not a permanent solution.
Although the Ministry for Women & Child Development has clarified that there is no formal proposal and this is just an idea over which the ministry is inviting suggestions and feedback , the idea was met with instant support from members of the medical profession, who showed additional faith in this out-of-the-box solution of the health ministry to this problem.
Speaking to Medical Dialogues, Dr OP Bansal, President, IRIA said, "To save the girl child, its important to know the identity of the girls child first. Hence, Compulsory Sex Determination would indeed be a better solution to the problem of female foeticide than prohibition. Top it up with proper monitoring of the every abortion/MTP taking place, we believe it would do wonders in curbing female foeticide.In the past 20 years, PC-PNDT act in its current form has not been able to achieve its true purpose. We have written to the ministry in this regard, with our suggestions and comments.
Apart from supporting compulsory sex determination, he further added that there is an urgent need to correlate PC-PNDT Act with the MTP ( Medical Termination of Pregnancies) Act as different doctors are involved in the process and there is no correlation right now.
Many of the suggestions of the organisation included strengthening of the MTP Act so that unwanted terminations of pregnancies do not take place. Dr Bansal further highlighted that with these two measures combined, government will be able to catch the real culprits who engage in female foeticide as then strong correlation can be drawn to the fact people engaged in wilful terminations knowing that the foetus was female.
On Similar lines Dr Nidhi Bhatnagar, Consultant Radiologist, Sanjeevan and Max Hospital, Delhi said " We are not saying scrap away the current Act, but we welcome the amendments on the lines of the minister's idea. Existing law makes doctors accountable, and if the modification happens as thought, the end users of the modality, i.e., parents would also be answerable for sex determination. And that would be hitting the nail right. We need to realise that female foeticide is a a social issue involving parents and family members in the act, and not just a medical issue involving doctors."
0 comment(s) on Compulsory Sex Determination idea of Maneka Gandhi finds doctors approval