Compared to saline, use of balanced crystalloids reduces mortality in sepsis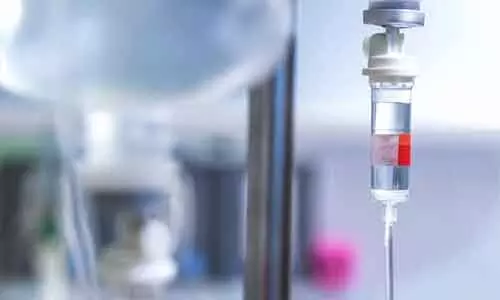 USA: The use of balanced crystalloids (Ringer's solution) is associated with a lower 30-day in-hospital mortality compared with the use of saline, according to a recent study published in the American Journal of Respiratory and Critical Care Medicine. The study is based on results obtained from a secondary analysis of patients from SMART (Isotonic Solutions and Major Adverse Renal Events Trial) admitted to the medical ICU with sepsis.
Administration of intravenous crystalloid solutions is a fundamental therapy for sepsis, but the effect of crystalloid composition on patient outcomes remains unknown. Ryan M. Brown, Vanderbilt University Medical Center, Nashville, Tennessee, and colleagues compared the effect of balanced crystalloids versus saline on 30-day in-hospital mortality among critically ill adults with sepsis.
In a secondary analysis of a previously published trial in which normal saline was compared with balanced crystalloid solutions among 15,802 patients in a single U.S. medical intensive care unit, investigators examined 1,641 patients with sepsis. The primary analysis had demonstrated that balanced crystalloid use was associated with a slightly lower incidence of a composite outcome of mortality and renal failure when all critically ill patients — not just septic patients — were included.
The study design was unique: For each month of the trials, the ED and ICU were assigned to use either saline or a balanced crystalloid, and computer order entry systems directed providers to use the assigned fluid. The unassigned fluid also was available, but few patients received it. Most patients who received balanced crystalloid solutions were given lactated Ringer's.
Key findings of the study include:

Of 15,802 patients enrolled in SMART, 1,641 patients were admitted to the medical ICU with a diagnosis of sepsis.
A total of 217 patients (26.3%) in the balanced crystalloids group experienced 30-day in-hospital morality compared with 255 patients (31.2%) in the saline group (adjusted odds ratio [aOR], 0.74).
Patients in the balanced group experienced a lower incidence of major adverse kidney events within 30 days (35.4% vs. 40.1%; aOR, 0.78) and a greater number of vasopressor-free days (20 ± 12 vs. 19 ± 13; aOR, 1.25) and renal replacement therapy–free days (20 ± 12 vs. 19 ± 13; aOR, 1.35) compared with the saline group.
"These data suggest the benefit of balanced crystalloid solution is greatest in septic patients and in those who require large volume resuscitation; these might be the populations where grabbing lactated Ringer's makes the most sense," concluded the authors.
The study, "Balanced Crystalloids versus Saline in Sepsis. A Secondary Analysis of the SMART Clinical Trial," is published in the American Journal of Respiratory and Critical Care Medicine.

Source : American Journal of Respiratory and Critical Care Medicine