Promising Benefits of Nintedanib in Minimizing COVID Induced Lung Injury in mechanically ventilated patients: Results from a Pilot Study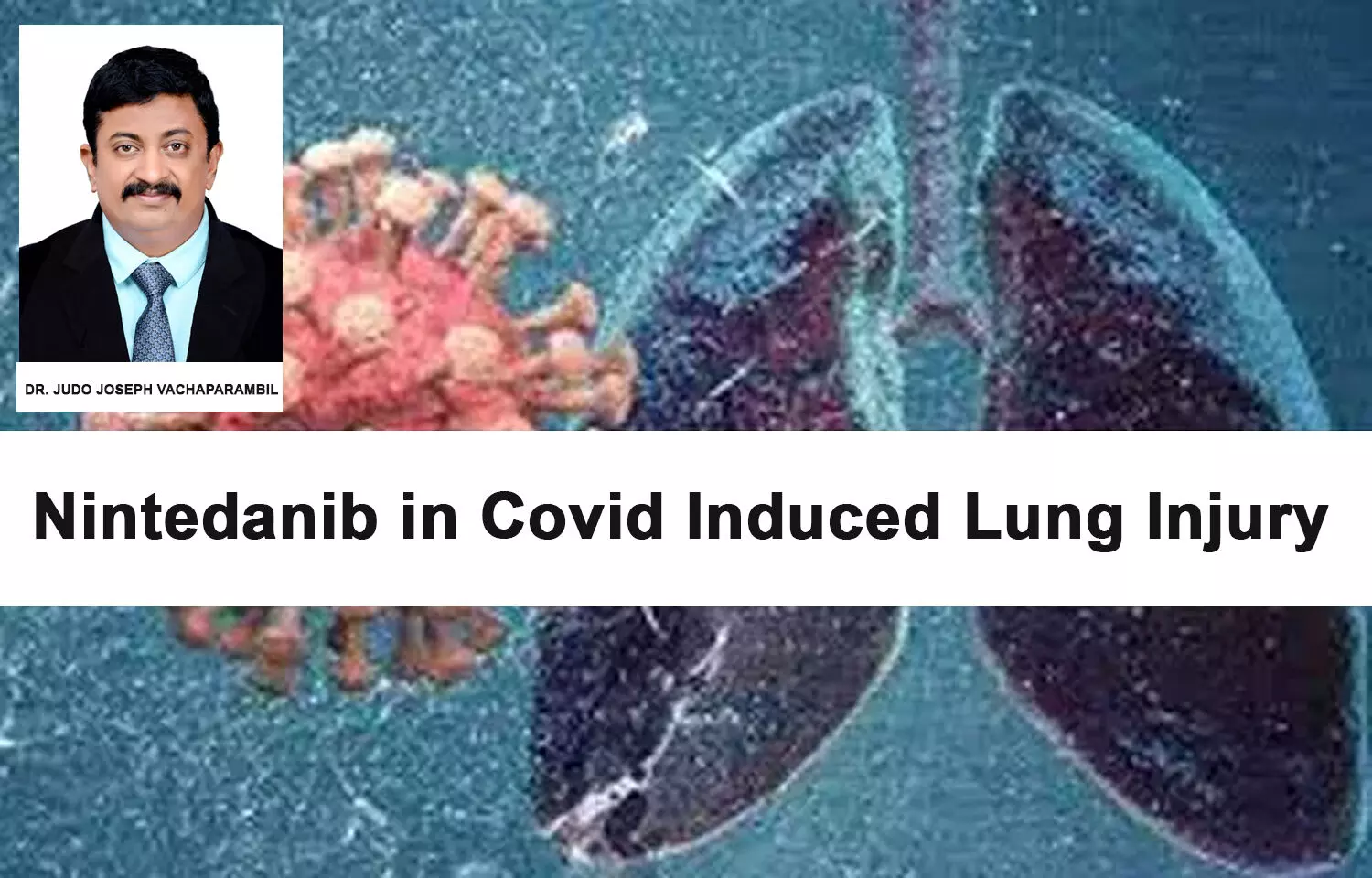 New Delhi: The COVID-19 pandemic has been unrelenting for the last year and a half. Globally, increasing numbers are added each day to the COVID-19 incidence and mortality counts. The emergence of newer SARS-COV2 variants is further aggravating the ongoing health crisis. Of the many health consequences of the SARS-COV2 virus, the rapid progression to severe acute respiratory distress syndrome (ARDS) continues to be linked to increased mortality.
ARDS-induced lung injury invariably results in a fibrotic phase that leads to collagen deposition in alveolar, vascular, and interstitial beds. Progression of this fibrotic phase can cause irreversible cystic changes and limited functional recovery in COVID patients. There is increasing evidence coming from multiple clinical, radiological and histopathological research that progressive pulmonary fibrosis is a common complication in severe COVID-19 patients and is responsible for poorer survival and functional outcomes. As there is considerable overlap in the pathogenesis of COVID-induced pulmonary fibrosis and other interstitial lung diseases, anti-fibrotic therapy may have a role to play in improving disease outcomes.
Among antifibrotic agents, Nintedanib - a tyrosine kinase inhibitor that interferes with fibroblast proliferation, differentiation, and migration - has caught the medical fraternities' attention as a potential therapy to slow the progression of COVID induced pulmonary fibrosis. Several large clinical trials have previously established that treatment with Nintedanib slows the rate of disease progression in idiopathic pulmonary fibrosis (IPF) and systemic-sclerosis ILD (SSc-ILD). A pilot study by Y Umemura et al. (May 2021) sought to investigate whether this benefit can be replicated in COVID-induced pulmonary fibrosis.
In this pilot study, 30 patients with severe COVID-19 who required mechanical ventilation received 150mg Nintedanib twice daily through nasogastric tube starting at day 1 of mechanical ventilation and continued till liberation from mechanical ventilation within 28 days, along with standard care. In contrast, the control group received only standard care.
The study findings reveal that the Nintedanib group had a significantly higher PaO2/FiO2 ratio (p-value for interaction = 0.005), shorter lengths of mechanical ventilation (p-value = 0.046), longer number of ventilator-free days (median values 17 vs 12, p-value = 0.0038) and lower volume of high-attenuation areas on CT images. (38% vs 25.7%, p-value = 0.027)
There was no clinically significant difference in the mortality rate (23.3% vs 20%, p-value = 0.834), gastrointestinal adverse events, and liver failure between the two groups.
Findings from this pilot study clearly suggest that the administration of Nintedanib to mechanically ventilated patients with severe COVID-19 could ameliorate the lung injury induced by COVID-19, potentially by modulating the progression of pulmonary fibrosis. There is an urgent need to conduct larger scale, multi-center randomized controlled trials to further investigate the place of Nintedanib in COVID-19 therapy.
While we await data from future clinical trials, Nintedanib, as yet, remains a promising antifibrotic agent to combat the menace of COVID-19 induced lung fibrosis.
References:
Auld SC, et al. ICU and Ventilator Mortality Among Critically Ill Adults With Coronavirus Disease 2019. Crit Care Med. 2020 Sep;48(9):e799-e804..
Richeldi L., du Bois R.M., Raghu G. Efficacy and safety of nintedanib in idiopathic pulmonary fibrosis. N Engl J Med. 2014;370:2071–2082.
Umemura Y, et al. Efficacy and safety of nintedanib for pulmonary fibrosis in severe pneumonia induced by COVID-19: An interventional study. Int J Infect Dis. 2021 May 25;108:454-460. Dr. JUDO JOSEPH VACHAPARAMBIL, MD, FCCP (U.S.A) is currently the Head of Department of Pulmonary Medicine Sun Medical And Research Centre, Thrissur . He has a Fellowship of FCCP-Fellow of the American College of Chest Physicians. He is a Life Member Of Indian Medical Association, Life member of Indian Critical Care Society and Life Member of Indian Chest society. His intrest areas are Asthma, COPD and respiratory allergy sleep medicine and NIV .