Delhi: DDU doctors call off strike after security assurances from the government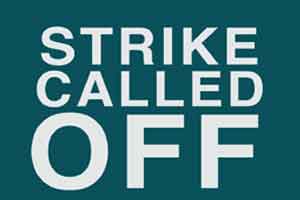 The two day strike of resident doctors of Deen Dayal Upadhyaya Hospital, finally came to an end late last night after receiving assurances from the government that their security concerns will be immediately addressed.
A Meeting was held between the Resident Doctors of Deen Dayal Updhyaya hospital and Delhi government officials at the office of the Secretary ( Health and family welfare), Govt of NCT of Delhi,  where the RDA representatives had put forward various security issues at the hospital and the resultant assaults of resident doctors in front of the authorities. It was agreed that the following actions should be taken by all hospitals under Govt. of NCT of Delhi immediately:


Deployment of additional security guards at Emergency/ ICU/ Labour Room with proper uniform in each shift.


Arrangement of Drinking Water, Table, Chairs and Beds with daily change of Bed Sheet in Doctor's Duty Room.


Duty Doctors should wear white apron/ coat while on duty.


Blue print of deputation plan of all security guards to be provided to RDA by the Hospital authorities (total no. of guard issued and posted).


Adequate no. of Nursing Orderly should be deployed at Casualty and Emergency OT according to no. of operation & work done.


Installation of security alarm in all casualties and emergency wards shall be taken up in a phased manner


No punitive action of any kind shall be taken against the Resident Doctors of Deen Dayal Upadhyay Hospital for the duration of strike period by Health & Family Welfare Department.


The Police department will be requested to keep the hospital administration informed regarding the investigation w.r.t. FIR No. 316/16 & 317/16.


The meeting concluded with resolve to maintain uninterrupted hospital services and patient care in the hospital, in the larger public interest.


In view of the same, of the office of MS, DDU hospital has also passed the order containing the following measures:-
1.Additional security guards have been deployed in casualty block number 05 in each shift. The security Agency has directed to ensure that only one attendant is allowed with one patient in the casualty and maximum two attendants are permitted under special circumstances.
2. The Hospital has simultaneously requested the Dy commissioner of Police (West) to bolster security in DDUH. It has been emphasized that both entrance to casualty should be manned by uniformed police personnel during evening & nights. Further today on 22/03/16, ACP (Tilak Nagar) in meeting with Medical Superintendent has agreed in principle to 04 uniformed Police Personnel in casualty during late evening & Night hours with immediate effect for Security.
3. An FIR Servey No. 0317 dated: 21/3/16 P.S Hari Nagar New Delhi has already been lodged by hospital and the police authorities are investigating the case.
4.The matter of security and other arrangements in casualty DDUH has been discussed at the Highest level with the Secretary (Health) Deptt. Of H&FW. The grievances of resident doctors have been intimated to them and an early decision is expected.
"With the promise that all the demands of the RDA will be met within the next 24 hours, Resident doctors have decided to suspend their strike and resume their duties," informed Dr Sumit Paria, RDA President DDU Hospital