Delhi Doctors Welcome NMC Bill, NEXT; show concerns on Community Health Provider Clause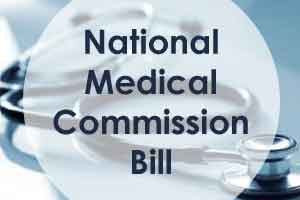 New Delhi: While the Indian Medical Association is continuing to oppose the National Medical Commission Bill, Delhi Doctors under the aegis of Delhi Medical Association welcomed the bill calling for MCI Replacement, while also showing concerns over some its clauses
"The Delhi Medical Association in its State Executive held on 27th July 2019 discussed and deliberated upon the forthcoming National Medical Commission Bill 2019 that has been presented in Parliament of India by Hon Union Health Minister. The members were of the opinion that as MCI has now been  replaced by the Board of Governors, the new NMC Bill has become imperative and we hereby welcome the introduction of National Medical Commission Bill," the press release by the organisation stated.
The association while welcoming a common exit exam, NEXT showed concerns over the limited representation of medical fraternity as well as the clause that allows the government to anytime give licence to a new class of community health providers which are not allopathy practitioners.
The association in its release mentioned its stand of various of the clauses of the Bill, including the following


The decision to merge the final year examination and NEXT is a welcome step as one examinations will deprive the medical students of any second charge to compete for their PG entrance examination. Many of final year student will be able to clear their final year examination and get their degree but will not necessarily get dome post graduate in their first attempt only.


The provision for capping of fee upto 50% seats by the central government leaves a lot of room for private medical colleges to charge very heavy amount of the fee for rest of the 50% seats. "But in the past, there was no control of central government so we welcome the step," stated the release.


NEXT results will lend transparency to the ranking of medical colleges and students will wirgh the fee structure of a college against its educational outcomes. This will ensure that colleges are forced to provide quality education that is commensurate with the fees charged.


Medical Advisory Council has ample representation from all states and Union Territories with elected members from all the State medical council.


All four autonomous boards namely undergraduate, postgraduate,medical education boards, medical assessment and rating board and ethics and medical registration board to be headed by person of outstanding ability with vast experience in medical education and healthcare


The registration and regularisation of private medical colleges will be done in digitalised and transparent way, so the association welcomed this move.


The house feld that the NMC consisted of nominated members mainly rather than elected members. The Delhi Medical Association demanded more representation to be given to the elected representative of the medical fraternity


The provision of giving licenses to the persons related to the field of modern medicine and allowing them to practice as Community health workers under certain circumstances and places will lead to the creation of a new force of quacks which will be difficult to control  and restrict in future in regard to their limitation and capability in the field of practice of modern medicine.


The association while supporting the bill demanded that at the time of implementation, the issues highlighted are taken care of