Delhi doesn't have enough hospital Beds-population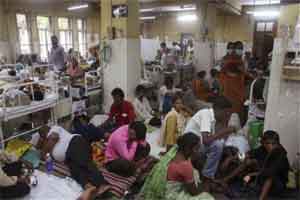 Delhi hospital bed -population ratio 50 percent below norms




It is no wonder that doctors of FORDA are striking about it.

The hospital bed-population ratio in Delhi during 2014 was almost half the prescribed level, reveals the Economic Survey of Delhi 2014-15 released on Wednesday. The World Health Organization recommends five hospital beds per thousand of population. But in the national capital, the ratio is 2.71 per thousand in 2014

In 2014, Delhi had 48,096 hospital beds for its 1,77,37,344 people. According to the survey, Delhi has 95 government hospitals, 1,389 dispensaries, 267 maternity homes, 937 polyclinics and 16 medical colleges.

As the capital is also the health capital of North India, it caters to a wide population coming from neighboring states seeking secondary and tertiary level care. This flow is channeled both towards the public and private sector, leading to even greater shortages of beds.

Implementation of optimum patient to bed ratio was one of the major demands of the striking doctors in Delhi this week, who complained heavily that government hospitals are flooded with patients with more than one patient on a bed. Their appeal was towards the government to implement the optimum ratio and expand facilities to equip the Delhi Government hospitals to cater to wide incoming of patients.