Delhi govt hospitals OPD timings extended by 2 hours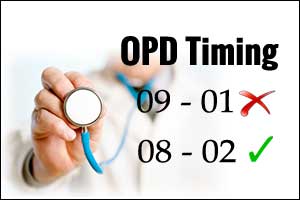 New Delhi: Out-patient department (OPD) at Delhi government-run hospitals will now function from 8 am to 2 pm, as the city administration has decided to extend the timing to avoid crowding of the facilities, according to a government order.
The OPD timings earlier was 9 am to 1 pm, thus an extension of two hours for consultation at hospitals.
"Ensure that OPD remains open and functional from 8 am to 2 pm so that there is sufficient time for patients to be attended to, and they are not squeezed into a two-and-a-half hour time slot, and the crowding can be lessened.
 "Towards achieving this, registration counters shall open at 7:30 am and close at 1 pm," the order said.
Delhi Health Minister Satyendar Jain tweeted about the move.
"Daily OPD consultation timing increased from 4 hrs to 6 hrs in Delhi Govt Hospitals. Earlier 9.0 am to 1-.0 pm Now 8.0 am to 2.0 pm," he tweeted.
The order also said that whenever required a "token system" would be put in place.