Delhi: Medical Council suspends gynecologist for 90 days on account of miscalculation of delivery dates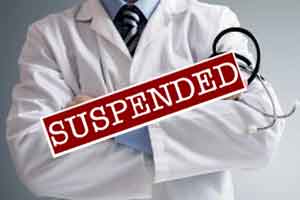 New Delhi: The Delhi Medical Council (DMC), finding a senior Gynaecologist attached to Nulife Hospital guilty of medical negligence; has struck her name from the Delhi state medical register for 90 days for miscalculating the delivery date of a patient resulting in her premature delivery.
As a consequence of the untimely delivery, the baby was born limp and blue due to asphyxiation. The infant also suffered brain damage and the patient had developed severe complications.
The concerned case goes back to 2017 when the patient approached the doctor for consultation. It had been alleged that the doctor had been negligent in providing a treatment which led to the medical complications in both the baby and the patient post-delivery.
After the complaint reached the DMC, an investigation was launched. Subsequently, the medical council's disciplinary committee found that the date of last menstruation and the due date were erroneously recorded and calculated by the doctor. 10 days after the wrongly calculated due date, the patient was administered oxytocin to induce labour, the committee noted.
The doctors informed that the patient delivered the baby by caesarean and the scar ruptured, leading to complications and asphyxiation of the baby.
When asked about the council's finding on the matter, Dr Girish Tyagi, Secretary, DMC, told HT, "The miscalculated date by itself might not have led to so many problems. After an investigation by the DMC, it was found that there were no medical records of the time when she was in labour, leading us to believe that there was a delay in performing the C-section leading to the baby's asphyxiation."
Therefore, the DMC has now barred the doctor, with over 32 years of experience in the field of medicine, from practising medicine for 90 days.
On the other hand, denying any such allegations, Medical Superintendent of Nulife Hospital told HT, "The judgement is based on misconceived facts. The ultrasound report shows that the woman was 37 weeks pregnant, which is considered full-term. Also, we have an ultrasound report for the period that they say the records are missing for."
The hospital is mulling over to challenge this order.
Read Also: Medical Negligence Case: One Hospital held guilty for Wrong Diagnosis, Other for Not calling Cardiologist on Time