Delhi Medical Council warns pathologist against unethical signatures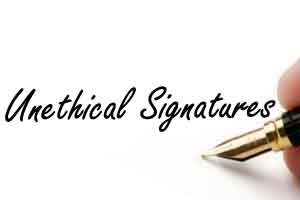 Announcing Stern Action against pathologists who are lending their signatures for pathology reports,without seeing and validating the analysis, Delhi Medical Council issued warning to pathologists, microbiologists and other professionals working in the lab, not to indulge in such practises.

Signing without validation amounts to violation Violation of Code of Medical Ethics, and punishable even with the suspension of licenses.

This comes in wake of a number of complaints have been received by Delhi Medical Council that many pathologists/microbiologists/biochemists are visiting a number pathology labs and are many times lending there name signatures and stamps to other labs to be incepted on the reports with they have never examined or have a chance to examine. Such reports also include many fake reports done by technicians jeopardizing the safety of the gullible patients and sanctity of medical profession

"When these reports are put to scrutiny, these doctors are unable to defend their reports as well as themselves leading to strict disciplinary action against them. A number of doctors in the past have been suspended for a long periods for indulging in such a crime but still some of pathologists/microbiologists are still involving themselves into this illegal activity," said Dr Arun Gupta, President Delhi Medical Council

DMC taking strong cognizance of this issue has warned the pathologists and the labs into this act of omission and commission which can lead to suspension of their practicing license.  Dr. Arun Gupta informed Medical Dialogues that very soon a working guideline shall be issued for all the pathology labs and working pathologist to ensure that reports are duly checked by doctor before signature and issued accordingly.