Self-assembling peptides may help remineralize enamel caries, Finds study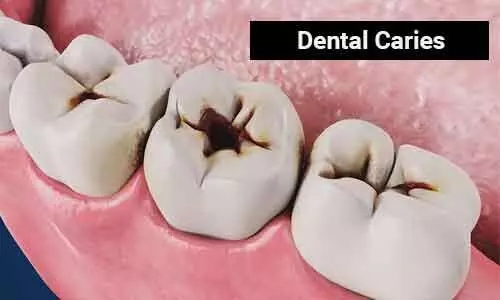 According to recent research, it has been clinically observed that self-assembling peptides may be a viable option to remineralize enamel caries.

The study is published in the Journal of Dentistry.
Self-assembling peptides are biomedical materials with unique structures that are formed in response to various environmental conditions. Governed by their physicochemical characteristics, the peptides can form a variety of structures with greater reactivity than conventional non-biological materials.
R.J.Wierichs and colleagues from the Department of Restorative, Preventive and Pediatric Dentistry, School of Dental Medicine, University of Bern, Switzerland conducted the present review where they systematically analyzed clinical studies investigating the efficacy of self-assembling peptides (SAP) to reduce initiation of or to remineralize initial caries lesions.
The authors conducted prospective controlled (non-)randomized clinical trials helpful in investigating the efficacy of a self-assembling peptide compared to any other (placebo) treatment or untreated/standard control. Outcomes were visual analog scale (VAS), laser fluorescence, ICDAS score or morphometric measurements.
Seven studies with 508 teeth being affected in 294 patients were included. All studies were randomized controlled trials (RCT), five with a split-mouth and two with a parallel-arm design. Meta-analysis could be performed for SAP (plus fluoride varnish (FV)) vs. no treatment (plus FV) (control treatment).
The following findings were revealed-
Depending on the outcome after up to 12 months SAP showed a significantly higher optical improvement than the control treatment (laser fluorescence: Standardized Mean Difference (SMD)[95 %CI] = −0.87[−1.39,−0.34; VAS: Mean Difference (MD)[95 %CI] = −35.38[−43.13,−27.64]) or no significant difference could be observed (ICDAS/activity score; Relative Risk (RR)[95 %CI] = 0.6[0.21,1.74]; morphometric measurements: SMD[95 %CI] = −1.95[−4.54,0.65]).
Level of evidence was very low for all 4 outcomes.
Furthermore, six studies showed a high risk of bias and six studies were (partially) funded by the manufactures of the tested products.
Hence, the authors concluded that "Self-assembling peptides may be a viable option to remineralize enamel caries."
However, results should be interpretated with caution due the low number of clinical trials, the short follow-up periods and the limiting grade of evidence, they further inferred.
Source : Journal of Dentistry