TLRs higher among periodontitis patients, Study says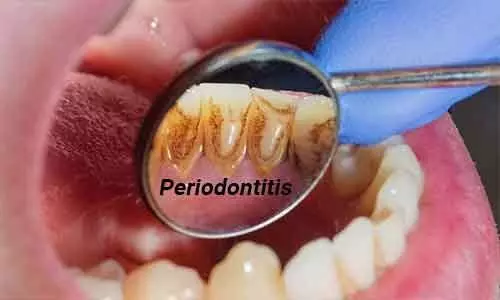 According to recent research, it has been observed that Toll-like receptors(TLRs) as principal signaling receptors in recognizing endotoxins was higher among periodontitis patients compared to diabetic patients.
The study is published in the Research Journal of Pharmacy and Technology.
Periodontitis is a common chronic inflammatory disease characterised by destruction of the supporting structures of the teeth (the periodontal ligament and alveolar bone). It is highly prevalent (severe periodontitis affects 10–15% of adults) and has multiple negative impacts on quality of life. Epidemiological data confirm that diabetes is a major risk factor for periodontitis; susceptibility to periodontitis is increased by approximately threefold in people with diabetes. There is a clear relationship between degree of hyperglycaemia and severity of periodontitis. The mechanisms that underpin the links between these two conditions are not completely understood, but involve aspects of immune functioning, neutrophil activity, and cytokine biology.
The role of TLRs as principal signaling receptors in recognizing endotoxins on gram positive and negative bacteria is facilitated by TLRs and further enhances its role as a potential biomarker in assessing periodontal disease. However, the association of TLRs in periodontitis conditions has not been evaluated till date.
Hence, Amitha Ramesh and colleagues from the Department of Periodontics, A.B. Shetty Memorial Institute of Dental Sciences, Mangaluru, Karnataka, India conducted the present study which aimed at evaluating the expression of sTLR2 and sTLR4 among healthy, periodontal and diabetic patients and further if there a comparable expression among the TLRs among genders.
The authors assessed patients, all of whom were selected according to pocket depth, Clinical attachment loss and radiographic bone loss. Unstimulated whole saliva was collected from all the individuals who were included in the study.
TLR2 and sTLR4 quantification was estimated by ELISA. Comparison of sTLRs between the study groups were performed using ANOVA followed by Tukey post Hoc test. Independent sample t test was used to compare between the genders. (p=0.05).
The key findings highlighted in the study included-
Expression of sTLR2 was higher among periodontitis patients compared to diabetic patients, this was also evident with relation to genders.
TLR4 showed significant expression among the three groups and also among the genders.
Therefore, the authors concluded that "the expression of sTLR2 was higher among periodontitis patients compared to diabetic patients."
Furthermore, they inferred that more studies need to be carried out to evaluate TLRs values among genders.
Source : Research Journal of Pharmacy and Technology