COVID Toe yet another symptom of Covid 19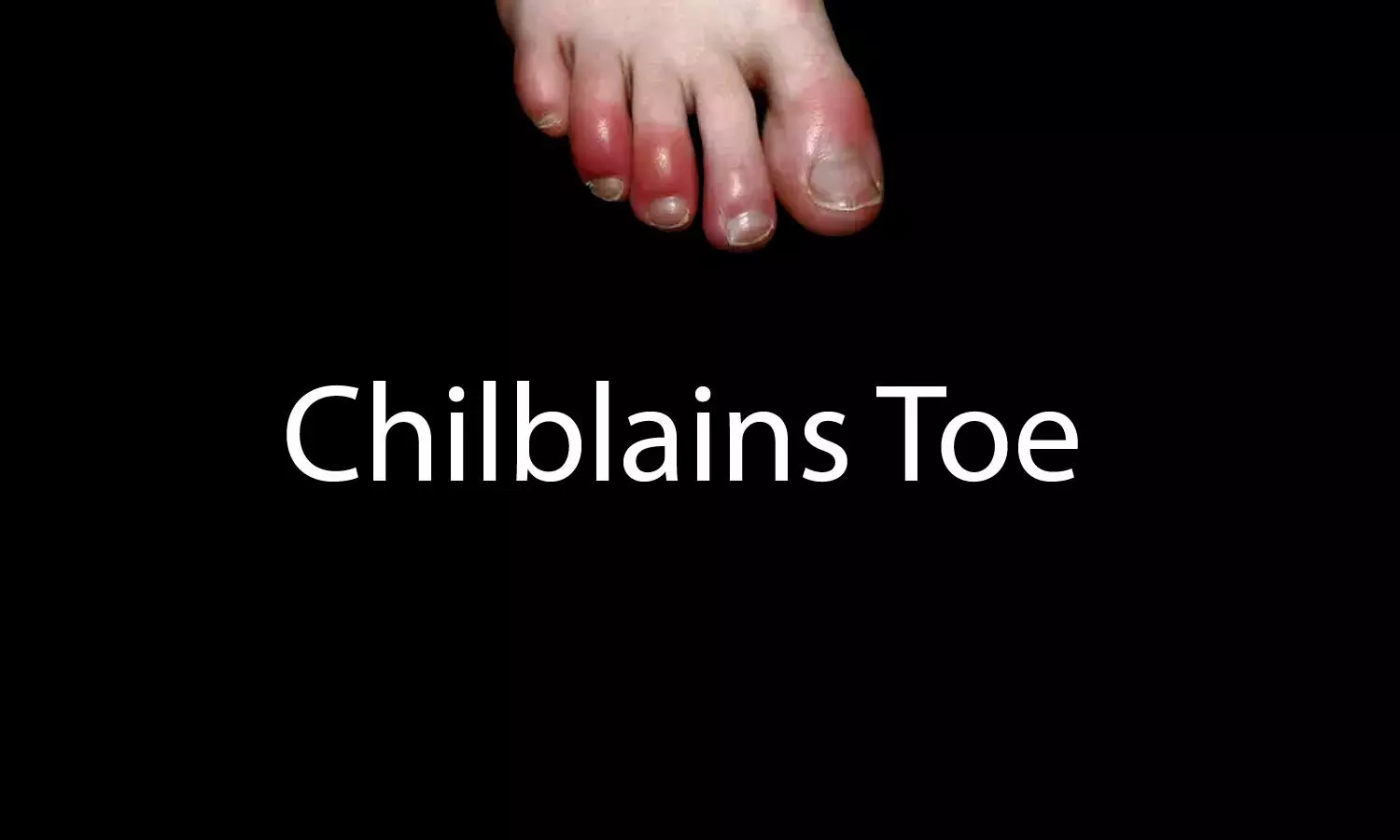 According to dermatologists of Spain a new symptom of Covid 19 has emerged which is a chilblain-like lesions on the toe which has been termed as "COVID Toe" by the investigators.The new symptom has not yet made onto the CDC's symptom list as yet.
Series of cases in Spain have begun to emerge noted by many dermatologists belonging to a group called Teledermasolidaria. This group of dermatologists has been treating urgent cases from home via an application made available by the Spanish Academy of Dermatology and Venereology (AEDV).
According to the specialists most of the patients reporting this symptom of chilbains were children (median 13 years) and young adults (median 31, average 36, range 18–91 years old). The lesions are initially reddish and papular resembling chilblains. Subsequently, in the span of approximately 1 week they become more purpuric and flattened. Finally, they seem to resolve by themselves without requiring any treatment. Patients did not show Raynaud or signs of ischemia.
The findings of the study have been published in International Journal of Dermatology.
The COVID‐19 pandemic caused by a novel coronavirus, SARS‐CoV‐2, has spread throughout the world.The clinical presentation widely referenced is fever, cough, headache, myalgia, asthenia, anosmia, and diarrhea; but few dermatological findings associated with the virus have been described to date.
After listing the three main symptoms of COVID-19 as fever, cough and shortness of breath or difficulty breathing, the United States nodal health agency Centre for Disease Control (CDC) updated its list adding six more possible symptoms of the pandemic disease.
The CDC has now updated its list of coronavirus symptoms, adding six more to it. The six new symptoms include:
Chills
Repeated shaking with chills
Muscle pain
Headache
Sore throat
New loss of taste or smell
Even Dermatologists in San Francisco and Boston have told the New York Times that their practices are "inundated with" and "completely full of" toes. Most patients with this presentation are younger and have a "benign clinical course," and the lesions go away, experts said.
Scientists are just beginning to study the phenomenon, but so far chilblain-like lesions appear to signal, curiously enough, a mild or even asymptomatic infection. They may also develop several weeks after the acute phase of an infection is over.
The experts advise that all those patients who develop swollen toes and red and purple lesions should consult their primary care doctor or a dermatologist to rule out other possible causes. However there is no need to run to the emergency room, where they risk being exposed to the coronavirus or exposing others if they are infected.
For further reference log on to:
https://doi.org/10.1111/ijd.14937
New York Times story on "COVID toe" (Free)
Source : International Journal of Dermatology