Oxybutynin cream applied twice daily effective treatment of axillary hyperhidrosis: Study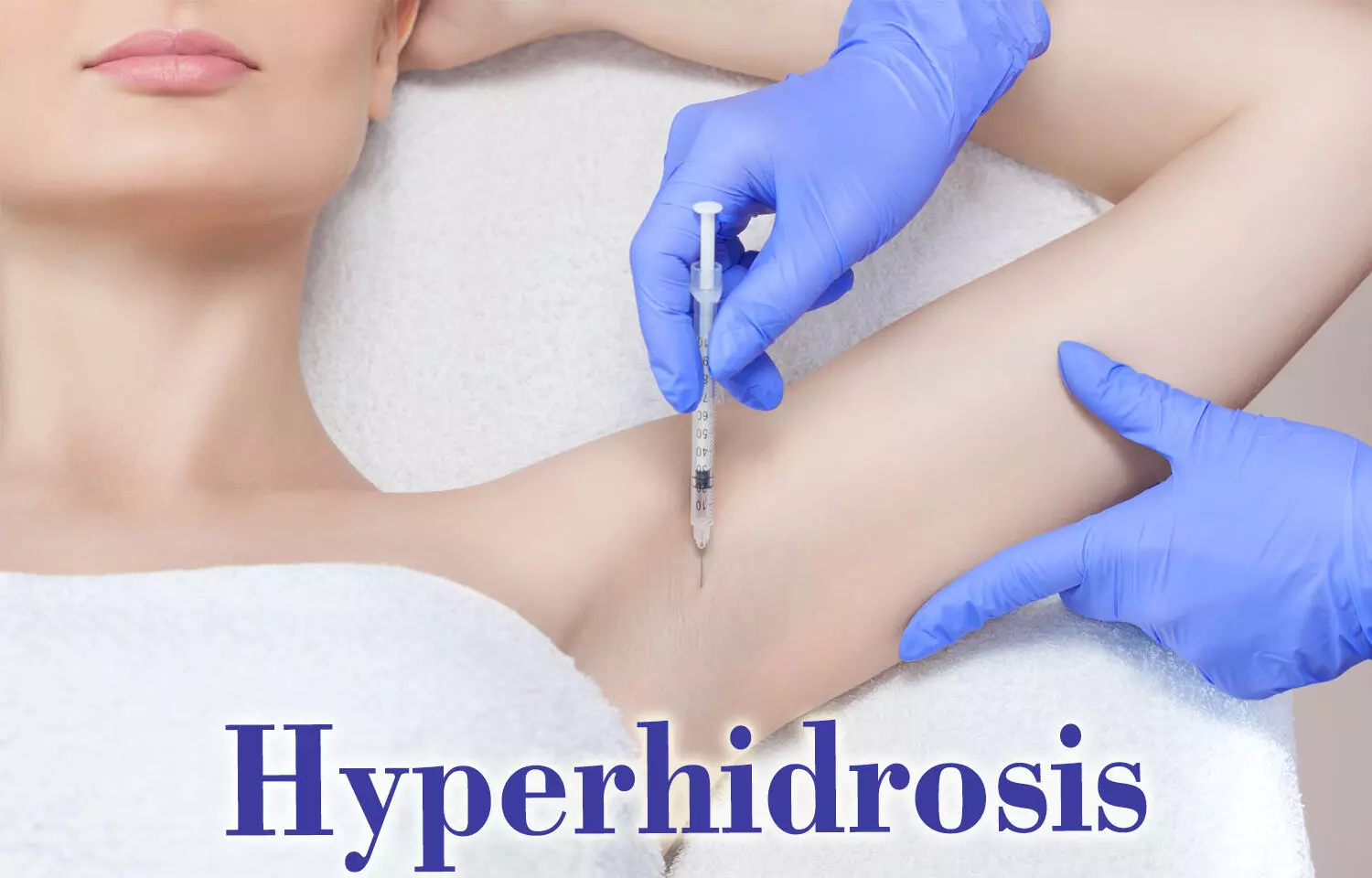 Athens, Greece: A cream formulation of oxybutynin chloride (OC) 10% is safe and well-tolerated anticholinergic therapy for the treatment of primary focal hyperhidrosis, according to a recent study in the Journal of the European Academy of Dermatology and Venereology (JEADV).
Primary focal hyperhidrosis is a common disorder that significantly impacts the quality of life. Topical anticholinergics are an emerging therapeutic class in the treatment of focal hyperhidrosis. The FDA-approved treatment for axillary hyperhidrosis in adults and children aged 9 years or older in 2018 is glycopyrronium tosylate 3.75% cloth.
Sofipironium bromide 5% gel received approval in Japan; phase II trials presented good efficacy and safety, and Phase III trials are to follow in the United States. Umeclimidium has been evaluated in a Phase II trial with promising efficacy.
Oxybutynin is an anticholinergic muscarinic receptor antagonist. When used as a systemic agent, it is a fairly established treatment option for focal hyperhidrosis. Topical modalities include oxybutynin chloride (OC) gel and transdermal patch formulations approved for the treatment of urinary incontinence. Assessment in focal hyperhidrosis is controversial with a significant number of patients discontinuing treatment due to lack of efficacy or adverse effect.
G. Kontochristopoulos, Department of Dermatology, Andreas Sygros Hospital, Athens, Greece, and colleagues aimed to evaluate the efficacy of a different formulation, a cream of oxybutynin chloride 10% prepared as a galenic formulation.
The study enrolled 30 adults with moderate to severe axillary hyperhidrosis. Baseline quality of life was evaluated using Dermatology Life Quality Index (DLQI). All patients underwent the Minor's starch–iodine test and photo-documentation. Patients were randomly assigned in the ratio of 1:1 to receive either oxybutynin HCL 10% in Lisote cream (CHEMCO, Greece) an aqueous base cream twice daily for 12 weeks applied to each axilla (Group A patients; n=15) or just the base cream (Group B; n=15).
Hyperhidrosis Disease Severity Scale score was assessed every4 weeks. At the end of the treatment, DLQI and patients' degree of satisfaction (0 = dissatisfied, 1 = partially satisfied, 2 = satisfied and 3 = totally satisfied) were assessed.
Key findings of the study include:
Statistically significant improvement was observed at 8 and 12 weeks in the group treated with the OC 10% cream.
The reduction of sweat did not improve further in week 12.
DLQI improvement was also statistically significant. Baseline DLQI was 15.06 and in week 12 DLQI was 9.13.
Satisfaction was adequate, with 53.3% of our patients claiming to be partially satisfied.
No adverse events including dry mouth, blurry vision, headache, dizziness, urine retention, constipation or topical application reactions were reported.
"Our results indicate that the use of topical OC 10% in a cream formulation has good efficacy and more importantly good tolerability," wrote the authors.
"The main limitation of this study is the small number of patients. However, the efficacy results are similar to the previously published OC gel 10% case series with an even better safetyprofile. This suggests that the optimal dose could be the 50 mg applied twice daily and the cream or gel is the most promising formulations."
Reference:
The study titled, "Treatment of primary axillary hyperhidrosis with a cream formulation of oxybutynin chloride 10%," is published in the Journal of the European Academy of Dermatology and Venereology (JEADV).
DOI: https://onlinelibrary.wiley.com/doi/epdf/10.1111/jdv.17297
Source : Journal of the European Academy of Dermatology and Venereology