Study throws light on dermatomyositis surge during COVID-19 pandemic in Mumbai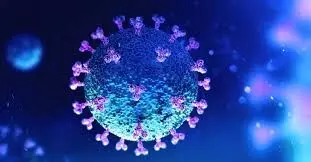 Mumbai, Maharashtra: A recent study has thrown light on the incidence of dermatomyositis during COVID-19 pandemic. According to the study, a surge in the incidence of dermatomyositis (5 cases) was noted during the months of April-August of 2020 in Mumbai, the period coinciding with COVID 19 occurrence in the city.

The case series, published in the Journal of the Association of Physicians of India, includes five such cases with review of available literature on virus-triggered autoimmunity with special reference to SARS-CoV-2 and the challenges of immuno suppression during this pandemic. The study was presented by Yojana Gokhale, Professor of Medicine, Lokmanya Tilak Municipal Medical College, Mumbai, Maharashtra, and colleagues.

Viruses have been know to modify the clinical picture of several autoimmune diseases, including multiple sclerosis, rheumatoid arthritis, SLE, and type 1 diabetes. Also, viral infections are considered a possible trigger for autoimmune disorders like myositis through myositis specific antibodies.
Dermatomyositis is an acquired inflammatory myopathy which is relatively rare with incidence of 9.3 per 1 million persons. According to the authors, usually there are about 1-2 cases of dermatomyositis per year, among 800-1000 new patients in their tertiary care rheumatology services. However, an increase in the cases was noted this year during the months of April-August of 2020, the time period during which coronavirus spread in the city.
Source: JAPI
"The sudden spur in dermatomyositis cases coinciding with peak of COVID-19 pandemic points to an epidemiological cause and effect relationship between the two. Similarities between acute respiratory distress syndrome of COVID -19 pneumonia and Anti MDA 5," concluded the authors. "Positive dermatomyositis associated with rapidly progressive interstitial lung disease reinforces this observation which is supported by the role of MDA-5 in innate immunity against viruses. Five cases of dermatomyositis in six months during COVID-19 pandemic raises a possibility of COVID-19 triggered dermatomyositis which needs to be studied in detail.

"Dermatomyositis during COVID-19 Pandemic (A Case Series): Is there a Cause Effect Relationship?," is published in the Journal of the Association of Physicians of India.
DOI: https://www.japi.org/x264a464/dermatomyositis-during-covid-19-pandemic-a-case-series-is-there-a-cause-effect-relationship
Source : Journal of the Association of Physicians of India