Topical steroids may increase risk of osteoporosis, fractures: JAMA Study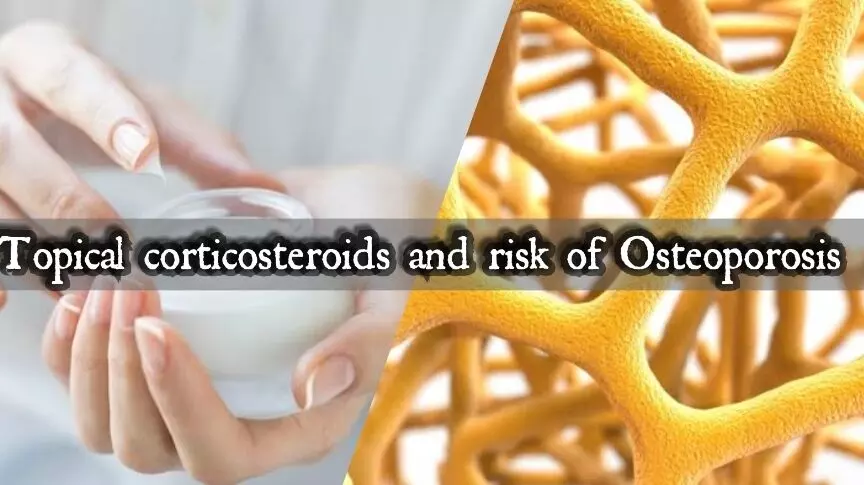 The increasing knowledge in the field of osteoimmunology and an increasing number of epidemiological and biological studies have provided support to a correlation between systemic or inhaled corticosteroids and bone remodelling. This risk of bone remodelling is also associated with the use of topical corticosteroids, suggests a study published in the JAMA Dermatology on January 20, 2021. The study findings recommend clinicians to consider other corticosteroid-sparing therapeutic options for people requiring potent anti-inflammatory treatment on large body surfaces for prolonged periods to limit the risk of osteoporosis.

Clinical guidelines recommend long-term use of potent Topical Corticosteroids (TCSs) in patients with psoriasis, atopic dermatitis, and other inflammatory diseases and even in those with extensive disease affecting large body areas. However, whether such prolonged use of TCSs may increase the risk of osteoporosis and major osteoporotic fracture (MOF) is unknown. Given the widespread use of TCSs, even a small increase in the risk of osteoporosis or MOF would be important from a public health perspective. The effect of high cumulative use of potent or very potent TCSs on the risk for osteoporosis and MOF needs to be quantified to better support treatment decisions in patients requiring long-term treatment. For this purpose, researchers conducted a study to examine the association between the use of potent or very potent TCSs and the risk of osteoporosis and MOF in adults.
It was a Danish population-based, retrospective cohort study that included 723 251 Danish adults treated with the equivalent of at least 200 g of mometasone from January 1, 2003, to December 31, 2017. Researchers used Danish nationwide registries to obtain data. Filled prescription data were converted in equipotent doses to mometasone furoate (1 mg/g). The major outcomes assessed were a diagnosis of osteoporosis or MOF.
Key findings of the study were:
♦ Researchers found a dose-response association between the increased use of potent or very potent TCSs and the risk of osteoporosis and MOF. (Eg., HRs of MOF were:
• 1.01 for exposure to 500 to 999 g,
• 1.05 for exposure to 1000 to 1999 g,
• 1.10 for exposure to 2000 to 9999 g,
• 1.27 for exposure to at least 10 000 g).
♦ They found an overall population-attributable risk for TCSs of as much as 4.3% for osteoporosis and 2.7% for MOF.
♦ Upon doubling the cumulative TCS dose, they observed a 3% increase in the relative risk of osteoporosis and MOF (HR, 1.03 ).
The authors concluded, "These findings demonstrate that use of high cumulative amounts of potent or very potent TCSs was associated with an increased risk of osteoporosis and MOF".
For further information:
https://jamanetwork.com/journals/jamadermatology/fullarticle/2775153
Article Source :
 JAMA Dermatology