Decoding Doxycycline in Management of Acne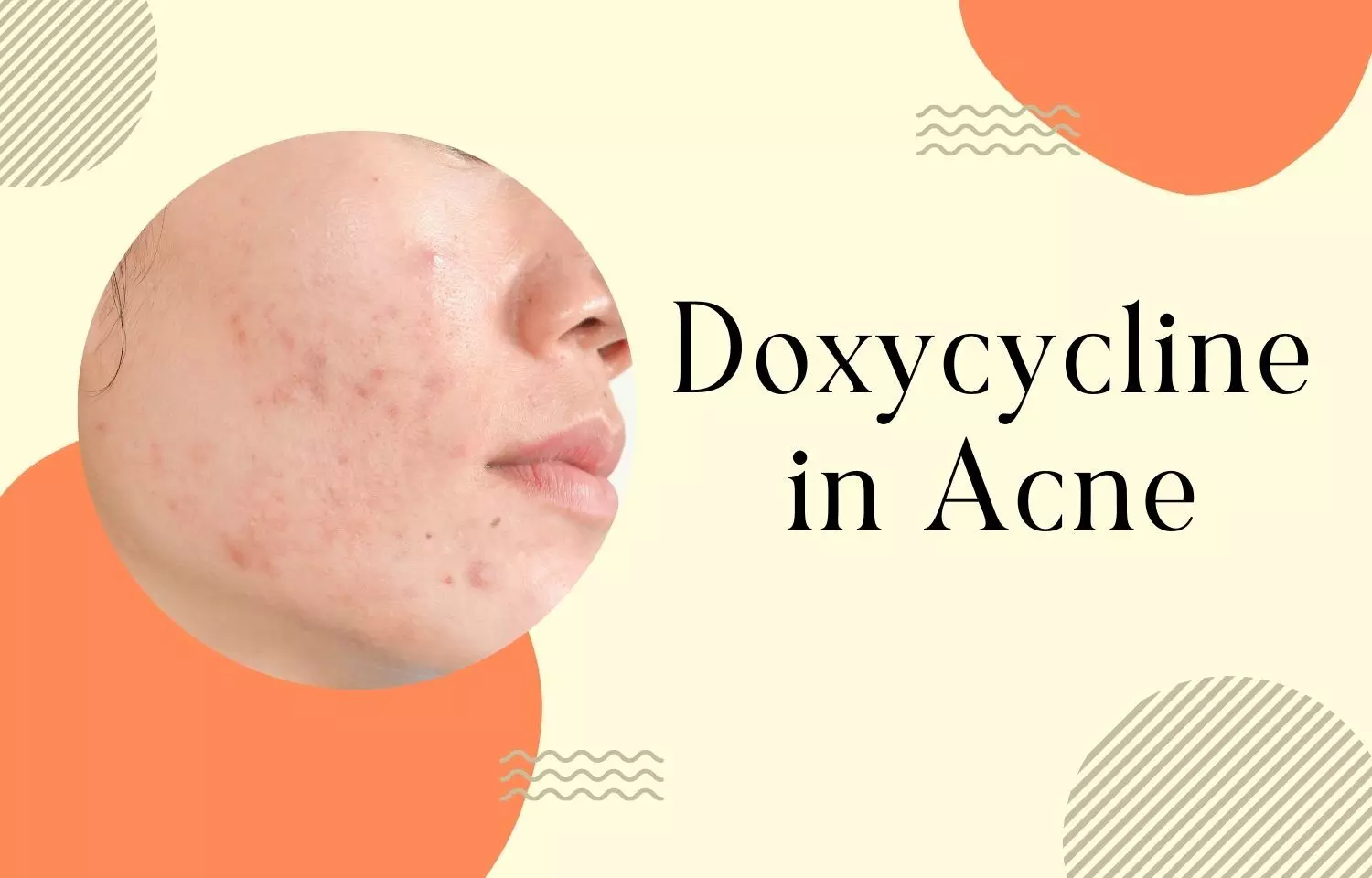 In the busy outpatient department of today, one of the most common diseases which dermatologists encounter is acne. Acne vulgaris has a lifetime prevalence of 85% most commonly seen in adolescents and young adults. (1,2) Acne has a huge impact on the quality of life as it leads to significant morbidity associated with residual scarring and psychological disturbances such as poor self-image, depression, and anxiety, which leads to a negative impact on quality of life.1 In the recent pandemic of COVID-19, the prevalence of dermatosis has increased due to the exacerbation of acne caused by personal protective equipment. (3)
Increased follicular keratinization; altered sebum production; microbial colonization by Cutibacterium acnes; and complex inflammatory mechanisms that involve both innate and acquired immunity are the key pathogenetic mechanisms underlying acne (4,5). Systemic antibiotics have been a crucial component in the treatment of acne, controlling different aspects of the pathogenetic process (4). According to the Journal of American Academy of Dermatology (JAAD) guidelines, the Tetracycline group of systemic antibiotics has been indicated for use in moderate to severe inflammatory acne. Doxycycline belongs to the tetracycline group of antibiotics (5).

It is FDA approved in the adjunctive treatment of severe acne (6) Two formulations of doxycycline are available in the market—doxycycline hyclate and doxycycline monohydrate, which are different salt forms of the same active drug (7).
Mechanism of action
Doxycycline is an oral tetracycline composed of four carbon rings, with a hydroxyl group at C-5 and a methyl group at C-6.(6) It works by inhibiting bacterial protein synthesis by binding the 30S subunit of the bacterial ribosome. It also has notable anti-inflammatory effects, including inhibiting chemotaxis and matrix metalloproteinase activity. Doxycycline is more lipophilic than other tetracyclines, making it optimal for penetrating and accumulating in the sebaceous gland- where C. acnes resides and proliferates. (7)
Effectiveness of doxycycline in acne and its benefits over others–

Doxycycline has an A grade of recommendation and level of evidence I for treatment of acne vulgaris according to JAAD guidelines for the management of acne (5). A dose of 1.7 to 2.4 mg/kg has been found effective in acne (1,5). Sub-antimicrobial doses of Doxycycline 20 mg twice daily or 40 mg daily have also been shown to have efficacy in moderate inflammatory acne (1,5). For practical purposes, it is given at a dose of 50 mg-100 mg once to twice daily (1).
A randomized controlled trial carried out by Ullah et.al enrolled 386 patients who were equally divided into two groups receiving azithromycin and doxycycline respectively. Patients in the azithromycin group received 500mg of Azithromycin daily before meals for 4 consecutive days monthly for 3 months while patients in the doxycycline group were given doxycycline 100 mg daily after meals for 3 months. The trial noted an excellent response among the doxycycline group which was 11.4% wherein the azithromycin group was 3.1%. Good response was observed in 55.4% of patients among the doxycycline group, which was way higher than the azithromycin group; only 22.8%. (8)

JAAD guidelines for the treatment of acne have mentioned studies about the better efficacy of doxycycline over azithromycin (5). Doxycycline is primarily metabolized by the liver so it is also safe in patients with renal impairment (5). Furthermore, the latest evidence also shows equal efficacy with a more favorable safety profile of doxycycline over minocycline. Minocycline has been associated with acute vestibular events, dizziness, and pigmentation (6).
Doxycycline in Acne: Indian Evidence

Numerous Indian studies have focused on analyzing the role of doxycycline in acne, - some of them are as follows:
In a first-of-its-kind review article, a pan- India dermatologist expert panel came together and advised that the management of acne should focus on the treatment of inflammation which supports the use of oral antibiotics in acne. Antibiotics should be used till the inflammation is visible. (9)
The team highlighted that enteric-coated or double-scored tablets or using staggered dosing of doxycycline can help to bypass the gastric intolerance associated with the drug. Low dose doxycycline (sub-antimicrobial dose 40 mg MR) has been used in the treatment of acne and found to prevent the development of resistant strains. (9)
A study carried out by Arjel et.al assessed and compared the efficacy of Azithromycin Versus Doxycycline in the treatment of Acne Vulgaris. The paper noted that after the treatment most of the patients improved to Grade I at 6 weeks (Azithromycin 50%, Doxycycline 55%) and to Grade zero at 12 weeks (Azithromycin 42.5%, Doxycycline 67.5%). They concluded after 12 weeks, patients receiving Doxycycline showed statistically significant improvement in comparison to the patients receiving Azithromycin. (10)
Another study done by Patro et.al analyzed the prescribing pattern of drugs in acne in a tertiary care teaching hospital in Odisha, India. A total of 1210 prescriptions of acne were enrolled in the study. The paper concluded that doxycycline (54.18%) was the most preferred among the prescribed oral antibiotics. (11)
Consensus recommendation on Doxycycline in Acne:

Organizations across the world have approved the use of doxycycline for the treatment of acne.

The American Academy of Dermatology (AAD) recommends tetracycline group of systemic antibiotics including doxycycline for use in moderate to severe inflammatory acne (5).
Similarly, the Dermatology Society of Singapore put forward its recommendations on the use of doxycycline as the first-line oral antibiotic in acne (12).
The standard guideline laid down by the Indian Association of Dermatologists, Venereologist, Journal of Dermatology (IADVL) recommends the use of doxycycline as systemic therapy for moderate to severe inflammatory acne (13).
Likewise, the National Institute for Care and Excellence (NICE) recommends oral doxycycline as a first-line treatment option for the treatment of moderate to severe acne (14).
Conclusion:

Doxycycline is effective for the treatment of moderate to severe inflammatory acne. Albeit multiple options are available for the treatment of acne; doxycycline remains one of the preferred first-line treatment options for acne due to its well-established efficacy. Consequently, the use of doxycycline is encouraged to attain optimal results.
The above article has been published by Medical Dialogues under the MD Brand Connect Initiative. For more details on Doxycycline click here.

References:
1.Tan AU, Schlosser BJ, Paller AS. A review of diagnosis and treatment of acne in adult female patients. Int J Women's Dermatology. 2018;4(2):56-71. doi:10.1016/j.ijwd.2017.10.006.

2. Apoorva A, K G, D A. A comparison of cost-effectiveness between doxycycline and azithromycin with topical clindamycin in the treatment of patients with moderate to severe acne vulgaris: Prospective, randomized study. Natl J Physiol Pharm Pharmacol. 2020;10(0):1. doi:10.5455/njppp.2020.10.0203820201302202
3. Singh M, Pawar M, Bothra A, et al. Personal protective equipment induced facial dermatoses in healthcare workers managing Coronavirus disease 2019. J Eur Acad Dermatology Venereol. 2020;34(8):e378-e380. doi:10.1111/jdv.16628
4. Zípora M. Q. Dos Santos, Maiara C. Velho, Fátima R. Zan, Virginia C. Rech, Aline F. Ourique. Review of Clinical Factors That Cause Acne Vulgaris.2020. International Journal for Innovation Education and Research
5. Zaenglein AL, Pathy AL, Schlosser BJ, et al. Guidelines of care for the management of acne vulgaris. J Am Acad Dermatol. 2016;74(5):945-973.e33. doi:10.1016/j.jaad.2015.12.037
6. Armstrong AW, Hekmatjah J, Kircik LH. Oral Tetracyclines and Acne: A Systematic Review for Dermatologists. J Drugs Dermatol. 2020;19(11):s6-s13
7.Baldwin H. Oral Antibiotic Treatment Options for Acne Vulgaris. J Clin Aesthet Dermatol. 2020;13(9):26-32. http://www.ncbi.nlm.nih.gov/pubmed/33133338%0Ahttp://www.pubmedcentral.nih.gov/articlerender.fcgi?artid=PMC7577330.
8. Ullah G, Noor SM, Bhatti Z, Ahmad M, Bangash AR. Comparison of oral azithromycin with oral doxycycline in the treatment of acne vulgaris. J Ayub Med Coll Abbottabad. 2014 Jan-Mar;26(1):64-7. PMID: 25358221.
9. Sacchidanand, S. A., Lahiri, K., Godse, K., Patwardhan, N. G., Ganjoo, A., Kharkar, R., Narayanan, V., Borade, D., & D'souza, L. (2017). Synchronizing Pharmacotherapy in Acne with Review of Clinical Care. Indian journal of dermatology, 62(4), 341–357. https://doi.org/10.4103/ijd.IJD_41_17
10. Arjel, A., Pokhrel, K., & Sharma, S. (2021). Efficacy of Oral Azithromycin versus Doxycycline in the Treatment of Acne Vulgaris. Journal of Nepalgunj Medical College, 18(2), 59–62. https://doi.org/10.3126/jngmc.v18i2.38908
11. Patro,N.Jena,M.Panda,M.Dash,M.(2015).A Study on the Prescribing Pattern of Drugs for Acne in a Tertiary Care Teaching Hospital in Odisha,J Clin of Diagn Res. 9(3), WC04-WC06.
12. Hazel H. Oon, Su-Ni Won, Derrick Chen Wee Aw,Wai Kwong Cheong, Chee Leok Goh,Hiok Hee Tan, Acne Manageme Guidelines by the Dermatological Society of Singapore.2019. J Clin Aesthet Dermatology
13. Rathi Sk. Acne vulgaris treatment: the current scenario. Indian J Dermatol 2011.
14. Acne Vulgaris; management. NICE. 2021 MBBS
Dr Manoj Kumar Nayak has completed his M.B.B.S. from the prestigious institute Bangalore medical college and research institute, Bengaluru. He completed his M.D. Dermatology from AIIMS Rishikesh. He is actively involved in the field of dermatology with special interests in vitiligo, immunobullous disorders, psoriasis and procedural dermatology. His continued interest in academics and recent developments serves as an inspiration to work with medical dialogues.He can be contacted at editorial@medicaldialogues.in.