Role of Fluconazole in Superficial Fungal Infections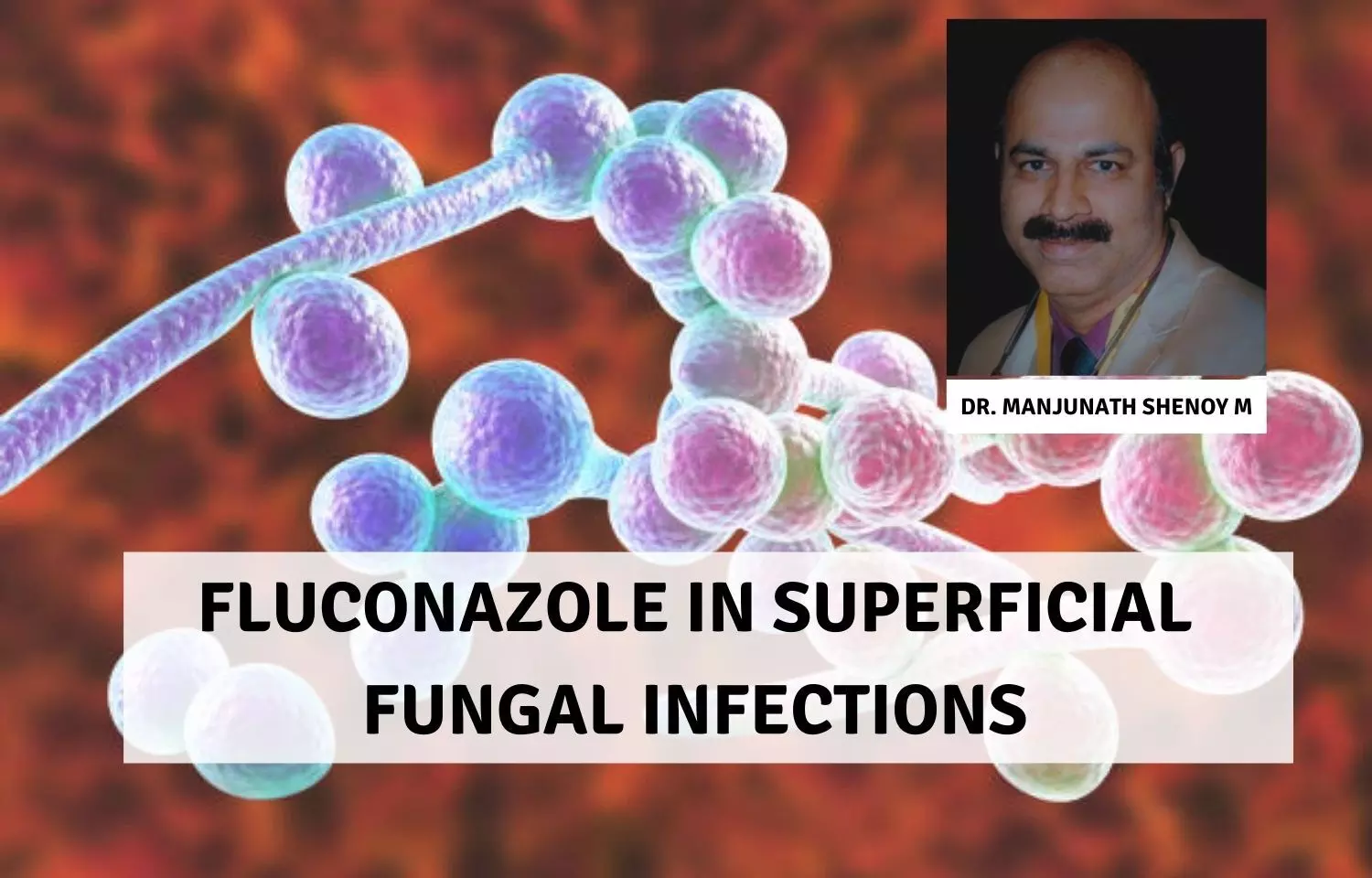 Role of Fluconazole in Superficial Fungal Infections
Superficial fungal infection is a worldwide health problem affecting more than 25% of the population. (1),(2) Moreover in India, the problem is rampant with a significant increase in the incidence of chronic, relapsing, and recurrent cases of superficial dermatophytosis. (3) Nearly 15– 20% of the outpatient department cases of dermatology are those of chronic dermatophytosis. (3) Irrational combination creams and fixed-dose combinations containing potent corticosteroids and inadequate duration of treatment are crucial factors that have led to the emergence of this epidemic. (3),(4)

Systemic antifungals play a pivotal role in dealing with this epidemic which is on the rise. (3) Increasing non-responsiveness to therapy and the high cost of antifungals are two major issues in the management of fungal infections. (3) Fluconazole has been used to treat superficial fungal infections for a long time, with a good safety profile, and remains a molecule of interest.

Fluconazole- Safety and Efficacy

Fluconazole is a first-generation triazole and one of the most commonly used antifungal agents that have been in use since the late 1980s and still showing efficacy. (5) It interacts with 14- demethylase, an enzyme catalyzing the conversion of lanosterol to ergosterol. (6) Concentration of 14-methyl sterols is increased and that of ergosterol is decreased causing increased cellular permeability thus leading to its fungistatic property.
Fluconazole is available in both oral (suspension and tablet form) and intravenous preparations. Its absorption is unaffected by food or gastric pH.(6) Fluconazole is cleared by renal excretion. Its half-life is approximately 30 hours, allowing for once-daily dosing.5Dosing varies from 100-1000mg/day for various indications in adults but in pediatric patients, doses exceeding 600 mg/day are not recommended. (6)

Fluconazole- Standing Test of Time

In dermatology, fluconazole has been used to treat many superficial fungal infections. It is approved by European Medical Agency (EMA) for the treatment of vaginal, oropharyngeal, and oesophageal candidiasis and dermatophytosis. (5),(7)

• Dermatophytosis- According to a review by Gupta et al weekly dosing of fluconazole was found to be effective in tinea cruris and corporis. (6),(8) The increase in the incidence of chronic and recalcitrant dermatophytosis led to the formation of new consensus guidelines by the IADVL task force against recalcitrant tinea (ITART)(9) and Rajagopalan et al (ECTODERM India)(10) for the Indian scenario.

The guidelines recommended fluconazole in a dose of 50-100mg/day or 150-300mg/week for naive tinea corporis and cruris. (9) In addition use of more frequent dosing of fluconazole i.e. 150mg thrice weekly for 6–8 weeks or till cure for tinea cruris and corporis has been recommended for chronic/recalcitrant tinea infections. (9)

Recommendations for treatment of steroid modified tinea/tinea incognito stressed on longer duration of treatment i.e. 6 weeks or more depending on the clinical scenario. (10) Fluconazole treatment with a dose of 150-300mg/week for glabrous tinea not responding to terbinafine and itraconazole had also been recommended by Rajagopalan et al (ECTODERM India). (10)

ITART consensus guidelines also recommend the use of fluconazole for glabrous tinea treatment if systemic therapy is required in a patient with hepatic dysfunction with close monitoring.9 It is also a useful antifungal in the scenario of management in infants and lactating mothers due to its relative safety.

In addition, a comparative study by Salunke et al showed that weekly dosing of fluconazole was equally efficacious to the daily dose of terbinafine in tinea cruris, corporis and faciei.11In an RCT conducted by Dastghaib et al on 40 patients with tinea capitis, fluconazole was found to have similar cure rates to griseofulvin, which is the drug of choice in tinea capitis. (12)

• Onychomycosis- According to Singal et al fluconazole is highly effective against both Candida and dermatophytes onychomycosis. (13)It has been detected in nails within 2 weeks of starting therapy and persists in high concentrations for 3-6 months after treatment. (13)It is approved in Europe for the treatment of onychomycosis. (14)According to a review by Gupta et al fluconazole can be given a dose of 150mg/300mg/450mg once a week for treatment of onychomycosis with higher doses preferred in non-dermatophyte onychomycosis. (14)A review by Hay et al suggested that fluconazole can be given once weekly for 6 months for fingernails, and 12 months for toenails. (15)

• Pityriasis Versicolor (PV)- PV is one of the most important superficial fungal infections effectively treated with fluconazole given as a 300-400mg single dose or weekly for 1-4 weeks.6In a randomized control trial (RCT) conducted by Partap et al in 40 patients it was observed that single dose of fluconazole showed better clearance of pityriasis Versicolor with lesser relapse rates than single-dose itraconazole at the same dose. (16)

• Seborrheic dermatitis- A comparative study was done by LilijaZisovawhere response to treatment in 2 groups, one receiving fluconazole 50mg/day only and the other receiving fluconazole 50mg/day combined with a potent topical steroid given for 2 weeks was compared. The results in both the groups were similar indicating that fluconazole 50mg/day for 2 weeks is effective and safe in seborrheic dermatitis. (17)

• Mucocutaneous candidiasis- Fluconazole in a single dose of 150mg is the treatment of choice in vulvovaginal candidiasis according to Centre for Disease Control (CDC) guidelines. According to a review by Govindarajan et al, candida infections at other sites require fluconazole dose ranging from 100-400mg daily to weekly dosing regimens.5In a meta-analysis by its uni et al comparing fluconazole to itraconazole in the treatment of uncomplicated vulvovaginal candidiasis, it was found that both the drugs were equally efficacious. (18)

Fluconazole in Pregnancy and Neonates

One of the areas of research in fluconazole is regarding its safety in pregnancy, lactating mothers, and children. Throughout the years' research in this area has led to multiple pieces of evidence indicating its safety as follows-
• A systematic review of the safety of fluconazole in pediatric patients by Egunsola et alshowed that it is relatively safe in the pediatric age group and hepatotoxicity and gastrointestinal toxicity was the most common adverse events reported. (19)
• It has also been found to be safe in infants in many case series as described by Kaplan et al in a recent update. (20)
• The expert consensus by Rajagopalan et al (ECTODERM India) also recognizes that fluconazole can be used in infancy. (10)
• According to a retrospective studyMølgaard-Nielsen D et al published in NEJM, the majority of fluconazole-exposed pregnancies were in the dose of 150mg or 300mg and were not associated with an increased risk of birth defects overall except for an increase in the risk of tetralogy of Fallot. (21)
• Another cohort study Zhu et alshowed that oral fluconazole use in the first trimester was not associated with oral clefts or conotruncal malformations, but an association with musculoskeletal malformations was found. (22)
• An update on fluconazole exposure in pregnancy by Kaplan et al demonstrated that the usual short courses and doses used to treat candidiasis in females do not significantly cause birth defects. (20)
• Update on fluconazole use in lactating women and literature review by Prabhu et al (23), Murase et al (24), and Kaplan et al (25) reported that though fluconazole is excreted in breast milk it is generally considered safe in neonates and infants so it is considered compatible with breastfeeding.
Based on published literature, fluconazole can be used in the treatment of superficial fungal infections like dermatophytosis, mucocutaneous candidiasis, pityriasis Versicolor, etc. Its use has decreased in recent times, but may be considered in patients not responding to other antifungals.(10) In addition to its equivocal efficacy to other antifungals, the relative safety of fluconazole in children and lactating women boosts its role in the treatment of superficial fungal infections.

References

1. Havlickova B, Czaika VA, Friedrich M. Epidemiological trends in skin mycoses worldwide. Mycoses. 2008;51:2.
2. Lakshmanan A, Ganeshkumar P, Mohan SR, Hemamalini M, Madhavan R. Epidemiological and clinical pattern of dermatomycoses in rural India. Indian J Med Microbiol. 2015;33:134-6.
3. Verma SB, Panda S, Nenoff P, Singal A, Rudramurthy SM, Uhrlass S, et al. The unprecedented epidemic-like scenario of dermatophytosis in India: III. Antifungal resistance and treatment options. Indian J Dermatol Venereol Leprol. 2021;87:468-82.
4. Verma SB. Emergence of recalcitrant dermatophytosis in India. Lancet Infect Dis. 2018;18:718-719.
5. Govindarajan A, Bistas KG, Ingold CJ, et al. Fluconazole. In: StatPearls [Internet]. Treasure Island (FL): StatPearls Publishing; 2021.
6. Gupta AK, Foley KA. Systemic Antifungal Agents. In: Wolverton SE, Wu JJ, editors. Comprehensive Dermatologic Drug Therapy. 4th ed. Philadelphia: Pennsylvania(USA): Elsevier; 2019. p. 99-113.
7. Diflucan / European Medicines Agency [Internet].
8. Gupta AK, Chaudhry M, Elewski B. Tinea corporis, tinea cruris, tinea nigra and piedra. Dermatol Clin. 2003;21:395–400.
9. Rengasamy M, Shenoy MM, Dogra S et al. Indian Association of Dermatologists, Venereologists and Leprologists (IADVL) Task Force against Recalcitrant Tinea (ITART) Consensus on the Management of Glabrous Tinea (INTACT). Indian Dermatol Online J. 2020;11:502-519.
10. Rajagopalan, M., Inamadar, A., Mittal, A. et al. Expert Consensus on The Management of Dermatophytosis in India (ECTODERM India). BMC Dermatol. 2018;18:6
11. Salunke P, Someshwar S, Bhobe M. Efficacy of daily oral terbinafine versus pulse fluconazole therapy in the treatment of tinea corporis, tinea cruris, and tinea faciei: A Comparative Study. MGM J Med Sci 2020;7:10-5.
12. Dastghaib L, Azizzadeh M, Jafari P. Therapeutic options for the treatment of tinea capitis: griseofulvin versus fluconazole. J Dermatolog Treat. 2005;16:43–46.
13. Singal A, Khanna D. Onychomycosis: Diagnosis and management. Indian J Dermatol VenereolLeprol. 2011;77:659-72.
14. Gupta AK, Stec N, Summerbell RC et al. Onychomycosis: a review. J Eur Acad Dermatol Venereol. 2020;34:1972-90.
15. Hay R. Therapy of Skin, Hair and Nail Fungal Infections. Journal of fungi. 2018;4:99.
16. Partap R, Kaur I, Chakrabarti A, Kumar B. Single-dose fluconazole versus itraconazole in pityriasis versicolor. Dermatology. 2004;208:55-9.
17. Zisova LG. Fluconazole and its place in the treatment of seborrheic dermatitis--new therapeutic possibilities. Folia Med. 2006;48:39-45.
18. Pitsouni E, Iavazzo C, Falagas ME. Itraconazole vs fluconazole for the treatment of uncomplicated acute vaginal and vulvovaginal candidiasis in nonpregnant women: a metaanalysis of randomized controlled trials. Am J Obstet Gynecol. 2008;198:153-60.
19. Egunsola O, Adefurin A, Fakis A et al. Safety of fluconazole in paediatrics: a systematic review. Eur J Clin Pharmacol. 2013;69:1211-21.
20. Kaplan YC, Koren, G, Bozzo, P. Fluconazole exposure during pregnancy. Canadian family physician Medecin de famillecanadien. 2015;61:685–686.
21. Mølgaard-Nielsen D, Pasternak B, Hviid A. Use of oral fluconazole during pregnancy and the risk of birth defects. N Engl J Med. 2013;369:830-9.
22. Zhu Y, Bateman BT, Gray KJ et al. Oral fluconazole use in the first trimester and risk of congenital malformations: population based cohort study. BMJ. 2020;369:1494
23. Prabhu SS, Sankineni P. Managing dermatophytoses in pregnancy, lactation and children. Clin Dermatol Rev 2017;1:S34-7.
24. Murase JE, Heller MM, Butler DC. Safety of dermatologic medications in pregnancy and lactation: Part I. Pregnancy. J Am Acad Dermatol. 2014;70:401.e1-14.
25. Kaplan YC, Koren G, Ito S et al. Fluconazole use during breastfeeding. Can Fam Physician. 2015 Oct;61:875-6.
Murase JE, Heller MM, Butler DC. Safety of dermatologic medications in pregnancy and lactation: Part I. Pregnancy. J Am Acad Dermatol. 2014 Mar;70(3):401.e1-14; quiz 415. doi: 10.1016/j.jaad.2013.09.010. PMID: 24528911.