Covid-19 has potential to induce diabetes, find Indian researchers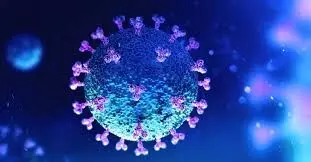 Dr V.K. Shivane, A.R. Lila and T.R. Bandgar from the department of endocrinology, KEM Hospital have detailed in a new research paper that onset of hyperglycaemia, or excessive blood glucose, was noticed in some covid-19 patients with HbA1c levels and without any family history of diabetes.

The research paper has been published in the Journal of Postgraduate Medicine, the official publication of the Seth Gordhandas Sunderdas Medical College and King Edward Memorial Hospital, Mumbai.
According to a communication by Ministry of Health and family welfare around 47% of the people succumbing to covid-19 infection were below 60 years and were suffering from hypertension, diabetes and cardiac diseases, among other comorbidities.
Diabetes mellitus is associated with poor prognosis in patients with COVID-19. On the other hand, COVID-19 contributes to worsening of dysglycemia in people with diabetes mellitus over and above that contributed by stress hyperglycemia.
A typical Indian T2D phenotype is centrally obese with high insulin resistance, younger in onset, more prone to develop macro and micro vascular complications of DM. Various epidemiological surveys suggest that more than 50%–70% Indian diabetics have average HbA1c more than 8.5% which is way higher than desired glycemic control target of 7%. Thus, this poorly controlled DM makes Indian diabetics more prone for complications of diabetes including infections. Linear relation is noted with a number of complications of DM with duration of DM.
"Diabetes occurs when the body does not produce hormone insulin or does not use it efficiently. Insulin regulates the amount of glucose in the blood. There is a need to establish a registry of "covid-19 related DM" from various covid centres and hospitals of India, said the authors.

Whether the patients will become permanently diabetic or achieve remission also needs to be explored.
"This so-called 'covid-19 related DM' is a matter of concern during management. Eventually, all of them are being managed by subcutaneous or intravenous insulin to achieve normoglycemia, or normal levels of sugar, during hospitalization.
However, 'covid-19 related DM' may achieve normoglycemia with insulin early compared to patients with pre-existing DM, but associated steroid use may complicate the picture," said the authors.Similar trends were noticed worldwide, according to the study.
Covid-19 has the potential to induce diabetes but whether the patients will become permanently diabetic is a million dollar question that needs to be explored.
Source : Journal of Postgraduate Medicine