Dapagliflozin reduces risk of new type 2 diabetes in CKD patients: Study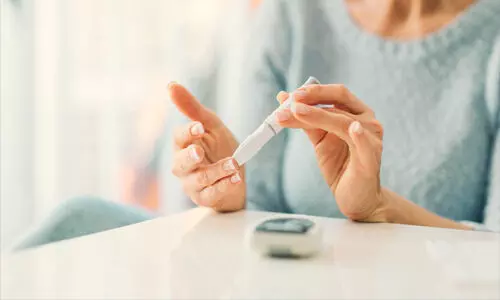 Delhi: Treatment with dapagliflozin in chronic kidney disease (CKD) patients significantly reduced the risk of new-onset type 2 diabetes (T2D), show findings from a pre-specified analysis of the DAPA-CKD trial.
The findings of the study were presented at the 2021 American Diabetes Association Virtual Meeting.
The DAPA-CKD trial had shown a significant reduction in the risk of adverse cardiovascular and kidney outcomes in patients with CKD, with and without type 2 diabetes who were treated in the ratio of 1:1 to receive dapagliflozin 10 mg once daily or placebo. This prespecified analysis by Peter Rossing, Steno Diabetes Center Copenhagen, and colleagues explored the effect of dapagliflozin on incident T2D in the cohort without diabetes enrolled in DAPA-CKD.
The analysis included a subgroup of 1,398 participants with CKD, no prior history of diabetes, and HbA1c <6.5% at baseline. The surveillance for new-onset T2D (confirmed HbA1c ≥6.5%) was accomplished through periodic HbA1c testing (part of the study protocol) and comparison between treatment groups assessed through Cox proportional hazards model.
Key findings of the study include:
Over a median follow-up of 2.4 years, T2D developed in 4.7% in the placebo group and 3.0% in the dapagliflozin group. This corresponded to event rates of 2.4/100-patient years and 1.5/100-patient years, respectively.
Dapagliflozin led to a 38% reduction in T2D incidence (hazard ratio 0.62).
There was no heterogeneity in the effect of dapagliflozin on T2D prevention based on most key prespecified subgroups, including age, glycemic status, blood pressure, estimated glomerular filtration rate, albuminuria, race and region, but the effect was more pronounced in females.
More than 90% of the participants who developed T2D had prediabetes at baseline (HbA1c 5.7-6.4%).
A meta-analysis of DAPA-CKD and DAPA-HF (dapagliflozin in heart failure with reduced ejection fraction) demonstrated that dapagliflozin reduced new-onset diabetes compared to placebo (hazard ratio 0.66), without heterogeneity between studies.
"In this pre-specified explorative analysis of patients with CKD, treatment with dapagliflozin reduced the incidence of new T2D, an effect that was consistent across DAPA-CKD and DAPA-HF," concluded the authors.
Reference:
"Dapagliflozin and the Incidence of Type 2 Diabetes in Patients with Chronic Kidney Disease," was presented at the 2021 American Diabetes Association Virtual Meeting.
DOI: https://ada.apprisor.org/epsAbstractADA.cfm?id=1
Source : ADA 2021