Metformin reduces death risk among diabetics with CKD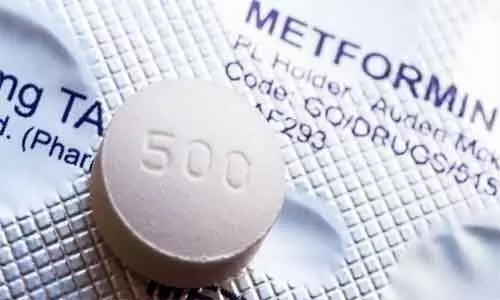 Researchers from South Korea have found in an observational study that Metformin use among people with type 2 diabetes who have chronic kidney disease (CKD) is associated with a reduced risk of death and end-stage renal disease (ESRD), without an increase in the risk of lactic acidosis.
Thefindings of study were published in Diabetes Care.
At present metformin "is not recommended in individuals with impaired kidney function because of the perceived risk of lactic acidosis," say the researchers. They add that the US Food and drug administration restricts use of the drug in people with an estimated glomerular filtration rate (eGFR) of less than 30 mL/min per 1.73 m2, while its use in those with an eGFR of 30–45 mL/min per 1.73 m2 "is controversial."
The researchers used electronic medical records to evaluate adverse outcomes among 10,862 individuals with type 2 diabetes treated at two nephrology clinics in Seoul between 2001 and 2016.
Among 10,426 patients with type 2 diabetic kidney disease from two hospitals, 13.8% of those administered metformin died during a median follow-up of 7.3 years and 11.4% progressed to ESRD. Of those who did not receive metformin, 26.8% died and 24.5% progressed to ESRD.
After propensity score matching to account for differences in baseline characteristics between the two groups, 2704 metformin users had a significant 35% lower risk for all-cause mortality and a significant 33% lower risk for ESRD progression than the same number of nonusers. These associations were seen after approximately 2.5 years of metformin use.
The researchers found that this reduction in mortality risk remained significant regardless of kidney function. Compared to nonusers in the same categories, metformin users with the highest eGFR (≥45 mL/min per 1.73 m2) had a 30% reduced risk, while those in the middle (30 to <45 mL/min per 1.73 m2) and lowest (<30 mL/min per 1.73 m2) groups had a 36% and 45% reduced risk, respectively.
The researchers concluded that metformin usage in advanced chronic kidney disease (CKD) patients, especially those with CKD 3B, decreased the risk of all-cause mortality and incident ESRD. The association between metformin and a lower risk for progression to ESRD was significant among patients with an eGFR of at least 30 mL/min per 1.73 m2, but not among those with the poorest kidney function.Additionally, metformin did not increase the risk of lactic acidosis.
However, considering the remaining biases even after PSM, further randomized controlled trials are needed to change real-world practice.
For further reference log on to:
Diabetes Care 2020 Mar; dc190936.
https://doi.org/10.2337/dc19-0936
Source : Diabetes Care