Metformin significantly lowers death risk due to cardiac and other causes: Study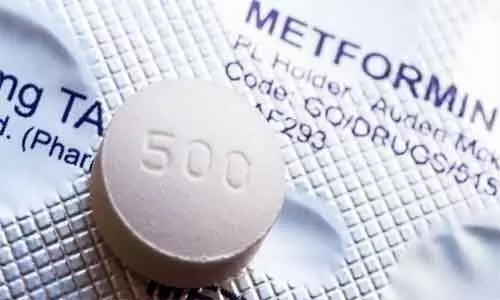 Italy: Compared to other anti-hyperglycaemic drugs or placebo, the use of metfomin significantly lowers the mortality risk and MACE risk in patients with type 2 diabetes, suggests a recent meta-analysis in the journal Nutrition, Metabolism & Cardiovascular Diseases.

The Italian Association of Clinical Diabetologists and the Italian Society of Diabetology are developing new guidelines for type 2 diabetes treatment. The effects of anti-hyperglycaemic drugs on all-cause mortality and major adverse cardiovascular events (MACEs) were included among the critical clinical outcomes. Edoardo Mannucci, Diabetology, Careggi Hospital and University of Florence, Italy, and colleagues therefore conducted an updated meta-analysis to determine the effects of metformin on these outcomes.

The researcher searched the online databases to identify all the randomized controlled trials (RCTs) with duration of n ≥52 weeks (published up to August 2020). It included RCTs in which metformin was compared either with placebo/no therapy or active comparators.
The primary endpoints were MACEs (restricted for RCT reporting MACEs within their study endpoints) and all-cause mortality (irrespective of the inclusion of MACEs among the pre-specified endpoints). Mantel-Haenszel odds ratio (MH-OR) with 95% confidence interval was calculated for all endpoints considered.
Key findings of the study include:
Metformin was associated with a nonsignificant reduction of all-cause mortality (n=13 RCTs; MH-OR 0.80).
This association became statistically significant after excluding RCTs comparing metformin with sulfonylureas, SGLT-2 inhibitors or GLP-1 analogues (MH-OR 0.71).
Metformin was associated with a lower risk of MACEs compared with comparator treatments (n=2 RCTs; MH-OR 0.52).
Similar results were obtained in a post-hoc analysis including all RCTs fulfilling criteria for inclusion in the analysis (MH-OR: 0.57).
"This updated meta-analysis suggests that metfomin is significantly associated with lower risk of MACEs and tendentially lower all-cause mortality compared to placebo or other anti-hyperglycaemic drugs," concluded the authors.
"Effect Of Metformin On All-Cause Mortality And Major Adverse Cardiovascular Events: An Updated Meta-Analysis Of Randomized Controlled Trials," is published in the journal Nutrition, Metabolism & Cardiovascular Diseases.
DOI: https://www.nmcd-journal.com/article/S0939-4753(20)30508-1/fulltext
Source : Nutrition, Metabolism & Cardiovascular Diseases