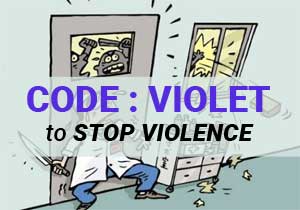 In the recent past, violence against Medical Practitioners, has been steadily on the rise. There exist gross deficiencies in the system of healthcare, and doctors being face of healthcare in the country have become a punching bag for the public dissatisfied with healthcare services. Instances of violence are on the rise and so are the gravity of injuries that the doctors suffer at the hands of angry mod of attendants
What is important to not that, with the rising issue all remedies provided for government as well as law and order agencies seem to be failing. Many a times, involving the police only causes more harassment for doctors, and even when relief comes, its quite late. The issue of violence is an instantaneous problem, and requires instantaneous solutions and have to be primarily managed at the hospital level, before involving any external agency. National Medical Forum, the parent organization of Medical Dialogues has proposed CODE VIOLET guidelines to deal with VIOLENCE emergencies to minimise harm coming to doctors out of dissatisfied patients.
CODE VIOLET
Worldwide Code Violet alludes the hospital's response to violent and/or combative persons when they pose a threat to self and/or others. Generally referring to "unruly patient", Code Violet in the Indian Context, can also aptly be construed in case of unruly attendants and mob who are ready to destroy hospital Property. Here is the suggested Code Violet Protocol for such circumstances.
At the onset of any visible disturbance or impending violence, a message of Code Violet mentioning the exact location of the incident shall be announced over the hospital's public address system. This will disseminate information indicating an imminent attack by relatives of patient expecting a prompt action by the staff. The operator will make an "all call" announcement over the internal public address system and state 3 times "Code Violet."
As an additional measure a Siren system may be installed all across the hospital which may be activated immediately by the concerned doctor/staff in case of any possibility of violence in hospital.
Security will respond immediately and provide assistance as needed.
All the members of staff except O.T and ICU and those involved in emergency care of patients  shall immediately arrive at the scene and form a human chain around hospital personnel under threat as well as in-front of the agitated relatives. The personnel involved in the chain have to be extremely quiet, and avoid any altercation/discussion which can escalate the situation.
A senior member of staff (can be designated before) who himself is not directly involved in treatment in that particular case shall politely communicate with relatives of patients and try to verbally De-escalate a threatening situation. In this situation, there should not be argument on part of the hospital staff and the designated member should give enough opportunity to the disgruntled patient/attendant to explain their grievances.
All the members of staff shall exercise restraint and shall not lose their cool under any circumstance.
Once the situation is under control, the operator will make an "all call" announcement over the internal public address system and state 3 times "Code Violet clear." If the situation is not under control and law and order situation arises in the form of assault , external help shall be sought from nearby hospitals and Police.
Carry out a Mock Code Violet exercise once a month for evaluation of preparedness and effecting required improvement.
Private hospitals should note that at the time of escalating violence, financial issues should minimally raised and effort should be made to pursue financial issues at later point.
Additionally, the hospital can take certain other proactive steps at its institution level to minimise violence. These include
Create a safety culture.
Create a crisis Intervention Team.
Train workers for Early Recognition and Reporting.
Be proactive and take threats seriously.
Management should have  regular safety dialogue with staff.
The security of hospital should be strengthened and the security personnel should be directed not to allow entry of any unauthorized person inside Hospital. There should be absolute weapons prohibition inside premises of hospital.
CCTV cameras should be installed at all important places especially near reception, accounts department, operation theater and ICU to identify and catch the miscreants. It should be displayed in bold letters that "This Hospital is under surveillance of CCTV Cameras " so that it acts as a deterrent.
The Visitor time should be specified and restricted and only limited and valid visitors should be allowed by turn during visiting time.
Hospitals should be declared safe zones and gathering of people should not be allowed outside the critical areas.
Posters depicting legal liability and consequences of Assault and vandalism against medical professionals should be displayed at prominent places in hospital premises.
Relations sitting area should be far away from the critical area and the dead body whenever shifted should never be shifted from the area where the relations of the patient are sitting.
Talking about the guidelines, Dr KK Kohli, General Secretary, National Medical Forum said, "Medical community can no longer wait and keep looking up to Government and law enforcing agencies to solve the problem of assault on Doctors. We have to become Self Reliant and proactively initiate Code Violet in its institutions so that this menace does not grow any further. This step cannot be postponed anymore and has to be taken straight away because somebody has rightly said You cannot escape the responsibility of tomorrow by evading it today."
1 comment(s) on Dial Code VIOLET for Violence against doctors: Protocol