Ketogenic Diet Shows Promise as Nonpharmacologic Treatment for PCOS, finds study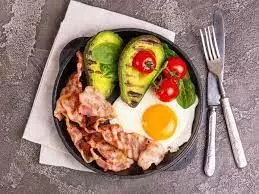 Ketogenic Diet effective as a Nonpharmacologic Treatment for PCOS, according to a recent study published in the International Journal of Environmental Research and Public Health.

Polycystic ovary syndrome (PCOS) is a commonly occurring endocrine disorder characterized by hirsutism, anovulation, and polycystic ovaries. Often comorbid with insulin resistance, dyslipidemia, and obesity, it also carries significant risk for the development of cardiovascular and metabolic sequelae, including diabetes and metabolic syndrome. The relationship between central obesity and the development of insulin resistance is widely verified. Adipose tissue excess and the coexistent dysregulation of adipocyte functions directly contribute to the pathogenesis of the metabolic complications observed in women with PCOS. In the light of these evidence, the most therapeutic option prescribed to obese women with PCOS, regardless of the phenotype e from the severity of clinical expression, is lifestyle correction by diet and physical activity.
The aim of this study is to evaluate the beneficial effects of ketogenic diet in 17 obese women with PCOS.
The results of the study are as follows:
The ketogenic diet inducing therapeutic ketosis, improves the anthropometric and many biochemical parameters such as LH, FSH, SHBG, insulin sensitivity and HOMA index. In addition, it induces a reduction in androgenic production, whereas the contextual reduction of fat mass reduced the acyclic production of estrogens deriving from the aromatization in the adipose tissue of the androgenic excess, with an improvement of the LH/FSH ratio.
Thus, the researchers concluded that the ketogenic diet has a positive effect on PCOS outcome.
This is the first study on the effects of the ketogenic diet on PCOS, however, further studies are needed to elucidate the mechanism underlying ketogenic diet effects
Reference:
Effects of Mixed of a Ketogenic Diet in Overweight and Obese Women with Polycystic Ovary Syndrome by Raffaele Ivan Cincione published in the International Journal of Environmental Research and Public Health
https://www.mdpi.com/1660-4601/18/23/12490/htm
Source : International Journal of Environmental Research and Public Health