Vitamin D supplementation may help reduce high BP in elderly: Study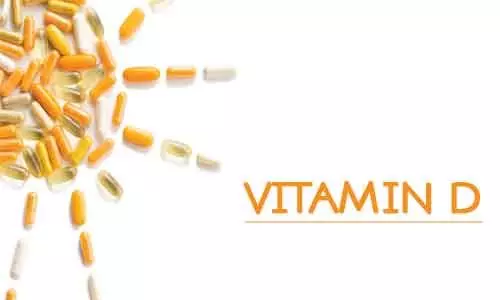 Observational studies report higher blood pressure (BP) among individuals with lower Vitamin D concentration in blood. Whether dosage of vitamin D supplementation has a differential effect on BP control remains unclear.
Researchers have found in a new study that daily supplementation of 2000 IU and 800 IU vitamin D reduced mean systolic blood pressure.The study has been published in the The American Journal of Clinical Nutrition.
Vitamin D obtained from sun exposure, foods, and supplements is biologically inert and must undergo two hydroxylations in the body for activation. In foods and dietary supplements, vitamin D has two main forms, D2 (ergocalciferol) and D3 (cholecalciferol), that differ chemically only in their side-chain structures. Both forms are well absorbed in the small intestine.
The study aimed to determine if daily vitamin D supplementation with 2000 IU is more effective than 800 IU for BP control among older adults, reported Lauren A Abderhalden from the Department of Geriatrics and Aging Research, University Hospital Zurich and University of Zurich, Zurich, Switzerland.
The randomized, double-blind, ancillary trial of the Zurich Multiple Endpoint Vitamin D Trial in Knee Osteoarthritis enrolled adults aged ≥60 years that underwent elective surgery due to severe knee osteoarthritis. Participants were randomly assigned to receive high dose (2000 IU) or standard dose (800 IU) daily vitamin D3 for 24 months. The outcomes included daytime and 24-h mean systolic BP. BP variability and serum 25-hydroxyvitamin D concentration were examined in a post hoc and observational analysis
The following findings were noted-
The difference in daytime mean systolic BP reduction between the 2000 IU and 800 IU groups was not statistically significant.
Systolic BP variability was significantly reduced with 2000 IU compared to 800 IU vitamin D3.
Independent of group allocation, maximal reductions in mean BP were observed at 28.7ng/mL of achieved serum 25-hydroxyvitamin D concentrations.
Based on the following observations, the authors concluded that "While daily 2000 IU and 800 IU vitamin D reduced mean systolic BP over 2 years to a small and similar extent, 2000 IU reduced mean systolic BP variability significantly more compared with 800 IU. However, without a placebo control group we cannot ascertain whether vitamin D supplementation effectively reduces BP."
Source : The American Journal of Clinical Nutrition