Role of Vitamin K27 in Relieving Peripheral Neuropathy in Diabetic patients: Study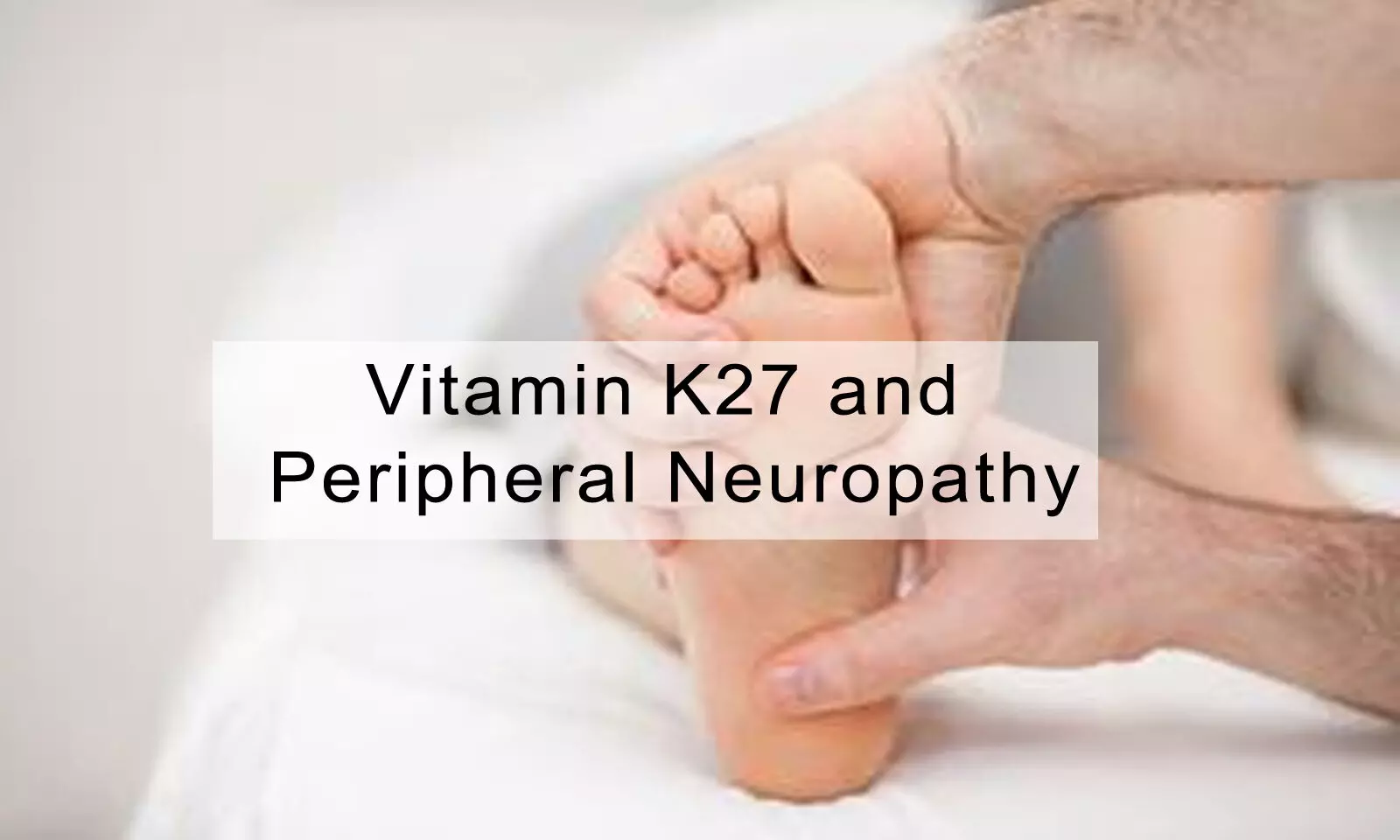 Peripheral Neuropathy (PN), a multifactorial condition, is one of the most common problems faced by several patients. It causes difficulties in daily activities, decreases performance, and increases health care costs (1). Peripheral Neuropathy is the symmetric and universal damage to adjacent nerves which are located distally (2). Peripheral Neuropathy may present with varied symptoms including tingling, numbness, weakness, muscle twitching, tremor, gait abnormality, and sensation of pins and needles.

Peripheral Neuropathy and Diabetes
The most common aetiology of Peripheral Neuropathy is Diabetes Mellitus (DM), a global pandemic causing a huge economic and health burden. In 2019, the International Diabetes Foundation published the Diabetes Atlas, highlighting that India accounts for one in six people with diabetes in the world, coming in at number two in the world after China, with an estimated 77 million diabetics (9).
Metformin is the most prescribed medication to treat DM, but studies show that iatrogenic neuropathy in DM due to treatment with metformin leads to Vitamin B12 Deficiency (VBD). VBD, in turn, causes sub-acute combined degeneration in the spinal cord with loss of corticospinal tracts and posterior columns leading to peripheral neuropathy with symptoms presenting in both hands and feet (3, 4). The other known causes of VBD are prolonged antacid use, Crohn's disease, surgical resection, and apart from these VBD is also quite common in vegetarians (5,6).
In many studies, Long term therapy of Diabetes with metformin is shown to decrease the Vitamin B12 level and manifest as Peripheral Neuropathy. Aroda et al presented a study on long term Metformin use and Vitamin B12 Deficiency where they found that long-term use of metformin was associated with biochemical B12 deficiency and anaemia (7). The symptoms persisted despite vitamin B12 supplementation.
In 2010, Mehta Et al published an Interventional Case-Series to see the therapeutic Activity and Safety of Vitamin K 2-7 in Muscle Cramps and found that Vitamin K 2-7 at a dose of 100 µg /day for 3 months was found to be well-tolerated and safe with a therapeutic relief of muscle cramps. (10)
These findings of vitamin K2-7 for muscle cramps paved a way for further studies on Vitamin K 2-7 on peripheral neuropathy. Another study by Mehta and Vaidya et al on Vitamin K2 7 (MK 7) in 30 patients of PN suffering from Vitamin B12 Deficiency and/or type 2 Diabetes Mellitus conducted at BYL Nair Ch. Hospital, Mumbai found that Vitamin K2 7 at a dose of 100 mcg twice a day for 8 weeks was well tolerated and safe with a therapeutic activity for relieving the symptoms of Peripheral Neuropathy (8). Various studies observed that vitamin K2-7 relieved idiopathic muscle cramps and diabetic nephropathy.
Vitamin K2-7 and diabetic neuropathy.
With this background, in 2018, Dilip Mehta et al conducted a larger cohort study to evaluate and confirm the efficacy, tolerability, and safety of Vitamin K2 7 in patients with Peripheral Neuropathy experienced by patients of Vitamin B12 Deficiency and T2DM.(11)
Materials and methods:
An open-labeled observational study was done by recruiting patients from the Medicine Department of Kokan Hospital, Jogeshwari, Mumbai, India. The study included patients aged 18–65 years suffering from T2DM or VBD with a symptomatic diagnosis of neuropathy (>4 on Visual Analog Scale [VAS] score). Patients suffering from any illness other than T2DM or VBD, or under any medications such as corticosteroids and oral contraceptives, or with seropositive status, pregnancy, or on coumarin analogues and quinine hydrochloride, and patients who were under the history of alcohol and substance abuse within previous 1 year were excluded from the study.
Blood investigations, like complete blood counts with Erythrocyte Sedimentation Rate (ESR), Vitamin B 12, homocysteine, glycosylated hemoglobin, fasting and postprandial plasma glucose, prothrombin time (PT) international normalized ratio, liver function tests, and renal function tests were done at the baseline, at the 4th week, and the end of the study. The patients were assessed at the end of the 1st, 2nd, 4th, 6th, 8th, and 12th weeks. Patients were given 2 capsules 100 mcg each a day of Vitamin K2 7 for 8 weeks and followed up to 12th week. The subjective severity of the symptoms of PN was assessed with a validated VAS scale from 0 to 10.
The safety was assessed by clinical tolerability, side effects, and adverse events and by any change in the organ function tests. The therapeutic activity was assessed by the reduction in the severity of the symptoms of PN, like tingling and numbness along with weakness, fatigue, and cramps when compared to the baseline.
Vitamin K2 7 was supplied in the form of 100 mcg capsules packed as 30 capsules per bottle. The capsules were supplied in bottles to patients at the time of the enrolment and at an interval of every 15 days. The patients were informed to ingest a 100 mcg capsule every morning immediately after breakfast and immediately after dinner for 8 weeks. Counting the capsules in the bottle brought back at the follow-up visits, the drug compliance was judged. The patients were said to be compliant if they had consumed a minimum of 80% of the total dispensed capsules.
Results:
Out of 107 patients aged 18–60 years, 100 patients completed the study. Patients from the VBD group had a VAS score of 6–9 at baseline and patients from the T2DM group had a VAS score of 8–10 at baseline.
Following observations were made
At the end of 4th week, –
• The VAS score in the VBD group had reduced to 4–7 and the VAS score in the T2DM group had reduced to 6–8.
• There was a reduction in the intensity of the symptoms of tingling and numbness.
• Associated conditions such as weakness and fatigue had also reduced.
• The intensity of cramps in the VBD patients and burning pain in the T2DM patients had reduced to a greater extent.
At the end of 8th week –
• The VAS score in the VBD group had reduced to 3–5 and the VAS score in the T2DM group had reduced to 2–5.
• There was a significant decrease in weakness and fatigue.
• Cramps and burning pain were now occasional with decreased intensity.
At the end of 12th week –
• The VAS score of 1–2 in the VBD group as well as in the T2DM group indicated a continued relief in the symptoms of Peripheral Neuropathy.
• There was a decrease in the VAS Score of symptomatology in the VBD group and the T2DM group.
There was a decrease in the VAS score of individual symptoms of Peripheral Neuropathy from baseline to the 12th week in the VBD group and T2DM group. Data of T2DM and VBD were statistically significant.
Thus, the researchers concluded that Vitamin K2 7 at a dose of 100 mcg twice a day for 8 weeks was found to be well-tolerated and has a potential for relief of symptoms of Peripheral Neuropathy in cases of VBD and T2DM. The associated symptoms of PN like cramps, burning pain, weakness, and fatigue were also relieved. They further added that even after the discontinuation of Vitamin K2 7, the symptoms of neuropathy continued to remain with reduced intensity and severity proving the therapeutic potential of Vitamin K2 7.
The above article has been published by Medical Dialogues under the MD Brand Connect Initiative. For more details on Vitamin K, click here
References:

1. Raafat K, El Haj R, Shoumar D, Alaaeddine R, Fakhro Y, Tawil N, et al. Neuropathic pain: Literature review and recommendations of potential phytotherapies. Pharmacogn J 2017; 9:424 34
2. Azhary H, Farooq MU, Bhanushali M, Majid A, Kassab MY. Peripheral neuropathy: differential diagnosis and management. Am Fam Physician. 2010;81(7):887-892.
3. Nielsen MJ, Rasmussen MR, Andersen CB, et al. Vitamin B12 transport from food to the body's cells—a sophisticated, multistep pathway. Nat Rev Gastroenterol Hepatol 2012; 9 (6): 345– 354
4. Saperstein DS, Wolfe GI, Gronseth GS, et al. Challenges in the identification of cobalamin-deficiency polyneuropathy. Arch Neurol 2003; 60 (9): 1296– 1301.
5. Lam JR, Schneider JL, Zhao W, Corley DA. Proton pump inhibitor and histamine 2 receptor antagonist use and vitamin B12 deficiency. JAMA 2013; 310 (22): 2435– 2442
6. Staff NP, Windebank AJ. Peripheral neuropathy due to vitamin deficiency, toxins, and medications. Continuum (Minneap Minn). 2014;20(5 Peripheral Nervous System Disorders):1293-1306.
7. Aroda VR, Edelstein SL, Goldberg RB, et al. Long-term Metformin Use and Vitamin B12 Deficiency in the Diabetes Prevention Program Outcomes Study. J Clin Endocrinol Metab. 2016;101(4):1754-1761.
8. Kulkarni VK, Upase DP, Dound YD, Jadhav SS, Bhave AS, Mehta DS, et al. The effect of Vitamin K2 7 in peripheral neuropathy due to Vitamin B12 deficiency and diabetes mellitus: A preliminary study. TIP 2013; 66:625 9.
9. https://www.thehindu.com/sci-tech/health/india-has-second-largest-number-of-people-with-diabetes/article29975027.ece
10. Mehta DS, Vaidya RA, Dound YA, Nabar NS, Pandey SN, Vaidya AD.Therapeutic activity and safety of Vitamin K2‑7 in muscle cramps: An interventional case‑series. TIP 2010;63:287‑91.
11. Mehta DS, Dound YA, Jadhav SS, Bhave AA, Devale M, Vaidya AD. A novel potential role of Vitamin K2-7 in relieving peripheral neuropathy. J Pharmacol Pharmacother 2018;9:180-5