Red Onion Extract may lower blood sugar, Improve Overall Health: Study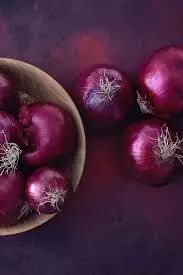 Red onions are one of the most consumed vegetable crops in Egypt and, their peel is rich in antioxidants that reduce the risk of diabetes and obesity. A recent study suggests that red onion peel extract improves overall health. The study also uncovers the importance of the nano-encapsulation food wastes bioactive compounds as a new emerging technology to be prepared and used in food by consumers in the near future. The study findings were published in the Pakistan Journal of Biological Sciences on December 15, 2020.

Previous studies confirm that the outer skins of onions are rich in antioxidants and anti-inflammatory compounds with multiple functional compounds including organosulfur, anthocyanin, flavonoids, quercetin, kaempferol and polyphenols. However, analysis experiments have shown that red onion peel extract is affected and oxidized by different factors such as pH, enzymes, temperature, SO2, UV radiation, chelating metal ions or ascorbic acid. Therefore, it is vital for achieving a suitable abode to gain maximum benefits. Khaled F. Mahmoud and team conducted a study to extract bioactive compounds present in Egyptian Red Onion Peels Waste, increasing their efficiency and protecting them using nano-encapsulation as new emerging technology.
The study was carried out at Nanotechnology Lab and Food Science and Technology Lab, Egypt, between May 2019 and October 2020. Egyptian cultivated Red Onion Peels (ROP) were collected and baked until its moisture content was 5%, then grounded and stored under 4℃ until used. Researchers used Red onion peel ethanols extract (ROPEE) and Red onion peel water extract (ROPWE) for the analysis. They studied the antioxidant activity of extracts before and after nano-emulsions and micro-capsules. They also studied their physical and morphological characteristics with their different nano-forms and their application in sponge cake products. They further evaluated the biological activity using rats and statistical analysis.
Key findings of the study were:
• Upon analysis, researchers have found that the ethanol extracts contained a high content of bioactive compounds compared to water extract.
• They also found the use of nano-technique as a newly emerging technology in form of nano-emulsion using sodium alginate with a diameter size between 8.3-13.6 nm.
• They noted that there was an improvement in the efficiency of antioxidant activity at high-temperature degrees during baking, with a melting point of up to 223.64°C.
• They also noted an improvement in the blood sugar levels of diabetic rats and a significant decrease in body weight.
The authors concluded, "Nano treatments had a protective effect on the liver, safety towards kidneys, lowering blood sugar, improving the efficiency comparing to the other samples and were more acceptable to the consumer."
They further added, " The results showed the inability of these uncoated extract to withstand baking temperatures during the preparation of the sponge cake product due to the demolition of the bioactive compounds. Thereby, the use of new emerging technology to protect the higher content of antioxidant compounds from external oxidizing agents is urgent in ethanol extract than water extract. This nanotechnology could be achieved by coating them with layer of nano-emulsion or micro-capsule using natural sodium alginate material, which has proven its efficiency than chitosan and gelatin."
For further information:
Article Source :
Pakistan Journal of Biological Sciences