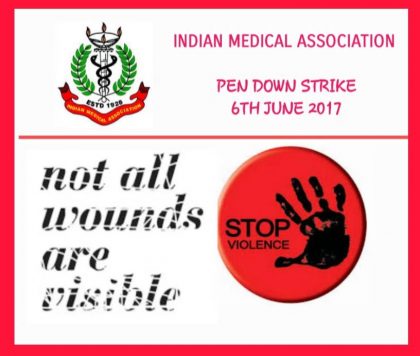 New Delhi: Medical practitioners from across the country will gather together in Delhi, to participate in a massive rally that shall be organised from Raj Ghat, New Delhi, on the 6th June 2017 to protest the growing injustices against the medical fraternity across the country.
The rally, which is being organised by the Indian Medical Association, will see participation from all its state and local branches, whose representatives are expected to join in the rally. Moreover, across the states and branches, doctors are going to observe a pen down strike, to show their opposition against rising atrocities against the medical profession
Dr KK Aggarwal, President, Indian Medical Association highlighting some of the issues faced by the fraternity in an address, pointed out, "We are being forced to write drugs, the quality of which is to be decided by the pharmacists and practice line of management based on non practical guidelines.We are also being forced to charge fixed fee decided by the government which ignore the seniority and acumen of the doctor. We are also been given targets by many private hospitals and government setups."
"When we did MBBS it was  with the understanding that  this is a noble profession and hospitals are temples of healing  where  the sick come to get  relief from  pain and misery.Medical Doctors always have been considered next to God. We never think of temples as a place of criminal activity. Then why doctors are being accused of criminal actions and calling of police is now becoming a routine procedure, whenever there is dispute or death," he questioned.
Some of the issues raised by the organisation and their suggestions include:-
ISSUE                                                                Suggestion
| | | |
| --- | --- | --- |
| 1 | Criminal prosecution of medical negligence and on clerical errors is not acceptable |  Criminal prosecution of medical negligence and clerical error should be an exception and not a routine. |
| 2 | Capping the compensation in CPA on doctors |  Compensation should not be based on the income of the person but on the formula used by DCGI in Clinical Drug Trial. |
| 3 | Professional autonomy in treatment and prescriptions |  Safe guarding the interest of the patient by practising medicine based on social determinants of health and patient centric decisions. |
| 4 | Stringent central act against violence |  Universal central act against violence similar to 18 States who have enacted in their States. |
| 5 | No unscientific mixing of systems of medicine |  Ayush should be strengthened in its own field and not allowed back door entry in modern system. |
| 6 | Empower MBBS graduates |  UG seats equal to PG seats and bringing back the concept of family doctors. |
| 7 | Bio-Medical Waste Policy & safeguarding the interest of small nursing homes. |  Doctors owned small nursing homes should get due exemption. |
| 8 | One drug – One company – One price |  Price of generic – generic, generic – trade, generic – brand from one company should be the same. |
| 9 | Implement inter- ministerial committee recommendations in six weeks |  It is already late by 2 year. |
| 10 | Single window accountability |  The State Medical Council or a Medical Tribunal is a solution. |
| 11 | Single window registration of doctors and medical establishments |  This will reduce the cost of treatment and can be undertaken by the Health Ministry. |
| 12 | No to NMC: Amend IMC act to maintain professional autonomy |  No regulatory mechanism can run  with predominant nominated body. |
| 13 | Uniform final MBBS exam instead of 'NEXT' |  Uniform final MBBS exam will ensure quality. |
| 14 | Uniform service conditions for doctors & faculty |  This should be at a national level. |
| 15 | IMA member in every government health committee |  Nirman Bhawan can give a room to IMA for fruitful functioning. |
| 16 | Central anti-quackery law |  Every citizen of India has a right to receive quality and safe health care. |
| 17 | Reimbursement of emergency services for private sector |  Emergency services are the responsibility of the State but they have no resources. |
| 18 | 25000 family medicine PG seats |  We need more family physicians this can be undertaken by MCI or NBE (DNB) |
| 19 | Health budget between 2.5 – 5 % with coming year for universal health coverage |  This is to provide universal health coverage. |
| 20 | Aided hospitals and retainer ship in general practice |  This will provide subsidised services to the middle class. |
1 comment(s) on Massive Rally of Doctors in the New Delhi, Pen Down Strike across India