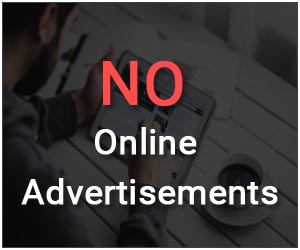 Chennai: Taking strict move against the growing online advertisement by doctors in the state, the Tamil Nadu Medical Council (TN Medical Council) has served notices to about 100 registered medical practitioners, stepping in to initiate disciplinary action for violating the Professional Conduct, Etiquette and Ethics Regulations of Medical Council of India.
The issue of advertisement by doctors, using an online and internet medium is becoming a growing problem for the state, as on one hand more and more doctors are resorting to the online websites to display their qualifications, achievements and their practice, while on the other hand, the council is seeing them as an advertisement and hence violation of Code of Medical Ethics.
The Medical Dialogues team had recently reported that the state Medical Council had issued an advisory after coming across at least 300 doctors registered doctors who were advertising about themselves, their practice, qualifications, associations, affiliations, honours, and skills in order to solicit patients and professional gain on various platforms. The medical council had warned the doctors in regards to the non-permissible practice and asked them to withhold from such advertisements.
................................ Advertisement ................................
Read Also: No Online Advertisements: TN Medical Council issues advisory to registered medical practitioners
Speaking to Medical Dialogues, Dr K Senthil, President of Tamil Nadu Medical Council informed, "We pulled up a few doctors indulge in such advertisements. It became more prevalent in the last 1-2 years. Taking note of the misconduct, an advisory was issued to such doctors to refrain from such activities."
................................ Advertisement ................................
Few doctors had refrained from the advertisements while some continued with the practice despite the advisory. Taking note of this, the doctors have been now issued notice from the medical council.
"The commercial advertisements displaying photographs are inappropriate and are not permissible. Therefore, about 100 doctors are served with the notice for misconduct under the clause 6.1.1 of the Medical Council of India," he added.
The medical council sought their replies within 15 days based on which inquiry will be conducted for further proceedings.
Dr Senthil further explained that 'only five percent of the registered medical practitioners are involved in the misconduct. Few advertisement agencies contact these doctors and once they display them on their website or application along with introducing few schemes for treatment which mislead the public.'
"The doctors are charged Rs 200 to Rs 250 for every call they receive through these advertisers, the doctors charge money from the patients and that goes on," he added.
"There are few doctors who do not have a requisite degree to practice as specialists but in advertisements, they are displayed as such," Dr Senthil further added.
Read Also: Tamil Nadu Medical Council sends out notices to doctors for advertising
Shagufta Joined Medical Dialogues has been associated as Editor for Education Medical Dialogues since the year 2018.  She is a graduate from Delhi University. She can be contacted at editorial@medicaldialogues.in Contact no. 011-43720751
2 comment(s) on Disciplinary action: TN Medical Council notices to 100 medical practitioners for Online Website advertisements